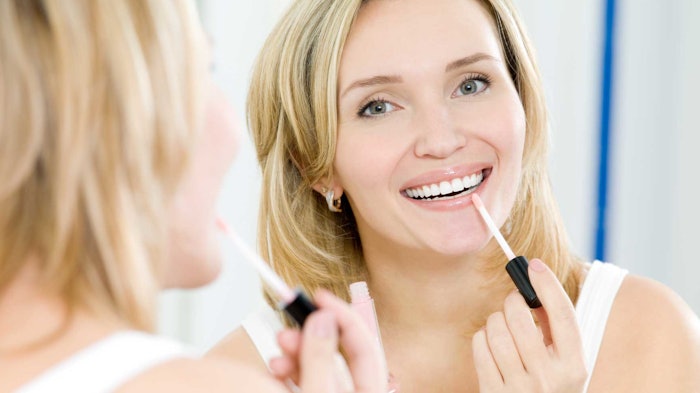 Dewy, glazed, plump and moisturized-looking skin has been the forefront of the industry as of recently. In 2019, 311 products on Sephora's website promoted the word dewy in their name or product description.1 Add to this recent brands such as rhode skin by Hailey Bieber and Saie Beauty, which promote and focus on hydrating and glowy looking skin. This need for dew has translated to the lips and aligns with returning 1990s trends for plump, glossy lips. The 1990s were full of glossy, heavy, sticky lip gloss that lasted all night.
See related: Formulating on Trend; the Skinification of Hair
According to Mintel, lip products are used by 87% of women, with lip balm being the most popular product type—90% of women report use it. Lip cosmetics have the highest overall reported use among color cosmetics. Lip balm, lipstick and lip gloss all have similar rates of penetration, suggesting that many women rely on a suite of lip products depending on the occasion or desired look. Of those who use lip cosmetics, 67% sought moisturizing/hydrating claims while 61% desired long-lasting wear; and almost half (48%) were swayed by lip-softening properties.2
Lip formulations have become more elegant and comfortable to wear. Instead of sticky, heavy glosses, the industry is creating lightweight, nourishing formulas that impart a similar appearance. These are known as lip oils.
As stated, compared with lip gloss, lip oils are much less sticky, which often comes from a high-viscosity hydrogenated polyisobutene. Lip glosses use higher amounts of this ingredient than lip oils, and the higher the ratio of this ingredient, the stickier the formula may become. Its addition does, however, help with wear time and color pay off. Perhaps the best way to explain the texture of a lip oil is that it falls between a lip balm and lip gloss.
See related: Bossy Cosmetics Launches Bossy Gloss Collection
Lip oils lean not only into the dewy skin trend, but also the consumer desire for a "clean" look. This look translates to minimalism and effortless-looking skin, positioning lip oil as the clean version of lip gloss. Lip oil gives lips high shine and a plump-looking appearance.
Thinner lip oils still provide benefits to the lips, such as creating a protective barrier against weather changes, and helping to smooth out the lips by filling in lipid voids. This, again, can make lips appear plumper without the use of plumping actives.
In this installment of "Formulating on Trend," the author describes the basic ingredients used to create lip oils, including the function of each and formulation suggestions. Thickeners, oils, antioxidants, colorants/pigments, flavor and plumping ingredients are considered.
To create a positive user experience and ensure proper cushion and application, the use of oil thickening agents is required. Thickeners in a lip oil assist in spreadability and moisture retention, reduce transfer resistance and increase color pay off. Thickeners often also can double as suspending agents for micas and pigments.
Some examples of thickeners for lip oils include: silica, hydrogenated polyisobutene, hydrogenated poly(C6-14 olefin), ethylene/propylene/styrene copolymer, butylene/ethylene/styrene copolymer, pentaerythrityl tetra-di-t-butyl hydroxyhydrocinnamate and silica dimethyl silylate. These ingredients often work well when added directly into a carrier oil and mixed under an overhead mixer until uniform and homogenous.
Oils
Selecting the right ratio of oils will ensure the lips feel nourished and appear plump. A blend of light and heavy oils will ensure that products feel smooth and easy to apply. Some light to medium oils that assist with product playtime and a lightweight feel include: caprylic/capric triglyceride, cocoglycerides, trimethylolpropane triethylhexanoate, diethylhexyl carbonate, caprylyl caprylate/caprate and diisostearyl dimer dilinoleate.
Some medium to heavier oils that will allow for additional cushion and increase color pay off include: hydrogenated polyisobutene, diisostearyl malate, ethylhexyl hydroxystearate, Cocos nucifera (coconut) oil, Punica granatum seed oil, Prunus armeniaca (apricot) kernel oil, Fragaria vesca (strawberry) seed oil, Sambucus nigra seed oil and Rubus idaeus (raspberry) seed oil.
Products that have oil in them can become rancid, malodorous and are subject to color changes. The addition of an antioxidant into the final formulation can reduce the oxidation of the oils. The additional of tocopherol and tocopheryl acetate into the formula at as low as 0.5% can greatly improve the stability of the formulation.
Colorants/Pigments
Pigments are used to impart color, or provide a hue or tone to the lips. Here, the formulator has the option of using lakes and oil-soluble dyes. Both tint the skin and the concentration used can affect the pay off and staining power. Examples of colorants include red 28 lake, yellow 6 lake, red 7 lake and red 30 lake.
Flavor
Some vegetable-based oils may have an unpleasant taste. A simple solution to this is to add flavor to the formulation. This provides both a taste and aroma to the final product.
Plumping Actives
While optional, plumping ingredients may provide a fun edge to a formula. Those that impart immediate effects give lips a temporary fuller look. Many of these actives essentially work to irritate and inflate the lips, causing them to appear larger. Common lip-pluming ingredients include sodium hyaluronate, Capsicum frutescens fruit extract, Cinnamomum cassia bark extract and Mentha piperita (peppermint) oil.
Summary
In summary, the 1990s have taken over not only fashion trends, but beauty trends as well. With the rise in dewy and plump-looking skin and lips, combined with minimalism, lip oils have become popular.
To create a lip oil that is texturally different and unique to a lip gloss is to optimize a higher ratio of oil/high-viscosity hydrogenated polyisobutene. Combined with the addition of antioxidants, flavors and plumping ingredients, an elegant formulation may be achieved.
References
1. https://intothegloss.com/2019/10/history-of-dewy-skin/
2. https://www.mintel.com/press-centre/beauty-and-personal-care/color-cosmetics-sales-trends