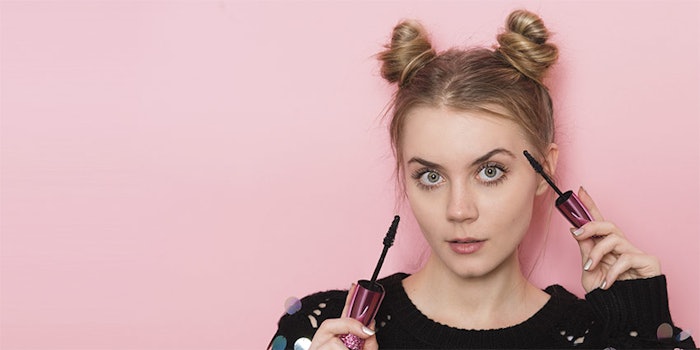 Mascara is an unmissable product in the fast-growing eye makeup segment. Lash volume, length and curl have been staples of mascara performance requirements, with long-wear and flake- and smudge-proof claims becoming "must-haves" with any mascara launch.
To maintain innovation in this market, cosmetic companies must differentiate—this has led to a rise in sensory and novel effect claims. Above all, the performance of the formulation can only be fully expressed with an adapted and compatible brush.
Thus, the challenge for the formulation chemist is to deliver these innovative performances while still maintaining the mascara must-haves, which in some cases can be contradictory.
This paper describes how a formulator can introduce ingredients to create innovative and stable mascara formulations with the right brush, in order to obtain novel performance and claims. While washable mascaras are the primary focus of the present piece, some of the tips presented may be applicable to waterproof formulations.
With the Flick of a Wand
Nearly every cosmetic formulator knows if there is one product that requires specific formulation expertise, it is mascara. It is one of the most complex formulas to develop, one of the most-researched products, and it has some of the highest consumer expectations to meet.
Its first goal is to make eyelashes appear thicker, longer and darker, with enhanced curl. It must be applied easily and precisely, almost on-the-go, by a tool that determines it performance. It should also dry quickly and impart the correct effects without lumps; be long-wearing without smudging or flaking during the day; and remain easy to remove at night.
Finally, the product is applied around a very sensitive area, the eye, which means perfect tolerance is needed without any risk of toxicity, irritation or allergy. In developing this product, formulators attempt to create a homogeneous film that will resist tears and mechanical movement, and that can be used by lens wearers.
Mascaras are one of the most-loved products, used by 59% of female consumers.1 And while purchasers expect any mascara launched to impart long-wear, flake and smudge-proof properties, new claims have emerged in the market, including: creamy-like, serum-like, spiky, manga eyes, cat or butterfly eyes, super curl, doll-effect lashes, glossy effect, or pitch-black look.
As a formulator, the challenge is to combine these sometimes contradictory claims with mascara's must-haves and a perfect brush. As such, sensory, stability and performance are the main areas of focus to create innovative and high-performing mascaras.
Volume, length and curl have been staples of mascara performance, with long-wear and flake and smudge-proof claims becoming 'must-haves' with any mascara launch.
General Formulation Guidelines
Mascaras can either be washable, most commonly oil/wax-in-water emulsions, or waterproof, i.e, solvent-based anhydrous systems. Both contain a pigment phase as well as waxes, emollients and preservatives. The washable type also contains an aqueous phase; see Figure 1 for the general components of washable mascaras.
The production of a washable mascara is a hot-process emulsification: the aqueous phase is heated to around 80-85°C; the pigments are milled in the external aqueous phase; then the wax phase, also at 80-85°C, is added to the aqueous phase. After emulsification and cooling, film-formers, preservatives, actives, fibers or other ingredients can be included for added performance.
The final effect results when, after application with a specific brush, the water and humectants dry on the lashes, leaving a film formed by gelling agents, film-formers and waxes.
Emulsifying System
Emulsifying system (in the oil/wax phase): One of the main players in terms of texture and overall stability is the emulsifying system. The chosen system must be stable at high temperatures and have good pigment-dispersion capability. Most emulsifying systems have a high hydrophilic-lipophilic balance (HLB). A few widely-used, soap-based emulsifying systems are palmitic, stearic, isostearic or oleic acid. They are coupled to a neutralization system to create the emulsion. Other types of emulsifiers with a high HLB but nonsoap base include: potassium cetyl phosphate, ceteareth 20, steareth 20/21 and PEG 200 glyceryl stearate. These emulsions are only stable if xanthan gum or hydroxyethylcellulose is added.2
Neutralizing system (in the aqueous phase): Neutralizing ingredients are dispersed in the aqueous phase to create the emulsion; the neutralizing system has a big impact on stability, viscosity and performance of the product; namely its volume or flaking properties. Common neutralizing ingredients are triethanolamine, tromethamine, aminomethyl propanediol, glucamine and arginine; note that some may release nitrosamines, which can provoke safety issues. The neutralizing system also influences the mascara's pH, which must be within 7.5-8.5 since it is applied around the eye area.
Oil/Wax Phase
The oil/wax phase makes up approximately 35% of the formula.
Waxes: The wax blend is key to create the mascara's desired texture and makeup effect. It can be controlled by optimizing the quantity of each component and by choosing the melting and solidification temperatures of each, which defines the viscosity and rheology.
Volume is obtained by increasing the thickness of the product film applied to the lashes. Essentially, a volumizing mascara requires waxes with quite low melting points, which can provide adhesion and sheath the lashes. A wax dispersion can also be used as a film-former to provide lightweight volume.
Continue reading in our March 2019 Digital Edition...
References
Mintel Report Color Cosmetics - US - Eye Make-up Usage (2017). Retrieved from http://reports.mintel.com/display/842475/?highlight#hit1
Deckner, G. (2017, Nov. 17). Lashing Out: Contemporary Mascara Formulations. Retrieved from https://knowledge.ulprospector.com/7463/pcc-lashing-contemporary-mascara-formulation/