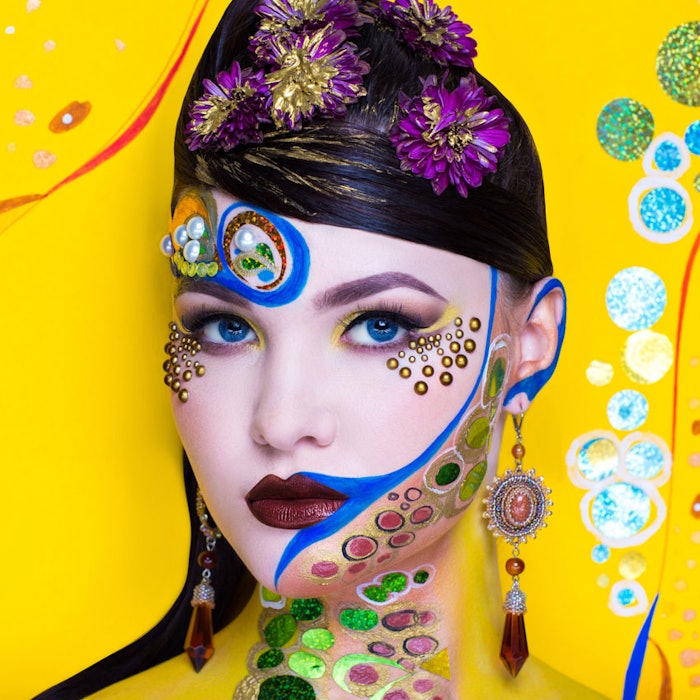 In their own act of color-travel, color cosmetics have moved from traditional powders and liquids into new phase-changing, cushion and air-brushed forms. They've bled into peripheral sectors, appearing as BB creams, tinted moisturizers and sunscreens. They impress upon us a sense of dewy and illuminated skin health and are even leveraged in experiential ways—take DIY customization, fairy tale-inspired looks or holographic nail polish, for example.
According to Allied Market Research, the global color cosmetics market was valued at $5,875 million in 2016 and is projected to reach $9,555 million by 2023 (a CAGR of 7.4% between 2017 to 2023). How are product developers coloring themselves into this scene? Natural-looking coverage and an array of options for every personality remain top priorities. However, color innovators are edging their way beyond traditional boundaries to offer up more dramatic, ethical, durable and visual benefits. In-cosmetics Global provided several examples, including the following.
Dramatic Impact
Heidel Lebel of Presperse/Sumimoto explained her company's approach to offer more than just new ingredients. "Our strategy is based on benefit statements or value propositions that are driving key segments in personal care—color, skin and sun. "This is, in part, because while cosmetic manufacturers want an ingredient that serves a primary function, they expect it to do more. We then focus efforts on supporting benefit statements with quantitative, qualitative and visual demonstrations," she added. For example, they use a vlogger to demonstrate the value proposition of their concepts.
"Optical Wow" is one such concept, whose effects including color reveal, color impact, longer wear and soft focus. This proposition encompasses several of the companies' technologies. Arcopearl Sparkling Effect Pigments, for example, are based on synthetic mica layered in a unique structure for higher chroma and brightness. Others include Color Reveal and Color Masking encapsulation technologies, in small Magicolor and larger Magic Bead sizes, which initially appear as a powder or lotion in one color and break upon application to reveal another; from white to colored or vice versa, for example.
Bismica Max Pigments, with 70% loading, provide high impact color with enhanced skin adhesion for long wear and water resistance. And PearlFlakes (INCI: Bismuth Oxychloride with pigment (and) Isododecane (and) Carnauba Wax (and) Shea Butter) impart high impact color, luster and brilliance. The latter are based on a unique lamellar morphology and self-assembly process using a micelle template to control their morphology.
Color that Cares
A 100% plant-based, fast-spreading and partially volatile silicone-alternative fluid was presented by INOLEX. The LexFeel WOW DT product (INCI: C13-C16 Isoparaffin (and) Heptyl Undecylenate) was designed to impart a light and dry, silicone-like initial feel to absorb quickly—with an after-feel that changes from silky to powdery. The ingredient is derived from renewable and sustainable castor bean and sugarcane. It can be used to reduce the greasiness of formulations while protecting skin. It also demonstrates excellent pigment-wetting properties.
In relation, Elevance Renewable Sciences recently unveiled Elevance Soft CG-200 (INCI: C15-23 Alkane (and) Hydrogenated Soy Polyglycerides (and) Hydrogenated Soybean Oil), a plant-based emollient made from certified non-GMO coconut oil and a soy-based polymer. Part of the Elevance Soft product line, this low viscosity gel was designed to support formulations that omit silicone, petrolatum, PEG or parabens. It also is compatible with vegan and gluten-free formulations. The low-melt ingredient can impart lasting moisturization to skin from creams, lotions, lip care, color cosmetics and more.
Finally, Covestro  presented its Baycusan eco line of polyurethane film-formers for color cosmetics as well as skin, hair and sun care applications. For their development, the company set the minimum carbon content from plant biomass at 50%, thus meeting the definition for renewable and naturally derived ingredients per the ISO 16128-1 standard. This established the company's commitment to achieving UN goals for sustainable development.
Lasting Impressions
Miyoshi Europe, S.A.S., showcased its new line of alginate-treated pigments for inclusion in the water phase of light, fresh and dewy-feeling liquid color formulas. These include MiyoAqua White TSR (INCI: Titanium Dioxide (and) Aluminum Hydroxide (and) Algin), MiyoAqua Red (INCI: Iron Oxides (and) Algin) and MiyoAqua Black NH (Iron Oxides (and) Algin). The pigments provide color fidelity and smooth application with benefits such as moisturization and a new claim: lip-blurring. The company also offers treated pigments for powder applications, with a novel "% bound silica" claim for inhalation concerns.
Notably, Miyoshi also received the bronze Makeup Bar award for its "Inspired by Naturality" concept. The company developed a kit containing makeup basics, foundation, mascara and eyeliner, which were developed using nature-inspired raw materials from its portfolio, including soft focus ingredients, treated pigments and film-forming agents. The product packaging was natural as well.
Ashland played in the color and sensory space as well, with a color cosmetics kit including a range of face and eye formulas. The demo foundation utilized the company's Ganex Sensory polymer (INCI: VP/Acrylates/Lauryl Methacrylate Copolymer), designed for longer wear, water resistance, even coverage, increased stability and longer UV protection. Guests were invited to sample the products and capture their new look at the company's "selfie box" booth feature.
AAK Personal Care launched its Lipex SMP (INCI: Hydrogenated Vegetable Oil) ingredient, a solid emollient demonstrating high oxidative stability to improve the shelf-life of finished formulations. The product was recommended as a texturizer for cosmetic pencils, sticks and crayons or to serve as a base in aerated products or other applications.
Finally, NAGASE Personal Care utilized its series of liquid waxes, including Esterol #26(D) and (F) (INCIs: Ethylhexyl Polyhydroxystearat) and Esterol #26(150 M) (INCI: Ethylhexyl Hydroxystearate) to develop a long-lasting, soft matte concealer stick with good skin protection and anti-dehydration properties. The prototype won the silver Makeup Bar award.
Glitz and Glam
Lastly, where would color cosmetics be without their namesake attribute—visual effects? To make products sparkle, glitter company Ronald Britton highlighted its eco-friendly glitter, which is designed to degrade naturally in the environment. According to the company, Bio-glitter (INCI: Varies) is a first step toward cutting plastic glitter waste in the environment to zero. Rather than plastics typically used as the core of glitter, this ingredient replaces them with a plant-based cellulose, which is stable and reportedly will not degrade on the shelf. Once it enters soil, compost or waste water environments, where microorganisms are present, the glitter naturally decomposes. This product won the gold Makeup Bar award during in-cosmetics.
Taking a more subdued approach, Imerys Performance Additives launched ImerCare Matte (INCI: Kaolin), the newest addition in its range of natural mineral ingredients. According to the company, kaolin can lend mattifying effects to a variety of applications, including gels, creams, liquid foundations and pressed powders. The microporous ingredient has a high surface area, which provides sebum absorption capabilities to leave a matte finish. The Cosmos-approved ingredient also offers good skin tolerance with an inert and chemically resistant mineral grade.
From ethical treatment and sourcing, to dramatic and lasting effects, color cosmetics have adopted some strategies of their product-sector counterparts—with a flair only they can achieve.