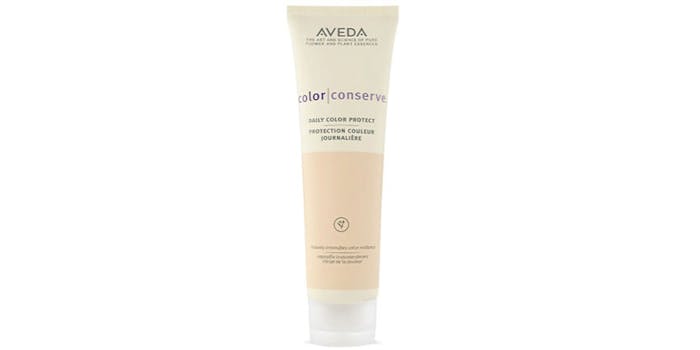 aveda.co.uk
This 'Read the Label' column focuses on natural brands; in particular, eco-friendly ingredients. The product under review is Aveda's Color Conserve Daily Color Protect hair product. 
Austrian-born Horst Rechelbacher founded Aveda in 1978. He started his career in the 50s as a hairstylist and by his late teens, he grew in popularity with celebrity clients. He traveled to various countries and then settled in the U.S. in his twenties, opening his salon in Minnesota.
In the late 60s, Rechelbacher is said to have suffered from burnout. Due to this, he ventured to India in search of a holistic retreat. This is where he discovered ayurveda, which later became the heart of Aveda products. As many readers know, ayurveda is a traditional Hindu medicine that focuses on diet, herbal remedies and yoga. 
Featured: Ayurveda in Cosmetics Part I: Total Wellness Achieved by a Traditional Means
In 1978, Rechelbacher teamed up with ayurvedic doctors Vinod and Kusum Upadhyay to develop Aveda's first product—a clove shampoo. In 1982, the first Aveda Institute opened, a school for beauty professionals, and the brand continued to grow until it become a multinational player in the global beauty sector. The company was acquired by The Estée Lauder Companies in 1997. As of January 1, 2021, all Aveda products are 100% vegan; they have been cruelty-free since beginning, in 1978.
The present hair color protection treatment is 93% naturally derived and the brand claims that its botanical-based ingredients are highly effective for intensifying the color of the hair, whilst sealing and smoothening to cuticle for increased shine. Aveda highlights larch tree to help seal in color while green tea antioxidants protect against environmental damage. The product also contains a blend of wintergreen and cinnamon oil, reportedly to help protect color from UVA/UVB damage. 
To use the product, consumers rub a coin-size amount between the palms and finger-comb it through damp hair, leaving it in hair, then style as desired. As the name suggests, the product can be used daily. 
Of the ingredients below, those in bold are the ones I believe to be strongly contributing to the product's performance and claims. 
Ingredients: Water (Aqua), Dimethicone, Cetearyl Alcohol, Propanediol, Camellia Sinensis (Green Tea) Leaf Extract, Aspalathus Linearis (Red Tea) Leaf Extract, Galactoarabinan, Adansonia Digitata Seed Oil, Orbignya Oleifera (Babassu) Seed Oil, Passiflora Edulis Seed Oil, Helianthus Annuus (Sunflower) Seed Oil, Oryza Sativa (Rice) Bran Oil, Ricinus Communis (Castor) Seed Oil, Euterpe Oleracea Pulp Oil, Glycerin, Ethyl Macadamiate, Amyl Salicylate, Isoamyl Cinnamate, Hydroxypropyltrimonium Hydrolyzed Corn Starch, Hydrogenated Lecithin, Methyl Soyate, Castor Isostearate Succinate, Hydroxypropyl Guar, Distearyldimonium Chloride, Guar Hydroxypropyltrimonium Chloride, Quaternium-95, Hydrolyzed Vegetable Protein PG-Propyl Silanetriol, Behentrimonium Methosulfate, Tocopherol, Parfum, Geraniol, Linalool, Benzyl Benzoate, Citronellol, Eugenol, Limonene, Maltodextrin, Sodium Chloride, Sodium Hydroxide, Sodium Benzoate, Calcium Gluconate, Gluconolactone, Phenoxyethanol
Editor's note: While the "Read the Label" series provides an overview of the ingredients cosmetic manufacturers use and their related claims, without use levels or access to clinical studies, the author is drawing conclusions based on speculation—albeit from training, formulating experience and, in some instances, evidence in the literature. The following is offered for your consideration and further verification.
Dimethicone
It's interesting that this natural brand uses dimethicone, as it is a synthetic ingredient. Since the whole formula is 93% naturally derived, the remaining 7% is not naturally derived.
Dimethicone is perhaps used at around 5%, as there are other synthetic materials in this ingredient list, too. However, there are new grades of naturally derived dimethicone that exist. In the production method of dimethicone, the fossil fuel methanol is used. This means that standard dimethicone has a natural index of 0%. In the newer method, biomethanol is used in the production method instead. The use of renewable biomethanol gives dimethicone a higher natural index (> 50%).
Dimethicone is a general INCI name for a variety of silicone products; usually a chemical structure with methyl groups attached to a siloxane backbone. Depending on the chain length and positioning of the methyl groups, this affects the viscosity of the product.
Silicone comes from sand (silicone dioxide), which makes up two-thirds of the earth's crust. Dimethicone leaves a soft skin feel and is great for skin and hair care. In hair care, it coats the hair shaft to flatten damaged cuticles, which gives the appearance of split end repair. It also has a high refractive index so creates a shine and soft feel to the hair. 
Propanediol
This ingredient continues to rise in popularity, globally. Usually derived from corn, this is a natural, colorless solvent. Propanediol is a humectant that draws moisture into the skin and hair. It has preservation boosting properties, which means in some cases, formulators can lower the percentage of preservatives used in products and still achieve safe challenge test results. As most preservatives are synthetic, adding a natural preservative booster such as propanediol and lowering the level of preservatives is a way a formulator can increase the natural content within a formula, according to the ISO 16128 standard.
Camellia Sinensis (Green Tea) Leaf Extract
Aveda claims this as a "hero ingredient." Green tea is a powerful antioxidant that reduces ROS, which can cause color degradation. It's more commonly used in skin care but the hair care market is evolving, and consumers are spending more on hair care products. It's now common to see skin care ingredients appearing in hair care products, too; particularly hyaluronic acid and vitamin C.
Galactoarabinan
Galactoarabinan is a water-soluble polysaccharide derived from the larch tree, usually in powder form. It has high stability and does not affect the viscosity of the product too much. Further, its structure is not broken down by a high electrolyte concentration. The material acts as a film-former to coat the hair in order to lock in moisture and provide color protection. 
Orbignya Oleifera (Babassu) Seed Oil
This "Read the Label" focuses on ethical stories, and this ingredient is the reason why I chose to write about this product. Aveda has a powerful story behind the babassu oil the company sources.
It reportedly comes from Maranhão, Brazil, where local women gather the nuts from the trees of the forest. These women have been collecting the nuts for generations and have passed on their skills to their daughters. In the 70s, the forests were said to be invaded, and these women were forced to pay a fee to collect the nuts. The invaders were protected by law enforcement and some women were reportedly jailed unjustly.
The community campaigned for the "Free Babassu Law," which now protects the babassu trees. The community also joined with other farmworkers to form a co-op called "COPPALJ," which gives them more power to ensure they get a fair price for their work. Another project developed was "ASSEMA," a community development project that supports technical assistance and training.
Since 1996, Aveda ensures it buys the certified organic babassu oil that comes from the seeds of the local nutbreakers. Aveda contributes to ASSEMA as well, promoting education and sustainable farming practices to the local people. In 2011 and 2014, Aveda provided grants to aid the construction of three rainwater-harvesting systems, each able to store 30,000 L of water. Three composting toilets were also built to improve sanitation amongst the farmers. 
Ricinus Communis (Castor) Seed Oil
Commonly used in lipsticks but also in hair care, this ingredient is used in ayurvedic medicine to treat the hair and scalp. It has been said that castor oil aids hair growth, nourishes the scalp and provides shine and moisture to the hair shaft. 
Distearyldimonium Chloride
This cationic surfactant is used mainly in nourishing skin and hair treatments. The usage level can be adjusted depending on how conditioning formulators want the material to be but in this daily product, it can be used at a low level, perhaps < 1%. 
Guar Hydroxypropyltrimonium Chloride
This material is a naturally derived conditioning agent that can be used in shampoos, conditioners and leave-in conditioners. It works as a depositing agent due to its cationic charge, which allows other oils within the formula to stay on the hair shaft. This then leaves the hair soft, glossy and smooth. Guar hydroxypropyltrimonium chloride has a low build-up effect on the hair and repairs damage while increasing combability.
Quaternium-95
Quaternium-95 is mainly a conditioning agent with an added weak protective mechanism against UVA and UVB radiation. UV light is the main factor that causes color degradation, so providing the hair with UV protection means the hair color will not fade as quickly over time.
Behentrimonium Methosulfate
This is another conditioning ingredient that provides anti-frizz effects to the hair, as well as repairs damage. Behentrimonium methosulfate also helps with emulsion stability.
Conclusion
It is clear to see that this product contains a high level of conditioning and color protection active ingredients. Consumers can buy this online through Aveda's website for £23.50 for 100 mL ($35 for 3.3 fl oz).
Source: Aveda

Disclaimer: This article was produced in the UK and therefore the INCI listing and INCI names comply with European labeling requirements.