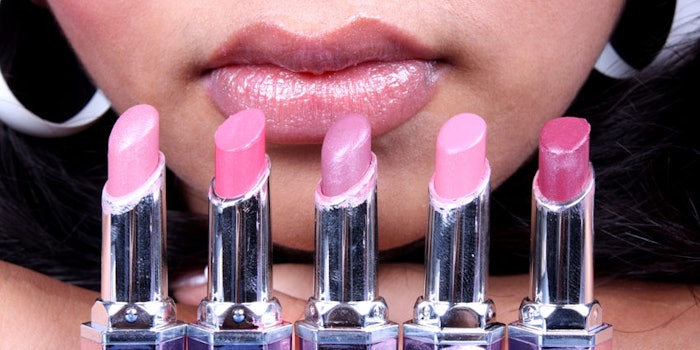 Lipstick is the least expensive and most popular color cosmetic in the world today, according to Tony O'Lenick and co-author David Zhang. In this edition of "Comparatively Speaking," the authors explain the basics of formulating a traditional and transfer-resistant lipstick product and provide formula examples for each.
Lipstick formulas basically contain structuring agents such as waxes, polymers and gelling agents. They also incorporate oils/carriers, pigments and other ingredients that apply color, gloss, texture and protection to the lips. These ingredients are discussed in more detail as follows.
Structuring Agents
The most common structuring agents used are ozokerite, carnauba, candelilla, beeswax, polyethylene and microcrystalline wax. Here, it is critical to use a blend of crystalline and amorphous waxes to provide a small crystal size upon cooling, which creates good oil binding/compatibility and stick strength. Waxes also enable the mixture to be formed easily into the well-recognized bullet stick shape.
Binders and Gelling Agents
Polymers such as polyethylene are used as binders to unite ingredients and increase the hardness and slip of the lipstick. Copolymers including blends such as diisostearyl malate (and) ethylenediamine/hydrogenated dimer dilinoleate copolymer bis-DI-C14-18 alkyl amide act as oil gelling agents for clear lipstick. Dibutyl lauroyl glutamine is also a highly effective oil gelling agent that creates nano-sized fiber networks in liquid oils and macroscopically makes hard oil-gel types of lipstick.
Color, Shine and Application
Oils, emollients and pigment dispersants are the primary lipstick ingredients that impact product application, color, spreading and shine. Oils such as mineral, castor, lanolin or vegetable are commonly used in lipstick formulations. The best emollients are normally high molecular weight and viscous, to provide cushion. They also have a refractive index higher than 1.49 to render shine on lips, which also can help to prevent bleeding and feathering or wicking of the product into the skin creases around lips.
Pigment dispersants are important, too, because the finer and more uniform the pigments, the brighter the color and the more stable the lipstick.
Commonly used emollients in lipsticks include lanolin, castor oil, bis-diglyceryl polyacyladipate-2 (synthetic lanolin), shea butter, polybutene, hydrogenated polyisobutene and triisostearyl citrate. Dipropylene glycol dibenzoate has high refractive index > 1.54 and hence, is also used in lipstick formulations. In addition, silicone oils with a very high refractive index (> 1.50) such as phenyl trimethicone and phenyl isopropyl dimethicone are used in lipstick to provide emollience and shine.
In addition to the above-described hydrophobic bases, pigments are another key ingredient in lipsticks. Typically, these include organic colorants, such as Red 7 and Red 28, or inorganic colorants like Red Iron Oxide.
Preservatives and antioxidants are also added to lipsticks to prevent products from becoming rancid. Furthermore, fragrances may be added per customers' requirements; although many prefer fragrance-free.
While every lipstick contains the above-named components, a wide variety of other ingredients can be included to make the product smooth or glossy, to moisturize the lips and/or to modify parameters such as the melting characteristics, adhesion profile, stability and ease of production. Just as there is no standard lipstick size or container shape, there are no standards for proportions of ingredients used. Thus, beyond the base ingredients, i.e., wax, oil and antioxidants, supplemental material amounts vary greatly.
The ingredients themselves also range from complex organic compounds to entirely natural ingredients, the proportions of which determine the characteristics of the lipstick. Selecting lipsticks is, as with all cosmetics, an individual choice, so manufacturers design a broad selection.
Lipstick Types and Functions
From the perspective of the raw materials used in a lipstick, there are two basic types. One is based on natural/organic waxes and natural/organic oils, or natural/organic derivatives that support the claim for a more pure/natural/organic product. The other is based on synthetic waxes and oils, which is cheaper and offers more ingredient choices.
Whichever type of raw materials are used, the final lipstick product is made to appeal to the current fashion trend and is produced in a wide range of colors. From the perspective of function and performance, lipsticks can be classified as moisturizing, satin and sheer, matte, cream, pearl and frosted, gloss, long-wearing and transfer-resistant.1 
The best emollients are normally high molecular weight and viscous, to provide cushion. They also have a refractive index higher than 1.49 to render shine on lips.
Traditional Lipstick Composition and Formulation
As described above, typical lipsticks are composed of: emollients from 31-70% w/w, which also help to disperse pigments; structuring agents at 15-32% w/w, which are usually a mixture of two to five ingredients; pigments from 3-16%; pearls/luster agents at 0-15% w/w; matting agents from 0-5%; wear ingredients at 0-5% w/w; fragrance/flavor from 0-0.5% w/w; and preservatives/antioxidants at 0.2-0.5% w/w.
A typical lipstick formula is shown in Formula 1:
Step 2: Next, the oils and solvents are ground (usually through a roller mill) together with the desired color pigments, ensuring the pigments are well ground, fine and uniform.
Step 3: After the pigment mass is ground and mixed, it is added to the hot wax mass.
Step 4: Following this addition, the remaining powders, preservatives and antioxidants are added and blended well until a uniform color and consistency is obtained.
Step 5: The hot fluid lipstick can then be poured into a tube and packaged for sale.
Quality Control
Quality control procedures for lipsticks are strict and must meet U.S. Food and Drug Administration (FDA) standards. This is because lipstick is the only cosmetic potentially ingested, so ingredients as well as manufacturing processes are tightly controlled.
Lipstick must be mixed and processed in a controlled environment to ensure it remains free of contamination. Incoming materials for lipsticks, as most every other cosmetic product, must be tested to ensure they meet required specifications. Samples of every lipstick batch produced also must be saved and stored at room temperature for the life of the product (and often beyond that) to maintain control on the batch.
Traditional Lipstick Performance
The performance of lipsticks is the most important factor, which formulators should consider. When lipstick is applied, a colorful film is coated on the lips. This colorful coating replaces and improves the natural surface color of the lips, so as to enhance the appearance of the face.
During application, the lipstick must feel smooth but not oily; it should adhere well to the lips but not feel sticky; and during wear, the color should be uniform and stable but not smear. Additionally, lipstick should stay on the lips as long as possible without transferring to other surfaces. This is difficult because lipstick is worn off by eating, drinking and talking; therefore, transfer resistance is a desired attribute.
Long-wear Lipstick Efficacy and Claims
Most customers rank long wear as an important lipstick attribute, and most lipstick manufacturers have attached this claim to their products. However, as noted, making a long-wear lipstick, especially as an actual stick, has been a challenge. Indeed, most transfer-resistant lipsticks on the market are liquid lip colors.
Valli Herman2 and Robert Lochhead, Ph.D., University of Southern Mississippi; and Margaret Lochhead, Ph.D.,3 previously described the developing history of lasting and transfer-resistant lipsticks by beauty giants such as Revlon, L'Oréal, Maybelline, P&G, Lancome, Clinique, Guerlain and Shiseido. Furthermore, many companies today claim to have discovered the secrets for lipstick that lasts at least one full work day, as well as for other long-wearing color cosmetics.
Quality control procedures for lipsticks are strict because lipstick is the only cosmetic potentially ingested, so ingredients as well as manufacturing processes are tightly controlled.
There are many claims for transfer-resistance or the like, including: long lasting, long wear, color stay, won't rub off, etc. Perhaps the most important attribute of a transfer-resistant lipstick is, "it must be soft when deposited but should not be transferred during a kiss," as described by Nobel Laureate Pierre-Gilles De Gennes in a Nature article from 2001.4 
Transfer-resistant Lipstick Composition
What is transfer-resistant lipstick and how is it formulated? This type of lipstick specifically incorporates transfer-resistant compositions along with the properties and performance of a normal lipstick. For example, there are many film formers that claim to be transfer-resistant; most are organic polymers/co-polymers and resins such as polyamide or polyacrylate copolymer.
Isododecane (and) acrylate copolymer (Giov Arez AC-5099 M, Phoenix); hydrogenated polycyclopentadiene (and) polyethylene (and) Copernicia cerifera (carnauba) wax (and) tocopherol (Koboguard HRPC, Kobo); and hydrogenated castor oil/sebacic acid copolymer (Crodabond CSA, Croda) are specific examples. The latter is a 100% natural-derived film-former and adhesive polymer.
Shorea robusta resin blended with an emollient can also act as a film former and provide superior gloss while enhancing adhesion on the lips/skin. It also can be used as an alternative for traditional film-forming technologies, i.e., polyisobutene, and products based on polyvinylpyrolidone (VP/eicosene copolymer, VP/hexadecane copolymer) or carboxylated resins (acrylate copolymer, acrylate/acrylamide copolymer).
Also, many new complex silicone-based polymers claim transfer resistance. These include: dilauroyl trimethylolpropane siloxy silicate, or diisostearoyl trimethylolpropane siloxy silicate; trimethylsiloxysilicate; polymethylsilsesquioxane; and bis-hydroxypropyl dimethicone/SMDI copolymer. Transfer resistant silicone resins or/and polymers can coat color pigments and sit on the skin's surface instead of sinking and fading into it. Some volatile ingredients also evaporate after application and leave a firm film, which can keep the color intact.
The structure of a transfer resistant composition must contain volatile oils or silicone fluids so that they can help the composition spread onto skin. Upon contact, they evaporate and the transfer resistant and durable wear properties of the lipstick are then realized.3 The most commonly used volatile oils or silicone fluids are isododecane, cyclopentasiloxane, dimethicone and trisiloxane.
Shorea robusta resin blended with an emollient can also act as a film former and provide superior gloss while enhancing adhesion on the lips/skin.
Formulating Transfer-resistant Lipstick
Typical transfer resistant lipsticks are composed of: emollients from 31-70% w/w, most of which are volatile oil and silicone fluids; structuring agents at 25-35% w/w, usually a mixture of two to five ingredients; pigments from 3-16% w/w; pearls/luster agents at 0-15% w/w; fragrance/flavor at 0-0.5% w/w; and preservatives/antioxidants from 0.2-0.5% w/w.
An example transfer-resistant lipstick is shown in Formula 2:
Specially designed airtight lipstick containers can keep the volatile ingredients from evaporation. It also is a good idea to educate consumers to snap the cap shut; otherwise, the lipstick may dry up.
Transfer-resistant Lipstick Performance
Finally, as noted, the performance or feel of long wear lipstick is a challenge to formulators. Transfer resistance is influenced by many factors such as the choice of waxes, oils and pigments used. It also is clear that even if a transfer-resistant agent performs well in some formulations, it cannot turn a miserable lipstick formulation into an eight-hour experience; if a lipstick does not provide a pleasant, uniform pay-off but has low transfer resistance, it is still more worthwhile to revamp the base formulation or reconsider the pigment selection than to simply add a film-former.
How can one evaluate the performance of transfer resistant lipstick? As stated, the performance of transfer resistant lipsticks should follow all the qualities of normal lipsticks but in addition, the color should be long lasting and not transfer from the lips to other surfaces. Currently, there is no industry standard to evaluate this transfer resistant property but each manufacturer has its own standard method. Examples include the Kiss Test, invented by Revlon,3 as well as instrumental testing by "dry blot and rub, and oil blot and rub." The latter is performed by applying lipstick to collagen sausage casings and spectroscopically measuring the transfer (or lack thereof) when the collagen is contacted with a foam plate.5
References
2. Herman, V. (1996, Jul 11). Hopes for truly long-lasting lipstick must no longer simply be kissed off; Fashion: Cosmetics companies say they have discovered the secrets to colors that stay on at least a full workday. Dallas Morning News
4. De Gennes, P.-G. (2001). Ultra divided matter, 385, Transfer-resistant lip compositions. Nature 412
5. Drechsler, L.E., Rabe, T., Smith, T.E. and Dewey, E. (2000). US Pat 6071503, transfer resistant cosmetic compositions. Available at https://patents.google.com/patent/US6071503A/en.