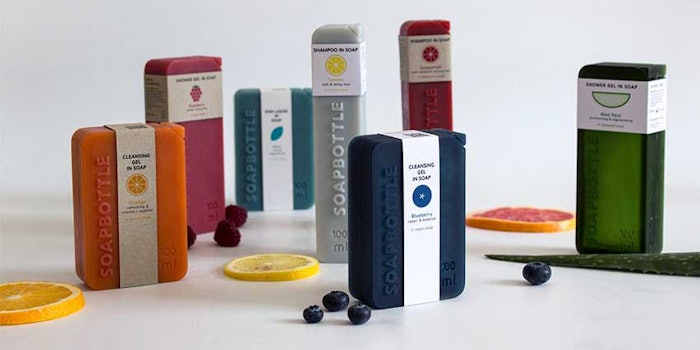 SoapBottle was created by independent product designer Jonna Breitenhuber, based in Berlin, whose goal was to come up with a zero-waste alternative to plastic bottles. 
According to National Geographic, the packaging industry for beauty and personal care products makes up nearly US $25 billion in plastic sales. And with the drive for sustainability and eco-friendly products on the rise, companies like LUSH Cosmetics are finding innovative ways to cut this plastic and packaging from the environment's—as well as the personal care industry's—expenses.

See related: Formulating on Trend: Waterless Cosmetics
These simple and colorful soap-based containers are reportedly made from natural ingredients and hold other liquid soaps such as shampoo, shower gel and hand soap. Consumers can refill the soap container by cutting a corner off of using an integrated, reusable metal closure. This closure also helps to control pouring of the product during use. A hole carved in the top of the product is intended to accommodate a string to be threaded through to hang and store the product without too much mess.
As the video shows, when the container is empty, the packaging itself can be used as a hand or body soap, or with the addition of specified ingredients, create a laundry detergent. The soap bottle is also able to gradually dissolve over time—so waste can be completely avoided.
Watch to see how SoapBottle works and its intended use:
For more information, visit Joanna Breitenhuber's website.