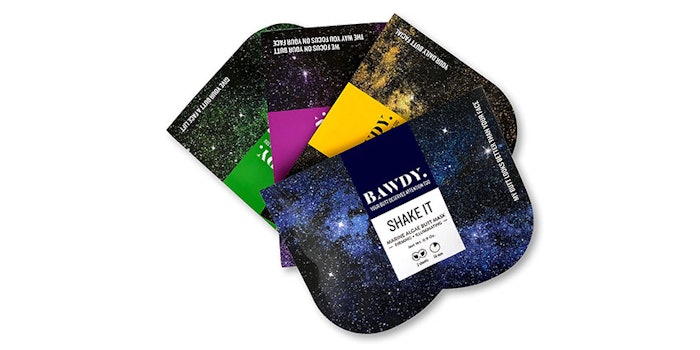 Bawdy Beauty
Bawdy Beauty broke into the growing mask market with its sheet masks meant to "tone, firm, detoxify and rejuvenate [consumers'] butt skin." Inspired by the self-care movement, the vegan masks are meant to add a playful touch to consumers' beauty routines while providing skin care benefits to an oft-neglected area.
Key ingredients in the masks include glycerin as a humectant, emollient, viscosity modifier and lubricant; moisturizing aloe; and xanthan gum as a binding agent, which forms a gel texture. Other hero ingredients include blue algae extract, caffeine, various citrus extracts and more.
The masks are available in several varieties, including:
Bite It Hydrating + Toning
Shake It Firming + Illuminating
Slap It Retexturizing + Detoxifying
Squeeze It Brightening + Rejuvenating
The masks come in two sheets for individual cheeks, along with plenty of pun-filled marketing.
Ingredients: Bite It: Water (aqua) Glycerin, Polyglyceryl-3 Laurate, Xanthan Gum, Phenoxyethanol, Ethylhexylglycerin, Matricaria Recutita (Chamomile) Extract, Sodium Hyaluronate, Acacia Seyal Gum Extract, Potassium Sorbate, Aloe Barbadensis Leaf Juice, Citric Acid  
Ingredients: Shake It: Water (aqua), Glycerin, Xanthan Gum, Phenoxyethanol, Ethylhexylglycerin, Haslea Ostreaia (Blue Algae) Extract, Fucus Vesiculosus (Bladderwrack Frond) Extract, Avena Sativa (Oat) Kernal Extract, Hydrolyzed Soy Protein, Aloe Barbadensis Leaf Juice, Matricaria Recutita (Chamomile) Extract, Acacia Seyal Gum Extract, Mica, Titanium Dioxide, Iron Oxides (Ci 77491), Citric Acid
Ingredients: Slap It: Water (aqua), Glycerin, Xanthan Gum, Phenoxyethanol, Ethylhexylglycerin, Caffeine, Citrus Aurantium Dulcis (Orange) Peel Extract, Jania Rubens Extract, Aloe Barbadensis Leaf Juice, Vitis Vinifera (Grape) Seed Extract, Lycium Barbarum (Goji) Fruit Extract, Heptyl Glucoside, Vitis Vinifera (Grape) Seed Oil, Citric Acid
Ingredients: Squeeze It: Water (aqua), Glycerin, Xanthan Gum, Phenoxyethanol, Ethylhexylglycerin, Citrus Medica Limonum (Lemon Peel), Extractcucumis Sativus (Cucumber) Extract, Ascorbyl Glucoside, Citrus Grandis (Grapefruit) Seed, Extractsaccharum Officinarum (Sugarcane) Extract, Dipotassium Glycyrrhizate, Olea Europaea (Olive) Leaf Extract, Morinda Citrifolia (Noni) Extract, Citrus Aurantium Dulcis (Orange) Peel Extract, Sodium Hydroxide