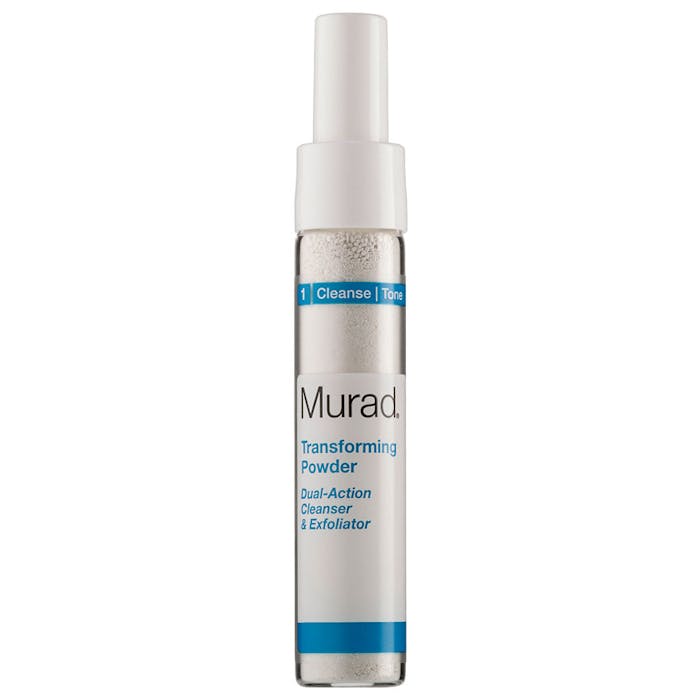 The Asian approach to intense skin cleansing has expanded all over the world. One example comes from U.S. derm brand Murad, which is the next to offer a dry powder designed for both cleansing and exfoliation. The product claims delineate a water-activated powder that transforms to cleanse effectively and exfoliate without over-scrubbing.
Exfoliating bio-enzymes are said to "digest surface oil/dirt and dead skin cells," while dissolving beads smooth and soften skin. Active ingredients help to keep pores clear for smooth, blemish-free skin.
Instructions direct users to carefully dispensed a dime-sized amount into wet hands to create a foamy lather, and to apply it all over the face and neck, avoiding the eye area. The product should be massaged in gently for one minute, rinsed with warm water and patted dry. The recommended frequency is 2-3 times per week.
This column will review the ingredient listing for claims substantiation and functionality.
Surfactants and Emollients
The powder is based on a surfactant system comprising sodium C14-16 olefin sulfonate, a surfactant, cleansing and foaming agent; and PEG-8 ricinoleate, an ester of ricinoleic acid, that is also a surfactant and emulsifying agent. The emollients in the formulation are jojoba esters and PEG-8 dimethicone, a silicone derivative with skin conditioning properties.
Viscosity Control
Hydrated silica, a form of silicon dioxide, provides abrasive properties and increases viscosity. In addition, viscosity is controlled by dextrin, a gum produced by the incomplete hydrolysis of starch, and its absorbent, binding and bulking properties. Maltodextrin, a saccharide derivative obtained by hydrolysis of starch, also absorbs, bind and stabilizes.
Benefit and Active Ingredients
Polydextrose provides conditioning and hydration. Active ingredients include pumpkin (Curcurbita pepo) seed extract for enzymatic exfoliation; salicylic acid, a keratolytic; and lipase, an enzyme hydrolyzing triglyceride that also enhances stratum corneum shedding and alleviates blocked follicles.
Bacillus ferment and subtilisin, an enzyme obtained by bacterial fermentation, optimize the skin environment and provide hydration and conditioning. Glycerin is a humectant, and niacinamide improves the balance of skin hydration, evenness of skin tone and sebum production. The product also contains fragrance.
Conclusion
In my view, the ingredients in the powder formula support its claims and provide intense cleansing and exfoliation. In addition, caution should be exercised when this product is used on sensitive skin types.
Ingredients: Sodium C14-16 Olefin Sulfonate, Hydrated Silica, Jojoba Esters, Glycerin, Maltodextrin, PEG-8 Dimethicone, PEG-8 Ricinolate, Cucurbita Pepo (Pumpkin) Seed Extract, Salicylic Acid, Bacillus Ferment, Dextrin, Polydextrose, Amylopectin, Niacinamide, Subtilisin, Water (Aqua), Lipase, Fragrance (Parfum).