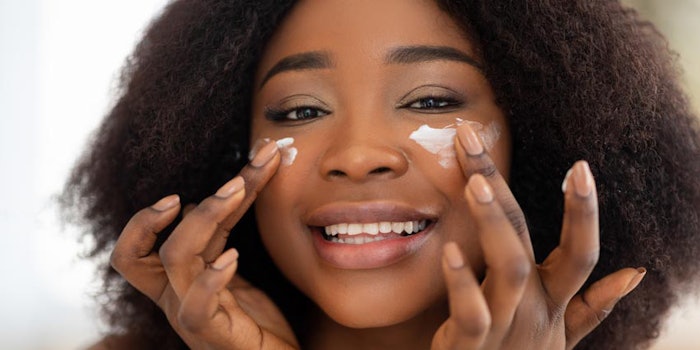 During the 2021 Society for Investigative Dermatology (SID) virtual meeting, supported in part by Mary Kay Inc., the company revealed novel research combining retinol with a botanical extract to reduce its irritation potential.
More specifically, the study describes a cosmetic formulation incorporating retinol with a plant-derived TRPV1 antagonist and anti-inflammatory botanical extract to mitigate retinoid-induced irritation. The work demonstrated a gradual retinization over a period of eight weeks.
Subjects who applied the formulation not only demonstrated high tolerability to the formulation, but also a reduction in dermatologist-assessed erythema, edema and dryness after use. Details of the bio-derived ingredients were not disclosed.
See related: [podcast] Mary Kay on Why Biology is Exciting for Product Development
"Our Research and Development team is consistently developing new skin care solutions for women around the world," said Lucy Gildea, Ph.D., the company's chief scientific officer. "Participating in events such as the SID annual meeting allows us to learn and share relevant research so we can continue to deliver meaningful benefits and amazing products to consumers."
In addition, Mary Kay announced it will award four $25,000 grants to researchers conducting groundbreaking and innovative studies in skin health or skin diseases, for which eligible applicants can apply through August 31, 2021. The winners of the grants will be announced at the SID annual meeting in 2022. Through the funds, Mary Kay hopes to empower researchers to uncover new perspectives and intervention strategies in the science of dermatology.
"Mary Kay is a firm believer that a collaborative effort is crucial in identifying new discoveries and innovation," said Gildea. "Events like the annual Society for Investigative Dermatology conference bring together the brightest minds working to advance the future of the field. May Kay is excited to be part of this scientific community, and we know these research grants will further help ongoing efforts in skin research. We are thrilled to see what scientists uncover next."
See related: Formulating on Trend; Combining Humectants and Retinol