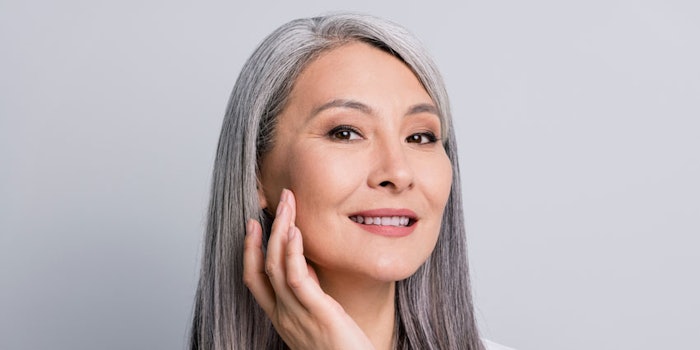 Kao Corp. has designed a makeup that with a simple application, tightens skin to smooth sagging nasolabial folds. This research was presented during the IFSCC 2020 Congress.
As the company explained, apparent age is dependent on skin wrinkles, age spots and deep nasolabial folds or "laugh lines." Nasolabial folds are more prominent than other types of wrinkles, with shading emphasized by overhanging sagging skin caused by gravity. These are difficult to cover with foundation or concealer. As such, Kao sought diminish these folds by lifting sagging cheek skin.
Film-forming Polymers
Liquids containing specific polymers can form films that shrink as they dry. The investigators therefore examined whether they could lift sagging skin using such technologies. Initially, the amount of force required to lift the sagging cheek was determined. Then, the shrinkage rate of a film while drying equivalent to the same amount of force was calculated.
The flexibility of the film when dried was also important, to prevent it from breaking. Polymers with high rates of shrinkage and skin adhesion, as well as adequate flexibility, were therefore screened via various assessments, eventually identifying a unique silicone hydrophobic polymer material with acceptable characteristics.
The equivalent shrinkage of the material when applied thinly was also considered, to provide a natural finish on skin. The researchers noted the shrinkage rate of this polymer was high when it dried quickly, so oil with high volatility was added to complete the model formula.
In vivo Testing
To test this technology, it was incorporated into a model formula and applied to the cheeks above the nasolabial fold and around the mouths below the nasolabial fold in 12 females in their 40s and 50s. Trained evaluators compared the extent of conspicuousness of each nasolabial fold before and after application using "nasolabial fold grades." The results showed that after application of the test formula, the prominece of the nasolabial folds was reduced in 11 of the 12 participants; following is one example: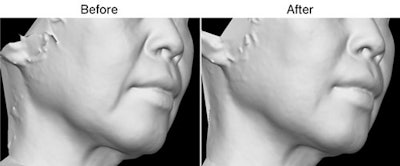 Next, the change in the deepest site of the nasolabial fold before and after application to bare skin was measured in 11 of the 12 participants (one participant who showed improvement did not participate). The results showed that nasolabial fold depth after application was shallower by approximately 1 mm on average.
Conclusions
The described makeup technology reduced the conspicuousness of nasolabial folds by noninvasive application to the skin. This was achieved via the shrinkage of a membrane adhered to the skin, resulting in the nasolabial fold becoming shallower by an average of 1 mm. This technology will be applied in the development of future makeup products to make nasolabial folds less conspicuous, to meet the desire to look younger.