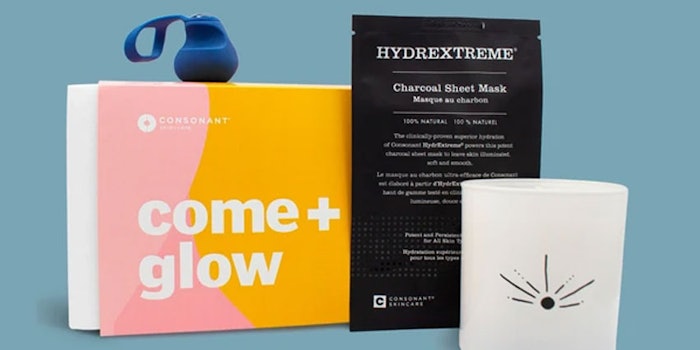 Consonant Skin+Care describes itself as a Canadian company dedicated to clinically proven natural skin care products, which it pairs with wellness tips to help consumers discover their best skin. In relation, the firm is promoting masturbation as an added step to the traditional beauty routine to achieve glowing skin. 
According to the company, great sex (and orgasm) can lead to great skin, although less than half of Canadian women regularly masturbate and are therefore missing out on "that 'o' glow." Consonant Skin+Care is therefore urging customers to take a more holistic approach to skin care by incorporating masturbation as a step in their skin care routine.
See related: [video] Arousing Opportunities Stir the Sexual Wellness Category 
Come and Glow Bundle
To encourage this practice, the company has launched a limited edition Come and Glow Bundle of products, including four HydrExtreme Charcoal Sheet Masks, a mood-setting custom Consonant x Lohn candle (called "Get cLit") and a pleasure toy from Dame—paired with "The More You 'O'" playlist, available on Spotify, Apple, Google Play and Stitcher.
This playlist aligns with an educational podcast mini-series, also titled "The More You 'O'," recorded with psychotherapist, sexologist and Bachelor-Nation personality Taylor Nolan, which explores the female body, the history of female pleasure, societal stigmas and how women can make the most out of self-pleasuring. Each episode ends with an audio guide that pairs a masturbation technique with a skin care practice, talking listeners through a holistic self-care experience.
'A study of 3,500 people showed that those who had at least three sexual experiences per week looked, on average, 10 years younger than those who didn't.'
"Masturbation causes a number of different physiological and psychological reactions in the body that result in everything from decreased stress levels and increased feelings of relaxation, to increased blood flow to the face, all of which help promote healthier skin," says Erika Schwass, Science and Wellness Manager at Consonant.
She added, "In fact, a study of 3,500 people showed that those who had at least three sexual experiences per week looked, on average, 10 years younger than those who didn't. So, when we found out that less than half of [Canadian] women masturbate regularly, we realized that there's a huge segment of women that aren't reaping the benefits that come from self-pleasuring."
HydrExtreme Charcoal Sheet Mask
As noted, included in the bundle is the HydrExtreme Charcoal Sheet Mask, designed to leave skin illuminated, soft and smooth. According to the company, its botanical blend is clinically proven to deliver hydration superior to hyaluronic acid, even 24 hours later. 
The formulation incorporates skin health-boosting ingredients including:
Tall reed extract and Poria mushroom, said to work together to optimize cellular function by accelerating barrier recovery while fortifying the skin against sensitivity;
Frankincense oil, used in skin care for centuries to up-regulate cell turnover and promote healing while increasing collagen production; and
Gotu kola, is a potent antioxidant to help protect the long-term health of skin. It is rich in amino acids, which is said to help revitalize the skin's protective barrier.
The Come and Glow Bundle can be purchased for $175 CDN online and at Consonant stores in Toronto.
Ingredients (HydrExtreme Charcoal Sheet Mask): Water (Aqua), Propanediol, Glycerin, Cassia Angustifolia Seed Polysaccharide, Phragmites Karka Extract, Poria Cocos Extract, Centella Asiatica Extract, Coco-Caprylate/Caprate, Polyglyceryl-6 Caprylate, Polyglyceryl-4 Caprate, Polyglyceryl-6 Ricinoleate, Hydroxyethylcellulose, Lactobacillus Ferment, Lactobacillus, Cocos Nucifera Fruit Extract, Boswellia Carterii Oil, Citrus Aurantium Bergamia Peel Oil, Citrus Reticulata Peel Oil. 
Ingredient disclosure source: eskinstore.com