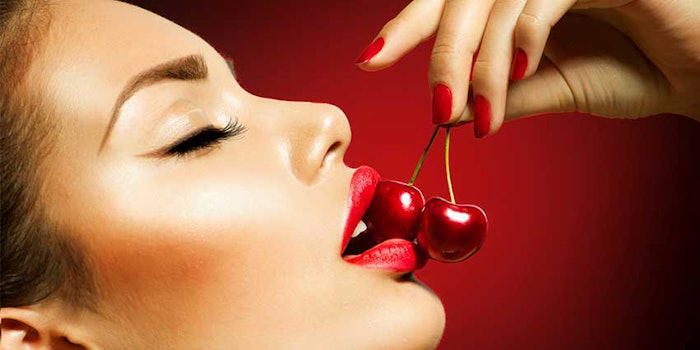 Research out of Spain published in Antioxidants explores how sweet cherry byproducts processed using green extraction techniques could provide a source of cosmetic bioactive compounds especially for anti-aging benefits.
Related: Garbage to Glamour: Recycling Food by-products for Skin Care
The manuscript reportedly aims to address the demand for new products through the revalorization of agricultural byproducts. As described in the study, novel and green extraction techniques were used to obtain three extracts from sweet cherry (sc) stems: Supercritical fluid extraction (scSFE), pressurized solvent extraction (scPLE) and subcritical water extraction (scSWE). These were characterized by high-performance liquid chromatography coupled to quadrupole-time-of-flight mass spectrometry and 57 compounds—mainly flavonoids but also organic and phenolic acids, fatty acids and terpenes—were identified.
Previously: Planting Ideas: Upcycled Rubber Seed Offers a Renewable Cosmetic Ingredient
After analytical characterization, a multistep screening approach including antioxidant, enzymatic and photoprotective cellular studies was used to select the best extract according to its benefits of interest for cosmetics. The extract obtained by supercritical CO2 presented the best characteristics, including a wide antioxidant capacity especially against lipid peroxyl and free radicals, as well as relevant photoprotective action and anti-aging properties.
As indicated in the study, these potential skin care benefits are related to scSFE's main polyphenolic compounds—catechin, chrysin and naringenin. However, further studies must be performed to determine: the molecular mechanisms involved in biological activities; the putative pharmacological interactions between the scSFE main compounds; and the compatibility and stability of these compounds or the whole extract when incorporated in a final cosmetic formula.
Read the full report here.