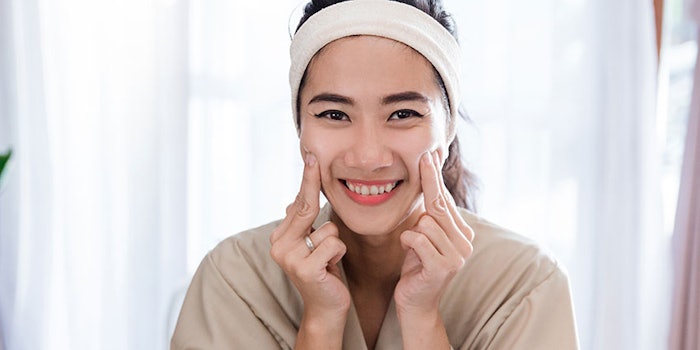 Facial yoga not only adds a touch of Instagram-worthy whimsy to skin care routines, but has also been shown to improve appearance. Lipotec was paying attention to this trend—in its new Gesturecare concept, the supplier married its anti-aging ingredients with facial exercises to help consumers "shape up."
These techniques also play a hand in increasing consumer well-being; endorphins and other hormones are released when massage meets skin care, which can improve mental health. All the while, active ingredients are delivered more effectively.
Gesturecare captures those benefits with selected facial yoga exercises (see the above slideshow for visuals); their matching ingredients and reported functions include:
Argireline peptide (INCI: Water (aqua) (and) Acetyl Hexapeptide-8)—a botulinum toxin alternative that targets wrinkles resulting from facial expressions; paired with forehead exercises to recover elasticity and reduce horizontal lines.
Eyeseryl peptide (INCI: Water (aqua) (and) Butylene Glycol (and) Acetyl Tetrapeptide-5)—improves the eye contour by minimizing tissue deterioration, fluid buildup and excess fat from the under-eye area; exercising the eye area can increase blood flow and oxygen to reduce under-eye bags and puffiness.
Seacode marine ingredient (INCI: Water (aqua) (and) Pseudoalteromonas Ferment Extract (and) Salicylic Acid (and) Citric Acid (and) Sodium Salicylate)—reduces facial wrinkles, like lipstick lines, by boosting type 1 collagen; formulations including Seacode can work with exercises to strengthen and tone muscles around the mouth.
Uplevity peptide (INCI: Water (aqua) (and) Acetyl Tetrapeptide-2 (and) Caprylyl Glycol)—lifts and reshapes the face contour by enhancing elastin assembly and increasing collagen gene expression; lifting and exercising the cheek area can help prevent sagging skin.
Actifcol advanced botanical ingredient (INCI: Water (aqua) (and) Glycerin (and) Sodium Citrate (and) Lentinus Edodes Extract (and) Potassium Sorbate (and) Sodium Benzoate (and) Phytic Acid)—improves the appearance of the face, neck and décolleté by increasing type 1 collagen and PLOD1 levels; neck-related exercises can be paired with Actifcol to release tension while toning the neck to reduce lines and loose skin.