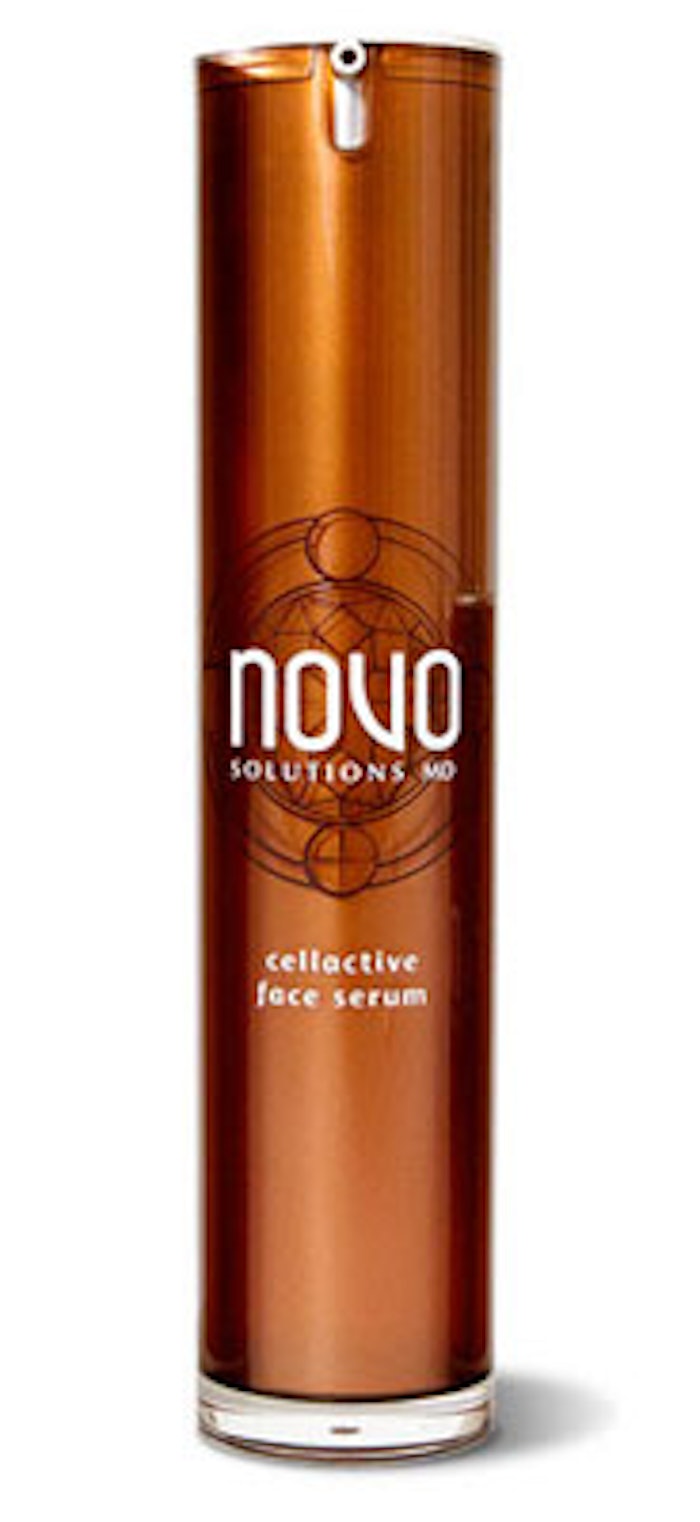 Novo Solutions MD has created NovoGlow, a line of anti-aging skin care products formulated with purified human umbilical cord serum. The company's patent-pending NovoSerum is a cell-free, non-stem cell complex derived from purified human umbilical cord serum that is triggers fibroblasts to increase collagen production and enhance the skin matrix. The line is said to stop, slow and reverse skin damage in thirty days.
To create the complex, human umbilical cord serum is tested by the US Food and Drug Administration (FDA), then processed to remove cellular material to retain peptides, nutrients and growth factors. It is manufactured for the company by an FDA-licensed, US cryobanking facility. The umbilical cord serum is comprised of human growth factors, 350 molecules, proteins, cell signalers, nutrients, peptides, and vitamins. This is combined with 12 antioxidants, four neuro-peptides, six collagen and matrix stimulants, eight antibacterial/anti-inflammatory agents and 24 moisturizers and emollients in the company's complex to repair and restore age lost cellular mechanics, reduce inflammation, repair wounded tissue, reactivate cellular moisture systems, restore natural collagen and enhance skin matrix.
The serum complex reduces wrinkles, fine lines, pores, and spots, while simultaneously increasing texture and moisture. Medical results reported that 94% experienced more youthful looking skin, 79% observed a decrease in under eye puffiness and 73% saw a decrease in wrinkles and fine lines.
NovoGlow comprises six products, including: Absolute Face Cleanser, Brilliant Face Exfoliant, Cellactive Face Serum, Advanced Eye Serum, Moisturizing Renewal Cream and Moisturizing Renewal Cream with SPF protection. 
Ingredients: Cellactive Face Serum: Water (aqua), Cetyl Esters (and) Butylene Glycol, Juglans Regia Leaf Extract, Juglans Regia Shell Extract, Centella Asiatica Extract, Pyrus Germanica Extract, Lecithin, Palmitoyl Oligopeptide-Palmitoyl Tetrapeptide-7, N-Acetyl Tyrosyl-Arginyl Hexadecyl Ester, PPG-3-Benzyl Ether Myristate, Undaria Pinnatifida, Sorbitan Stearate (and) Sorbityl Laurate, Dimethyl Isosorbide, Stevia Rebaudiana Extract, Acetyl Hexapeptide-3, Caprylic/Capric Triglycerides, Phenoxyethanol, Sorbic Acid, Caprylyl Glycol, Phosphatidylcholine, Myristamidopropyl PG-Dimonium Chloride Phosphate, Prunus Amygdalus Dulcis, Simmondsia Chinensis Seed Oil, Triethanolamine, Benzylalcohol Dehydroacetic Acid, Human Umbilical Extract Complex with Polypeptides, Carbomer-924, Hyaluronic Acid.