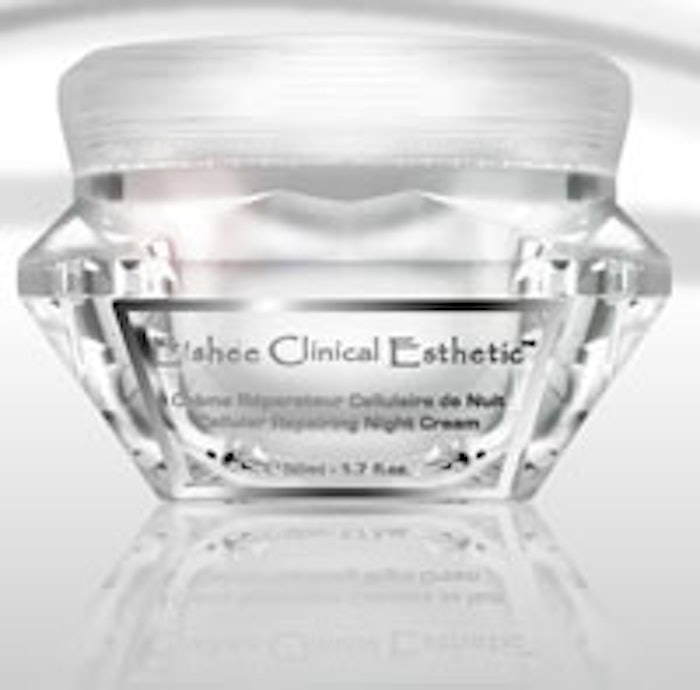 E'shee Clinical Esthetic has introduced a night cream formulated with marine collagen, peptides, trace elements, minerals and atelocollagen to repair skin. Cellular Repairing Night Cream includes marine collagen extract and atelocollagen to reportedly moisturize and plump the skin, while Alpinia speciosa extract is said to reinforce the structure of skin by stimulating the synthesis of collagen, and hyaluronic acid produces a tightening effect.
The formulation was designed with human oligopeptide-20 (tissue inhibitor of metalloproteinases-2 (TIMP2)) to protect the fibers and cell membranes in the the collagen network. FGF-1 is also included to rejuvenate epidermal cells and underlying dermal cells. It reportedly triggers new fibroblast cell growth by stimulating the stem cells. Finally, a blend of magnesium, potassium, calcium, manganese, silicon, sodium, copper, zinc and iron are said to help the skin maintain its integrity by providing it with essential nutrients.
Ingredients: Water (aqua), Butylene Glycol, Bifida Ferment Lysate, PEG-8 Beeswax, Cetyl Alcohol, Zea Mays (Corn) Germ Oil, Caprylic/Capric Triglyceride, Squalane, Carthamus Tinctorius (Safflower) Seed Oil, Persea Gratissima (Avocado) Oil, Glyceryl Stearate, Propylene Glycol, Hydrolyzed Wheat Protein, Glycine Soja (Soybean) Oil, Hexylene Glycol, Glycerin, Phenoxyethanol, Ceteth- 20, Dimethicone, Carbomer, Steareth-20, Xanthan Gum, Sodium Chloride, Sorbitol, Centella Asiatica Extract, Fructose, Glucose, Polysorbate 20, Methylparaben, Potassium Silicate, Proline, Disodium EDTA, Paraffinum Liquidum (Mineral Oil), Fragrance (parfum), Benzyl Salicylate, Sodium Hydroxide, Butylparaben, Panax Ginseng Root Extract, Calendula Officinalis Flower Extract, Alpha-Isomethyl Ionone, Ethylparaben, Atelocollagen, Linalool, Cinnamyl Alcohol, Alpinia Speciosa Leaf Extract, Geraniol, Sucrose, Urea, Propylparaben, BHA, Sodium Dehydroacetate, Hydroxycitronellal, Dextrin, Potassium Sorbate, Magnesium Sulfate, Propyl Gallate, Calcium Chloride, Sorbic Acid, Citric Acid, Citronellol, Copper Sulfate, Alanine, Glutamic Acid, Benzyl Alcohol, Aspartic Acid, Guaiazulene, Tocopherol, Isobutylparaben, Manganese Sulfate, Zinc Sulfate, Tissue Inhibitor of Metalloproteinases-2, aFGF (Human Recombinant acidic Fibroblast Growth Factor).