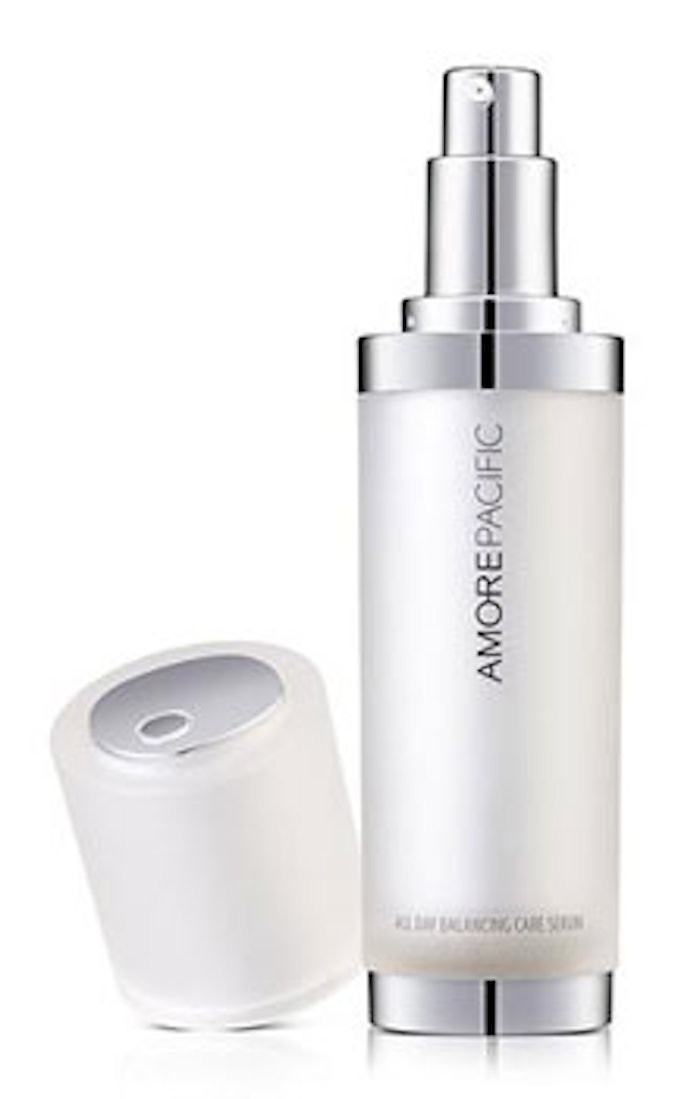 AmorePacific All Day Balancing Care Serum contains the company's Balancycle Complex, which utilizes white birch sap, musk mallow extract and other Asian botanicals to "balance the skin's natural rhythm." I am not sure which "rhythm" AmorePacific is referring to with this claim. The company claims that the product "fortifies skin's condition against environmental aggressors such as pollution, lack of sleep, and stress, and "helps to reduce sebum production and enhance moisture levels while returning skin to a youthful, healthy and more rested appearance." This column will review the ingredient listing for claims substantiation and functionality.
This formula is a water-based solution with Camellia sinensis (green tea) "water" and Phyllostachys bambusoides (Japanese timber bamboo) juice listed as the primary vehicles/diluents. Panax ginseng root extract and Carica papaya (papaya) fruit extract are botanical extracts with stimulating and moisturizing properties. Water (aqua) appears later in the ingredient list to give the impression that the botanicals are present in high concentration in the formula.
The thickening and stabilizing agents include carbomer, hydroxyethyl acrylate/sodium acryloyldimethyl taurate copolymer and natto, xanthan and cellulose gums. Glycerin and propanediol, a corn sugar-derived propylene glycol replacement, both function as moisturizers and PEG/PPG-17/6 copolymer functions as an emollient/solvent.
The cosmeceutical or bioactive ingredients include Betula platyphylla japonica (Japanese white birch) for its antioxidant properties and Hibiscus abelmoschus (musk mallow) seed extract for its protective properties. Anti-wrinkle claims can be made for the musk mallow extract based on some clinical studies. Tricholoma matsutake (Japanese pine mushroom) extract contains vitamins, minerals and amino acids and is thought to provide skin protective properties. Also dipotassium glycyrrhizate is a well known skin brightening agent, sodium hyaluronate is a strong humectant and beta-glucan is a skin soothing agent derived from oat. Magnolia obovata (Japanese bigleaf magnolia) bark extract possesses an anti-histamine release effect based on some scientific studies. Unique to the AmorePacific brank are the Camellia sinensis callus culture conditioned (growth) media and culture extract, which have antioxidant and protective properties.
The preservative system consists of phenoxyethanol and ethylhexylglycerin and is boosted by chelating agent disodium EDTA. Tromethamine is a pH adjuster used to neutralize the carbomer.
While I did not specifically note any sebum reducing ingredient, there are a sufficient amount of antioxidant, skin protecting and moisturizing ingredients to support the claim of a more "youthful, healthy and rested" appearance.