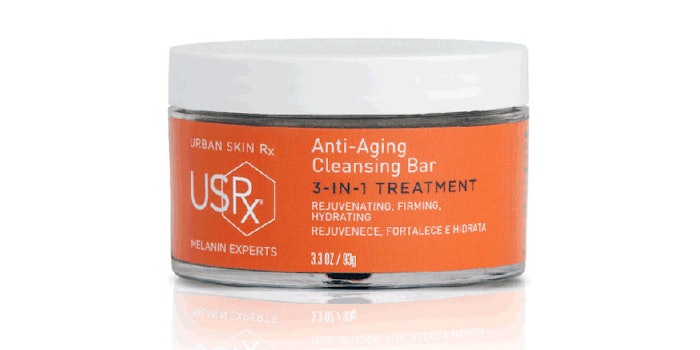 Urbanskin Rx's 3-in-1 Anti-Aging Cleansing Bar is a hydrating treatment that claims to smooth and improve the appearance of aging and eczema-prone skin. Designed as a daily cleanser, mask and exfoliator, the system delivers a proprietary formula, ClearTone Advanced Technology, by way of an enclosed exfoliating sponge and cleanser in a jar. 
This technology comprises six ingredients—i.e., kojic acid, alpha arbutin, niacinamide, azelaic acid, vitamin A and L-glutathione—designed to work synergistically to reveal a healthy and even complexion. While the formula was developed for all skin types, it specifically targets combination or dry, dull skin; eczema; and/or fine lines and wrinkles.
Inside the jar, the product is provided as a solid, brown cleansing bar that lathers with the use of water. This column will review the ingredient listing for claims substantiation and functionality.
Bar Base
As stated, the product is a solid bar. Its base comprises a plant oil mixture; coconut, hydrogenated palm kernel, safflower seed and castor seed oils. Sodium hydroxide lye is an alkali used to saponify the fatty acids of the plant oil triglycerides, resulting in the soap bar format. Sorbitan oleate is a surfactant, often used in formulations containing plant oils.
Skin Conditioners
Glycerin is a humectant with hydrating properties. d-Glucitol is also a humectant, as well as a thickening and rheology-modifying agent. Propylene glycol acts as a solvent, l-glutamine is a fragrance ingredient and hydrolyzed soy protein is a hydrating and skin-conditioning agent.
Benefit Ingredients
Hyperpigmentation is a top aging concern, which presents as darkly pigmented areas on skin due to high amounts of melanin deposition. In this product, multiple actives are used that have deomstrated anti-melanogenic effects; i.e., resorcinol, kojic acid, niacinamide, licorice and arbutin.
To address fine lines, coarse wrinkles, mottled pigmentation, uneven skin tone, roughness and sagging skin, retinyl palmitate has been shown to be effective. Furthermore, hibiscus flower extract is utilized to stimulate skin regeneration and hydration. And azelaic acid is an antimicrobial, anti-inflammatory, antioxidant and keratinolytic compound used to treat darker skin tones. It also is effective in peels.
Conclusions
In my view, the product ingredients support the claims for an anti-aging cleansing bar with a focus on skin pigmentation. However, it might not be gentle enough for cleaning skin types that are prone to eczema.
Ingredients: Cocos Nucifera (Coconut) Oil, Hydrogenated Palm Kernel Oil, Carthamus Tinctorius (Safflower) Seed Oil, Glycerin, Sodium Hydroxide Lye, d-Glucitol, Propylene Glycol, Sorbitan Oleate, Hibiscus Flower, Ricinus Communis (Castor) Seed Oil, Salicylic Acid, Glycerin, Resorcinol, Glycyrrhiza Glabra (Licorice) Extract, Hydrolyzed Soy Protein, Azelaic Acid, Kojic Acid, Niacinamide, Retinyl Palmitate, l-Glutamine, Alpha Arbutin
Source: Urbanskin Rx Website