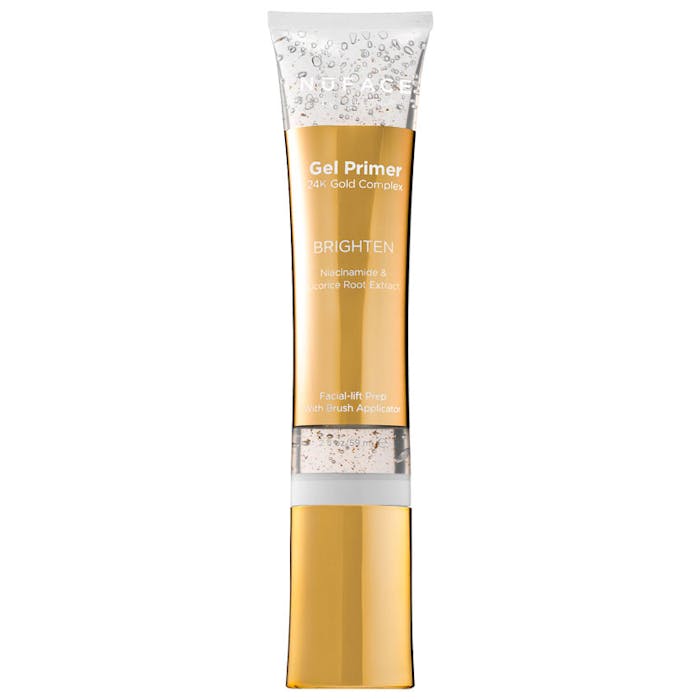 Photo credit: Sephora
The brightening formula NuFace brand Gel Primer 24K Gold Complex from Carol Cole is a lightweight primer presented as the prerequisite to using the NuFace microcurrent skin-toning device. It is applied first using an integrated brush applicator, which then allows the device to glide easily across the skin, to ensure maximum microcurrent conductivity for optimum rejuvenation results.
According to the product marketing, its anti-aging 24K gold complex employs hyaluronic acid, algae and peptides to hydrate the skin, reduce the appearance of dark spots and restore natural radiance. A brightening blend of niacinamide and licorice root also is used to make skin look refreshed, bright and healthy. The formula can be left on all day or rinsed away after use of the device.
To apply the product, users are instructed to brush it directly onto clean, dry skin and to reapply or reactivate it with Optimizing Mist if the gel begins to dry during treatment using the device.
This column will review the ingredient listing for claims substantiation and functionality.
The Basics
The formula is a water-based gel system, consisting of added solvents propanediol and butylene glycol, and gel-forming carbomer. Caprylyl glycol is used as humectant and emollient, while polysorbate 20 acts as a surfactant.
The Actives
Active ingredients include the hydrating compound hydrolyzed hyaluronic acid; the humectant glycerin; and the hydrating and soothing algae extract. The product also contains gold metal particles, which are reported to provide skin-conditioning properties as well as provide color and act as a slip modifier. The anti-wrinkle peptides include palmitoyl tripeptide-1 and palmitoyl tetrapeptide-7; and to address pigmentation concerns, niacinamide can even out skin color as well as adjust sebum production and, in turn, skin hydration.
Licorice root extract is known for its anti-inflammatory, antimicrobial and antioxidative properties, likely due to its content of biologically active components; e.g., triterpene saponins, flavonoids, isoflavonoids, chalcones and glycyrrhizic acid, which are known to enhance skin lightening and alleviate hyperpigmentation.
Bearberry (Arctostaphylos uva-ursi) leaf extract contains β-arbutin, a glycosylated hydroquinone that prevents melanin formation. This could impart a whitening effect in skin. Furthermore, Vigna aconitifolia (moth bean) seed extract contains proteins, lipids, polyphenols and phytic acid, which demonstrate regenerative, anti-irritation and anti-aging effects, especially for sensitive skin.
Additional Ingredients
Hydroxyethylcellulose is a film-forming, viscosity-increasing agent; magnesium sulfate also controls viscosity while maltodextrin is an emulsion stabilizer. Sodium lactate is used to adjust the pH, to provide humectancy and to aid in exfoliation. Sodium hydroxide serves as a buffering agent to adjust the pH of the formula.
The formula is preserved with phenoxyethanol, and ethylhexylglycerin acts as a weak preservative and skin conditioning agent.
Conclusion
In my view, the ingredients support the claims for hydration, brightening of skin tone and a potential to reduce the appearance of pigmentation.
Ingredients: Water (aqua), Propanediol, Gold, Hydrolyzed Hyaluronic Acid, Algae, Palmitoyl Tripeptide-1, Palmitoyl Tetrapeptide-7, Niacinamide, Dipotassium Glycyrrhizate (Licorice Root Extract), Arctostaphylos Uva Ursi (Bearberry) Leaf Extract, Vigna Aconitifolia Seed Extract, Phenoxyethanol, Carbomer, Sodium Hydroxide, Hydroxyethylcellulose, Magnesium Sulfate, Caprylyl Glycol, Ethylhexylglycerin, Glycerin, Butylene Glycol, Maltodextrin, Sodium Lactate, Polysorbate 20
Beautyexpert.com/nuface-gel-primer-24k-gold-complex-brighten/11288878.html