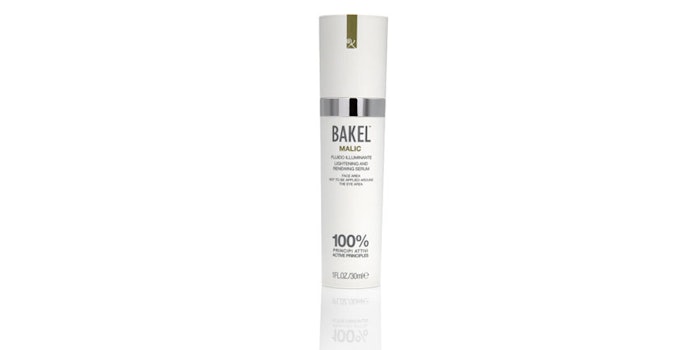 The BAKEL brand Malic Lightening and Renewing Serum is designed to hydrate, nourish and even out skin tone.
This serum reduces the number of dead cells on the skin surface using a combination of malic, mandelic and tartaric acid, leaving the skin with a luminous, healthy glow. Working synergistically, the blend of natural actives is said to inspire an even skin tone and color while improving and renewing the overall skin complexion.
Reportedly suited for all skin types, the serum contains no perfumes, alcohol, artificial colors, preservatives or animal derivatives. It has been dermatologically tested and boasts minimal allergy risk. Consumers finding they have non-uniform or dark-stained skin can utilize the product to recover skin uniformity, compactness and luminosity while reducing dark areas.
Users are instructed to apply the formula by gently massaging until completely absorbed, avoiding the eye area. The serum can be used every evening before one's usual regime. The label cautions a slight itching may be experienced due to the product's renewing action. 
This column will review the ingredient listing for claims substantiation and functionality.
Editor's note: This article aims to provide an idea of the ingredients cosmetic manufacturers are using that could potentially support the stated product claims. Without specified use levels or access to clinical studies, the author is drawing conclusions based on speculation; albeit from years of clinical experience and, in some instances, evidence in the literature. The following is offered for your consideration and further verification.
The Brush-off
The water-based system contains the humectant glycerin and a strong combination of alpha hydroxy acids with keratolytic properties: malic acid, mandelic acid and tartaric acid. These acids are superficial peeling agents that ameliorate dry skin, pigmentation and acne. They also have been implicated in the prevention of UV-induced skin damage, i.e., photoaging.
Brighten Up 
The formula also contains kojic acid, a naturally occurring fungal metabolite, with lightening properties due to it tyrosinase inhibition activity.
In addition, hydroxyethylcellulose controls viscosity and ammonium hydroxide is a pH-regulator.
Conclusions
In my view, these ingredients support the claims for an exfoliating serum with brightening properties for even skin tone and luminosity. The combinations of acids might prove to be better tolerated in ethnic skin types. The formula does not appear ideal for sensitive skin.
Ingredients: Water (aqua), Glycerin, Malic Acid, Mandelic Acid, Tartaric Acid, Kojic Acid, Hydroxyethylcellulose, Ammonium Hydroxide.
Source: Beauty Expert website