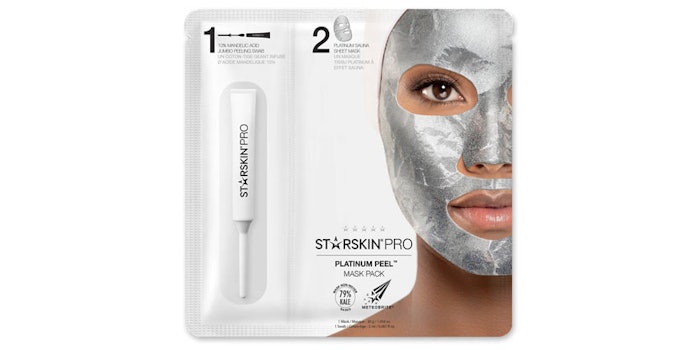 Starskin's Pro Platinum Peel Mask Pack is an at-home peeling treatment for brighter skin that works in just 10+ min. The two-step process begins with a leave-on exfoliating swab enriched with 10% mandelic acid, which melts away dead cells to smooth and resurface the skin. This step is followed by a sheet mask infused with serum designed to hydrate, nourish and soften skin, while the foil back creates a sauna effect to improve the absorption and effectiveness of the treatment.
After use, the product claims to make the user's complexion bright, balanced and infused with a youthful glow. The present column reviews the ingredient listing for claims substantiation and functionality.
Editor's note: The goal of this article is to provide a general idea of the ingredients cosmetic manufacturers are using that could potentially support the stated product claims. Without specified use levels and access to clinical studies, note that the author is drawing conclusions based on speculation; albeit derived from years of clinical experience and evidence in the literature. The following is offered for your consideration and further verification.
Water Base
This formula is a water-based system containing mandelic acid, a keratolytic α-hydroxy acid with benefits for treating acne and hyperpigmentation. It can improve skin elasticity and is well-tolerated.
Dipropylene glycol, butylene glycol, propanediol and 1,2-hexanediol are solvents. Potassium hydroxide serves as a buffer while disodium EDTA is a chelating agent and buffer. Polyglyceryl-10 laurate, polyglyceryl-10 myristate and caprylyl glycol are surfactants. Xanthan Gum is a formula stabilizer and viscosity-increasing agent. Hydroxyacetophenone provides anti-irritant and antioxidant properties; it also acts as a preservative.
Active Ingredients
Glycerin, trehalose and sodium hyaluronate are humectants that increase skin hydration.
In addition, multiple plant extracts are included:
Schizandra chinensis fruit extract, which has an anti-stress and protective effect against burning, inflammation and irradiation. It is a phytoadaptogen.
Zingiber officinale (ginger) root extract imparts antioxidant effects for many aspects of skin health;
Melaleuca alternifolia (tea tree) leaf extract provides antimicrobial properties;
Centella asiatica extract contains pentacyclic triterpenes and has been implicated in wound healing, burn treatment and for alleviating hypertrophic scars;
Glycyrrhiza glabra (licorice) root extract, which soothes and brightens the skin;
Aloe barbadensis leaf extract, with soothing and antimicrobial properties;
Camellia sinensis leaf extract, which serves as a free radical scavenger for anti-aging benefits and is potentially effective for several dermatologic conditions, e.g., atopic dermatitis, acne and rosacea; as well as keloids;
Coptis japonica root extract has been used for anti-infection properties in traditional medicine; and
Lavandula angustifolia (lavender) oil is aseptic and soothing.
In addition, panthenol is soothing to skin; and beta-glucan, a polysaccharide with antioxidant and skin-soothing properties, alleviates redness in sensitive skin. Finally, sorbitol is a fragrance and humectant, and linalool is a part of the fragrance.
Conclusion
In my view, the ingredients in the formula support the claim for brightening, smoothing and resurfacing, with plant extracts providing additional soothing and anti-redness properties.
Ingredients: Water (aqua), Mandelic Acid, Dipropylene Glycol, Glycerin, Butylene Glycol, Potassium Hydroxide, Trehalose, Propanediol, Schizandra Chinensis Fruit Extract, Zingiber Officinale (Ginger) Root Extract, Melaleuca Alternifolia (Tea Tree) Leaf Extract, Centella Asiatica Extract, Glycyrrhiza Glabra (Licorice) Root Extract, Aloe Barbadensis Leaf Extract, Camellia Sinensis Leaf Extract, 1,2-Hexanediol, Panthenol, Sodium Hyaluronate, Coptis Japonica Root Extract, Hydroxyacetophenone, Disodium EDTA, Lavandula Angustifolia (Lavender) Oil, Xanthan Gum, Beta-Glucan, Sorbitol, Polyglyceryl-10 Laurate, Polyglyceryl-10 Myristate, Caprylyl Glycol, Linalool.
Source: Starskin website