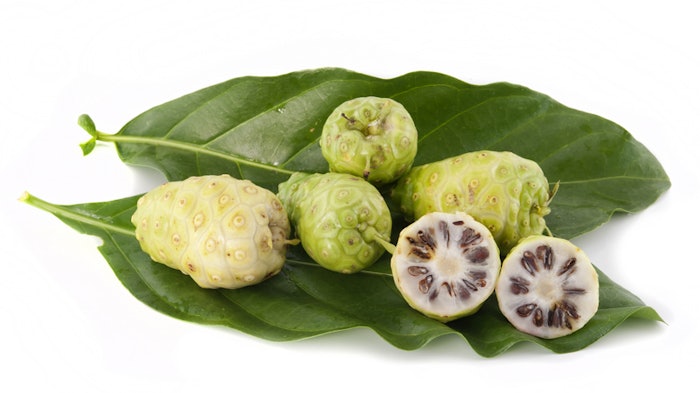 Active ingredients company Vytrus Biotech has launched Quora Noni Biomics (INCI: Morinda Citrifolia Fruit Extract), an active that rejuvenates the microbiota to achieve younger looking skin.
The company presented this ability to reverse microbiota aging at the 2022 Cosmetorium trade show in Barcelona, where its Purple Rain re-youth, peel-off mask including Quora Noni Biomics won the Cosmetorium Award.
Related: Inside Ingredients: Artichoke
The company reports it has studied the role of the microbiota in skin aging and how the microbial population changes and ages with the passage of time, negatively affecting skin's appearance. The skin bacteria communicate through quorum sensing that generates coordinated behaviors and can turn bacteria virulent. When this happens, microbial imbalance leads to the generation of molecules that can damage the skin, known as the senile biome markers (pro-aging markers).
Quora Noni Biomics is said to modulate this bacteria behavior, rebalancing the microbiota and promoting youth biome markers. This mechanism brings beneficial properties to skin in both mature and young people.
The product has been clinically tested, with the following results:
Rebalanced and younger microbiota;
Improvement of wrinkles on mature skin;
Skin-pore and redness reduction;
Stimulation of the skin's immune system (β-defensin improvement); and
Skin-firming effects.