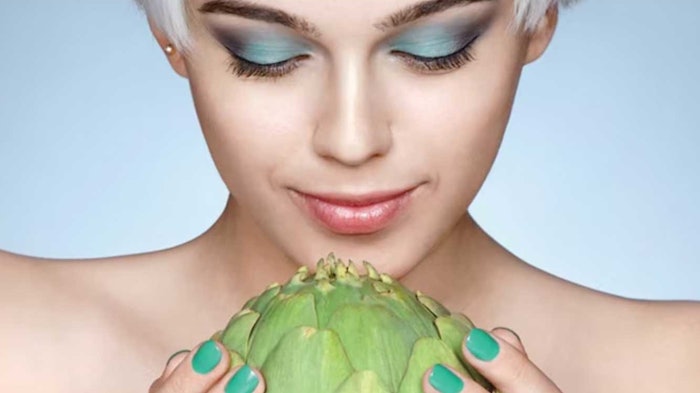 Editor's note: This article has been adapted with permission from a column in our sister brand, Skin Inc. In it, the editors review research and commercial reports about an ingredient of interest, along with spa and professional products that apply said ingredient. This month's piece is borrowed from the January 2018 edition.
Aside from its name, artichoke has a lot going for it. Also known as Cynara scolymus L. or globe artichoke, this ancient Mediterranean plant was used historically in folk medicine to treat conditions including hepatitis, hyperlipidemia, obesity and dyspeptic disorders.1 Clinical studies have also shown its large basal leaves improve digestion and liver functioning, as well as cholesterol levels.2
Artichoke's primary health benefits are thanks to its rich polyphenol content. Demand for such plant-derived actives has grown3 in the topical skin care and cosmetics sectors. Indeed, artichoke's bioactive constituents have proven antioxidant effects for UV recovery, anti-aging, nutricosmetic and prebiotic benefits, as recent research demonstrates.
See archived: Fighting AGEs Formation: Upcycled Artichoke Inhibits Glycation, Increases Skin Firmness
Antioxidant Superpowers
Antioxidants are the name of the game for not just health in general, but for skin's recovery from UV.
Phytochemical action. Researchers from Kyushu University in Japan1 discovered cynaropicrin to be one of the major bioactive phytochemicals in artichoke extract. The production of reactive oxygen species in UVB-irradiated keratinocytes is significantly down-regulated by cynaropicrin; although the researchers note the potency of cynaropicrin in artichoke is weak compared with those of soybean tar, or Opuntia ficus-indica, Houttuynia cordata and Bidens pilosa extracts.1
Another study from Fooyin University and Yuan's General Hospital highlights the polyphenolic flavonoid silibinin from artichoke seeds as an antihepatotoxic agent and a supplement for its antioxidant, anti-inflammatory and anticarcinogenic properties.4
Silibinin also demonstrates photoprotective effects prior to, or immediately after, UV irradiation by increasing DNA repair and inhibiting cell proliferation and cell death. The authors noted that due to these effects, silibinin is often included in anti-aging as well as sun-protective skin care; in high-end moisturizers to prevent oxidative damage and photoaging; and in creams to decrease the appearance of redness in rosacea-prone skin, soothe reactive skin and even out skin tone.4
Protective effects. Recent research from the University of Lisbon focused on the beneficial activities of artichoke's polyphenol content.3 Incorporating samples into topical applications, the researchers tested the extract for microbiological control, cytotoxicity and free-radical scavenging. They concluded the extracts provided excellent antioxidant and photoprotective activity, and the final formulas were safe for topical use.3
Anti-aging benefits. In a related patent,5 Procter & Gamble researchers tested a synergistic blend of artichoke leaf and carob fruit extracts to improve signs of skin aging such as texture, wrinkles, fine lines and bumps; loss of elasticity and sagging; loss of skin recoil from deformation; and combinations thereof.5 According to the inventors, artichoke leaf extract derived from the long, deeply serrated basal leaves of the plant, contains high concentrations of caffeic acid derivatives, flavonoids and sesquiterpene lactones.5
Another patent6 disclosed methods for preparing and using botanical antioxidant compositions, including artichoke, to improve the appearance of skin. Here, an extract blend consisted of: one or more hydroxycinnamic acids from artichoke or other sources; and an extract chosen from Camellia sinesis, Vitis vinifera, Euterpe oleracea, Curcuma longa and/or Theobroma cacao.6 This blend was incorporated into creams, lotions, serums, gels, sticks, powders, etc., for skin benefits.
Above and beyond. In relation, researchers have shown that hydroxycinnamic acids and their derivatives exhibit not only antioxidant, anti-collagenase and anti-inflammatory benefits, but also antimicrobial and anti-tyrosinase activities; as well as aforementioned UV-protective effects.7 Previous research8 identified 1,5-Di-O-caffeoylquinic acid as the major hydroxycinnamic acid in artichoke: 3,890 mg/kg in the plant heads and 3,269 mg/kg in the pomace, compared with 1,3-di-O-caffeoylquinic acid (cynarin) in the juice. This suggests artichoke or other hydroxycinnamic acid-containing materials may act as topical anti-aging and anti-inflammatory agents, preservatives and even skin lightening ingredients.7
Inner Beauty
Taking an opposing, inside-out approach, a study published8 in the Journal of Agricultural and Food Chemistry considers the chemical composition of Chinese artichoke (S. affinis) and its ability, upon ingestion, to protect the body against oxidative damage. Researchers analyzed constituents in the extract's macro- and micro-nutrients and isolated several compounds, as identified by nuclear magnetic resonance spectroscopy and mass spectrometry. Nutrients included oligosaccharide stachyose, succinic acid, as well as phenylethanoid and iridoid glycosides.
Overall, the macronutrient profile was dominated by carbohydrates (36.9%) and the micronutrient profile, by potassium (2.36%). The extract efficiently protected human cells against oxidative damage.9
Prebiotic Action
Interestingly, the carbohydrate content in artichoke also has prebiotic implications for skin, as disclosed in a recent GOJO Industries patent.10 Here, the inventors describe a method to reduce pathogens by first cleansing skin, to remove pathogens, then applying a topical composition containing a prebiotic to support the growth of healthy microbes.
This approach competitively prevents the binding of pathogens by overtaking the available nourishment and real estate with healthy microbes.10 The researchers used prebiotic inulin, which is a naturally occurring polysaccharide produced by Jerusalem artichoke and chicory.10
In the Spa
While artichoke's topical benefits for skin have been proven, its use in spa skin care is still in its infancy. Currently, spas across the country recommend eating artichoke to balance one's diet, regulate digestion and to protect the body from oxidative damage. For these reasons, artichoke is often included in spa cuisine.
For example, Elements Day Spa, in its Mar. 23, 2016 blog post, "Spring Cleaning for Your Body," noted artichokes are nutritionally beneficial for the liver and gallbladder. They stimulate bile production and help break foods down to improve digestion. They also are shown to speed liver cell regeneration and guard liver cells from damage.
Still, a handful of spa skin care manufactures have formulated with artichoke. Jurlique uses the ingredient in its Nutri-Define Rejuvenating Overnight Cream to help skin feel strengthened and appear more defined.
Babor includes artichoke in its Shaping For Body series, where the ingredient is combined with levan and methylanthines to form a shaping complex that fights excess fat deposit formation while shaping and refining the body's silhouette.
Although artichoke isn't found in many topical products as yet, this is about to change. Consider the surging popularity of K-Beauty ingredients. According to the November 2017 article, "8 East To West Beauty Trends To Watch Out For," by Janel Luu, "Artichoke is the darling of Korean beauty essences." In addition to noting its antioxidant benefits, she furthers, "This natural active ingredient is also known for improving cell density, which helps improve skin firmness, reduce enlarged pores and minimize the appearance of lines and wrinkles."
Conclusions
Mother Nature and other moms in our lives have several tricks up their sleeves to encourage our veggie intake and uptake—and artichoke is no exception. Besides the health benefits it provides, the beauty implications alone are enough to inspire us to eat it and wear it.
References
www.mdpi.com/2072-6643/9/3/223/htm
www.lifeextension.com/Protocols/Gastrointestinal/Digestive-Disorders/Page-05
www.sciencedirect.com/science/article/pii/S0926669017306313
www.alliedacademies.org/articles/bioactive-compounds-from-natural-product-extracts-in-taiwan-cosmeceuticalsmini-review-8072.html
www.freepatentsonline.com/9801811.html
www.google.com/patents/US9585822
www.ncbi.nlm.nih.gov/pubmed/28208818
http://pubs.acs.org/doi/abs/10.1021/jf049625x?journalCode=jafcau
www.sciencedirect.com/science/article/pii/S0308814616317733
www.freepatentsonline.com/y2017/0281660.html
(All websites accessed Dec 5, 2018)