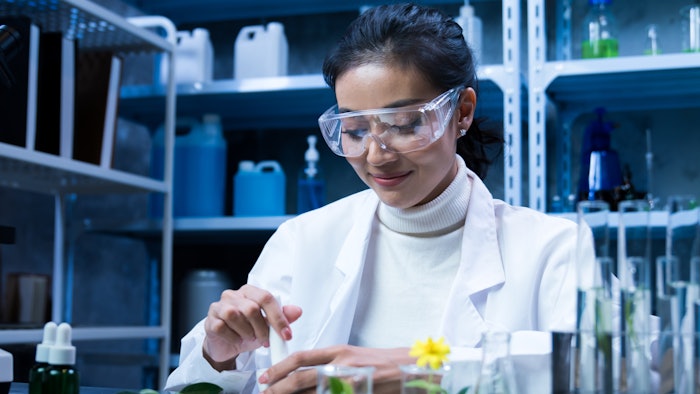 BASF's Personal Care business will focus on new ingredients and concepts in wellbeing, sustainability and transparency at in-cos Global in Barcelona from March 28-30. The company will release a biopolymer, a sun protection ingredient and will also feature its recent pearlizer at the event.
The featured ingredients include:
Cosmedia HP Starch (INCI: Hydroxypropyl Starch Phosphate) — Derived from natural feedstocks, the company's latest biopolymer is an effective thickening agent with texturizing properties that was designed for emulsion preparations and different surfactant systems. It has a non-ionic character that allows good compatibility with different ingredients such as cationics and amphoterics.
Tinomax CC (INCI: Not Provided) — This ingredient is suited for optimizing sunscreen formulations. It offers sensory benefits through homogeneous particle shaping and lengthens UV protection with SPF and UVA improvement and helps to reduce the stickiness and greasiness of sun care formulations.
Euperlan NL Pearl (INCI: Hydrogenated Vegetable Oil (and) Cocamidopropyl Betaine (and) Glyceryl Oleate) — This ingredient is a wax-based pearlizer that combines hair care performance with sustainability benefits. It is easy to formulate and cold processable, per BASF. 
BASF will also guide participants in formulating a pearly shampoo based on Euperlan NL Pearl in this year's formulation lab for R&D staff.
Related: In-cosmetics Global 2023: Sustainability, Events, Industry Experts
Tatiana Kalman, senior vice president of personal care Europe, commented: "We are excited to be back at in-cosmetics in person after such a long absence due to the pandemic. We want to use the learnings we had as a society with the events of the last few years and the trends we see in the personal care segment to shape together with our customers the future of beauty."