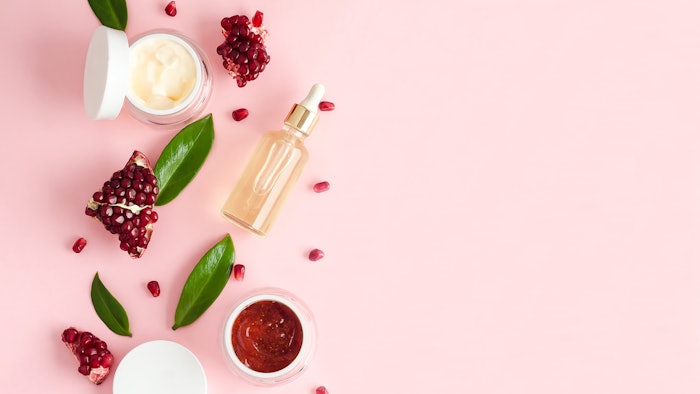 A study published on MDPI revealed that supplementation with a pomegranate fruit extract (Pomella) from Verdure Sciences in Noblesville, IN, has the potential to positively impact skin appearance and microbiome, according to an article by Nutritional Outlook. 
In the prospective, randomized, double-blind placebo-controlled study, 28 healthy males and females between the ages of 25 and 55, were either given the placebo or the pomegranate extract everyday for four weeks. Researches recorded changes in wrinkle severity, facial biophysical properties, skin microbiome and gut microbiome. 
Related: 3 Skin Benefits of Pomegranate Extract
The study found that subjects taking the pomegranate extract experienced significant reductions in wrinkle severity, as well as decreased rate in the forehead sebum excretion rate. It was also revealed that subjects taking the extract who have a higher relative abundance of Eggerthellaceae in the gut recorded a decrease in facial transepidermal water loss and wrinkle severity. As for the skin microbiome, supplementation with the pomegranate extract led to an increase in the Staphylococcus epidermidis species and the Bacillus genus.
"This new clinical study is a great opportunity to place Pomella as the new innovative ingredient for beauty from within and confirms once more the immense potential beyond punicalagins and their gut-derived metabolites urolithins," added Teresita Rudà, head of brands and marketing at LEHVOSS Nutrition, the exclusive distributor of Pomella in Europe. "We look forward see European customers benefiting from this research and launching ground-breaking formulations in the next coming months. The link between gut and skin health is definitely an interesting and trendy topic in the nutraceutical industry."