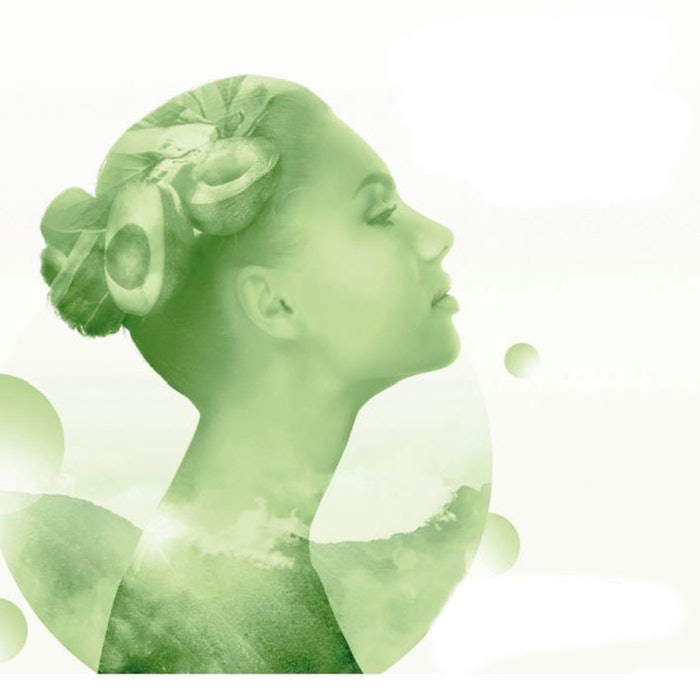 Laboratoires Expanscience
Laboratoires Expanscience's Number 6 (INCI: Propanediol (and) Water (Aqua) (and) Persea Gratissima Fruit Extract) is a natural ingredient to promote anti-fatigue in skin, specifically around the eyes to impart a youthful glow.
Related: 'Cocoon' the Skin with Three Ingredients from Laboratoires Expanscience
With the help of downgraded avocado by product, meaning using non-exportable and non-sellable avocados, the company "awakens" the skin and fights against signs of fatigue by reducing the appearance of dark circles and puffiness thanks to the ingredient's polyphenol activity. The ingredient acts on the microcirculation by inhibiting inflammation markers and synthesis, and by limiting oedema formation under the eyes. The product also regulates pigmentation by modulating tyrosinase and melanin production, and reduces fatty deposits by stimulating lipolysis and reducing adipocytes size.
Number 6, as its namesake suggests, is the sixth ingredient the company has derived from avocado upcycling. The ingredient is liquid brown to dark brown with a characteristic odor and pH range of 4.7-7.3. It is recommended for formulation below 50°C. Number 6 is also Ecocert- and COSMOS-approved.
Biological Efficacy In vitro
In vitro tests revealed how Number 6 modulates under-eye vessel inflammation and decongests the area, thereby improving microcirculation and acting globally on dark circles and puffiness. Specifically, Number 6 inhibited PGE2 and IL8 synthesis when keratinocytes were stressed with PMA, then incubated for 24 hr with the active at 1%. The ingredient also stimulated ACE activity, which was noted when HDMEC (endothelial cells) were treated for 24 hr with 0.1% and 0.5% test concentrations.
When melanocytes were incubated for 10 days with Number 6, melanin production was reduced. Additionally, when mature adipocytes were treated for 4 hr with Number 6, fatty deposits were limited by stimulating lipolysis and reducing adipocyte diameter. By acting on these specific targets, the ingredient helps to fight visible signs of fatigue such as under-eye circles or bags.
Clinical Studies
A double-blind, randomized, in vivo study was conducted comparing the active versus a placebo for effects against dark circles. Twenty women, averaging 40 years old, with dark circles on the face were recruited and followed a hemifacial application protocol twice daily using a cream containing Number 6 at 3% or a placebo cream for 28 days. The results showed a decrease in the number of spots under the eyes, and the skin surface showed a reduction in the appearance of dark circles, scoring 1.64× better than the placebo.
In another double-blind, randomized, in vivo study, 23 women, averaging 63 years old with eye bags on their face, applied a cream containing 3% Number 6 twice daily for 28 days. By day 28, the ingredient depuffed under-eye bags and illuminated the complexion.
For more information, contact Laboratoires Expanscience.