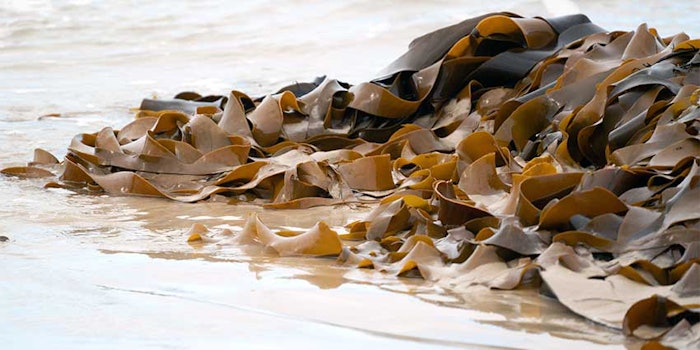 Dreamstime_149033558
Marinova's Maritech ingredient line leverages

fucoidan

, a naturally occurring compound found in brown seaweed. The ingredient offers benefits for both the skin care and

nutricosmetic

categories.
Related: Sustainable Ingredient Science: Brown Algae
Marinova's two pure fucoidan skin care ingredients have different benefits and bioactivities. Maritech Bright (INCI: Fucus Vesiculosus Extract) is a certified organic fucoidan-polyphenol ingredient extracted from Fucus vesiculosus seaweed. This ingredient was developed specifically for topical skin brightening and anti-aging formulations. 
Marine polyphenols and fucoidans naturally protect Fucus vesiculosus against a range of external stresses, including UV damage and marine-borne pathogens and toxins. Maritech Bright delivers these benefits by providing antioxidant activity to protect skin from the damaging effects of free radicals.
In comparison, Maritech Reverse (INCI: Undaria pinnatifida Extract) has soothing, protecting and anti-aging properties. This ingredient is extracted from Undaria pinnatifida seaweed to capture its protective benefits in one natural, soothing ingredient designed to maintain the youthful appearance of skin by protecting its "building blocks" and enhancing dermal condition.
Fucoidan extracts satisfy consumer expectations on multiple fronts. Fucoidan extracts are natural, sustainable and their cruelty-free status aligns with brands built around ethical sourcing and social responsibility. Marinova uses proprietary extraction methods utilizing green chemistry techniques to bring pure, certified organic fucoidan with global regulatory acceptance.
Previously: Innospec and Marinova Feature Fucoidan Skin Actives
Both of these specialty fucoidan extracts have been designed specifically for topical applications and are supported by in vitro and human clinical testing. According to the company, the ingredients are shelf-stable for up to five years, water-soluble and easy to formulate. They are ideally suited for inclusion in creams, sprays and face masks. 
Aside from topical applications, fucoidan producers are offering multifunctional extracts to the nutricosmetic category.
Clinically tested and with reportedly twice the antioxidant power of vitamin C, Maritech Synergy (INCI: Fucus Vesiculosus Extract) is an example of a fucoidan ingredient with benefits spanning from gut health to immune function. In addition, it is reported that the ingredient can be used to deliver antioxidant, anti-aging and anti-inflammatory benefits.