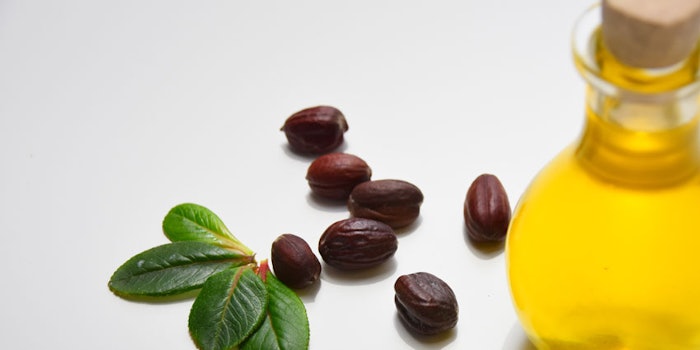 In a study published in the Pharmacological Research journal, jojoba oil applied to irritated skin was found to exert anti-inflammatory effects similar to the anti-inflammatory drug (NSAID) indomethacin.
This research will be highlighted by Jojoba Desert at the Nov. 5-7, 2019, in-cosmetics Asia event. According to the company, with the trend for natural and clean beauty becoming a decisive factor for today's consumers, companies are seeking alternatives for synthetics in formulas. This is where jojoba oil comes in.
In addition to anti-inflammatory effects, due to its unique chemical structure and antioxidant content, jojoba oil has notable oxidative stability. This results in a long shelf life and resistance to free radicals. 
Jojoba oil also demonstrates skin health benefits. In fact, previous reports by Jojoba Desert showed its wound-healing properties, as well as interest from the dermatology community in its benefits beyond acting as a carrier oil.
According to Anna Aharoni, Ph.D., R&D manager at Jojoba Desert, "[The] unique structure [of jojoba oil], which is based on straight chain omega-9 esters, mimics 25% of the human sebum and therefore, once applied on irritated skin, has soothing and repairing effects while deeply [moisturizing the skin]." She added, "This makes jojoba oil an especially beneficial component in sensitive skin care, acne treatment products and after-sun formulations, as well as in anti-aging and anti-rosacea skin care applications."
For more information, contact Jojoba Desert or visit the company at booth J10 during in-cosmetics Asia.