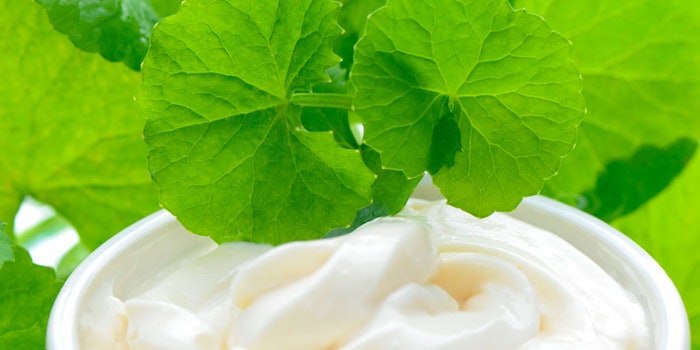 Exploring the traditional herbal medicine Centella asiatica, Indena has uncovered its effects to counteract stretch marks in skin. These results were identified thanks to Indena's recent monograph publication, which the company will present, alongside the ingredient, during in-cosmetics Global.
The Monograph
The Indena monograph, "Centella Asiatica: Entering a New Era," published in Dermatological Experiences, explains how Centella asiatica or "gotu kola" has been used for centuries in traditional medicine for its antibacterial, antiviral, antihypertensive, diuretic, anti-ulcer and anti-inflammatory properties. Its most active compounds are asiaticoside, madecassoside, asiatic acid and madecassic acid, which promote the synthesis of collagen; regulate inflammation by normalizing the hyperproliferation of keratinocytes; and restore the natural homeostasis of the epidermis.
However, the monograph also highlights that the pre-clinical and clinical studies available both confirm the known properties of the plant and suggest new research scenarios and broader applications. These range from diabetic neuropathy and cardiovascular protection, to the treatment of burns and postpartum stretch marks.
For example, the healing properties of Centella asiatica have inspired extracts that modulate keloids on skin and atherosclerotic plaques. Furthermore, the plant's effectiveness in preserving memory are known, since it can prevent neuronal degeneration, especially beta-amyloid; but Centella asiatica appears to have a neuroprotective effect on stroke-induced cognitive impairment and Parkinson's disease; and could be a candidate to reduce the neurological damage induced by diabetic hyperglycemia.
"Indena is happy to achieve the fulfillment of the monograph 'Centella Asiatica: Entering a New Era', which envisages new fields of application for such an important extract," commented Giada Maramaldi, business development manager, Personal Care, at Indena. "We've been studying Centella asiatica for years to meet the needs of several conditions, and we'll keep developing new products to take advantage of this medicinal plant's amazing potential.
Stretch Mark Solution
In addition, new evidence suggests Centella asiatica can address stretch marks, especially those that appear during pregnancy. These alterations typically occur in the connective tissue as a result of weight gain and hormonal changes that convey elastin, collagen and their components from the mother's skin and veins to the developing fetal structures.
According to Indena, a pilot study aiming to assess the efficacy, safety and tolerability of a Centella asiatica-containing cream applied during the postpartum period, reduced the appearance of stretch marks.
Sustainable Source
Last, Indena's Centella asiatica supply chain is managed sustainably, promoting social projects in one of the main harvesting areas of the plant: the Alaotra Mangoro region of Madagascar. Environmental awareness, sustainability and biodiversity are complex issues that encompass many disciplines, and Indena notes it has always endeavored to address these with traditional dynamics in its everyday business.
For more information on the monograph, ingredient or the company's sustainability efforts, visit Indena at booth C28 during in-cosmetics Global, to be held in Paris from April 2-4, 2019.