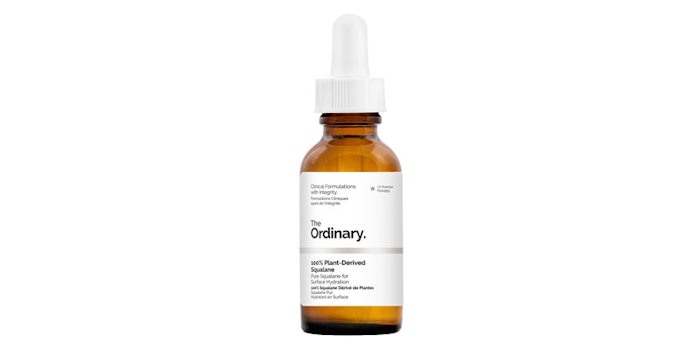 Cult Beauty
The Ordinary 100% Plant-Derived Squalane is described as a pure, natural topical supplement to optimize skin's hydration levels.
Found naturally within skin, this botanical version of the lipid squalane is a saturated and stable hydrocarbon that delivers exceptional moisture-retention properties and can help to prevent transdermal moisture loss. Suitable for all skin types, this product has been sustainably sourced and is non-comedogenic.
See related: Jar Deconstructed, Squalane
After use, the product is said to make skin feel replenished and supple; or, applied to hair, the product enhances heat protection, optimizes shine and minimizes breakage. Notable claims include: free from water, oil, alcohol, silicones and nuts; in addition to vegan and cruelty-free.
Users are instructed to apply a few drops daily or as needed to the entire face, ideally after water-based treatments. The present column will review the ingredient listing for claims substantiation and functionality.
Editor's note: This article aims to provide an idea of the ingredients cosmetic manufacturers are using that could potentially support the stated product claims. Without specified use levels or access to clinical studies, the author is drawing conclusions based on speculation; albeit from years of clinical experience and, in some instances, evidence in the literature. The following is offered for your consideration and further verification.
One Ingredient: Squalane
Squalane is a saturated derivative of squalene, a polyunsaturated hydrocarbon (C30H50). Sebum contains 13% squalene and this material is an important component of skin surface polyunsaturated lipids.
Typically sourced from plant oils, e.g., olive, palm, wheat germ, amaranth and rice bran squalane, with its saturated and stable molecule, is likely to have skin hydrating and emollient properties. In addition, if can benefit the skin's physiology by augmenting the skin barrier function.
However, if oxidized, it may become comedogenic; therefore, caution should be taken when using it in acne-prone skin.
Conclusions
In my view, the sole ingredient supports the claims for skin replenishment in dry, dehydrated and aging skin types although it is not ideal for sensitive, acne-prone skin.
Ingredients: Plant-derived Squalane
Source: The Ordinary website