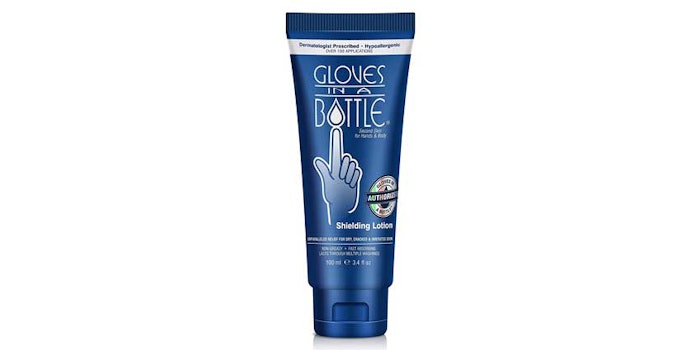 Gloves In A Bottle
To help over-washed hands, Gloves In A Bottle Shielding Lotion is a solution designed to provide glove-like protection that stays on hands even after multiple washes.
Featured: Helping Hands: Building Soothing, Protecting, Repair and Care Products
This relief cream protects and repairs hands from eczema, irritation, dryness and severe cracking. The lightweight, non-greasy formula absorbs quickly for skin relief. The lotion can be additionally applied on the elbows, feet, face and body.
According to the company, conventional moisturizing lotions attempt to replace the loss of natural moisture with artificial moisture but most products can be easily washed off. One application​ of this shielding lotion is said to create a breathable invisible matrix that works like a shield as it repairs severely dry skin by repelling irritants and locks in moisture. This cycle and ongoing use of the product give skin the protection and time it needs to heal for ​healthy-looking skin.
The most common cause of ​dry, cracked skin​ is the loss of natural oils and moisture. This also happens from the absorption and exposure to excessive washing and alcohol-based sanitizers.
To create the "invisible shield," users apply only a small amount onto clean, dry skin. The shielding lotions reportedly do not wash off; rather, they slowly come off naturally as the outer-most skin cells are typically sloughed off or exfoliated off within 24 hr.
Additionally, the lotion is free of parabens and phthalates; cruelty-free; dermatologist tested and prescribed; and hypoallergenic.
Previously: Hand Hygiene and Disease Prevention, Part I
Ingredients: Water (Aqua), Dimethicone, Stearic Acid, Glycerin, Cetearyl Alcohol, Isopropyl Myristate, Stearyl Alcohol, Triethanolamine, Xanthan Gum, Hydroxypropyl Methylcellulose, VP/Eicosene Copolymer, Steareth 21, Phenoxyethanol.