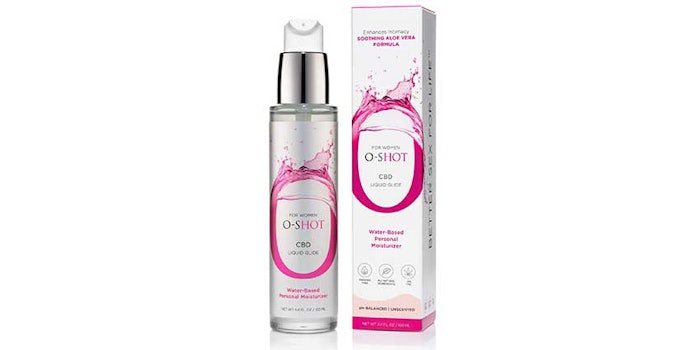 O-Shot Women has expanded its sexual wellness line with the launch of a hemp extract-containing lubricant, O-Shot Liquid Glide Water-based Personal Lubricant.
Related: Industry Insight: Self-pleasuring Linked to Glowing Skin Benefits
This natural, plant-based lubricant was reportedly developed to mimic the body's natural lubrication to boost moisture, glide and sensation.
O-Shot Liquid Glide is made with aloe, lactic acid and HempClear brand (INCI: Pending) hemp extract, all blended to boost moisture and long-lasting comfort. The latter ingredient is said to deliver a bioavailable form of broad-spectrum hemp into the crystal clear lubricant formula.
The formula is additionally pH-balanced and non-toxic, and even reported by the company to be edible. The product contains no silicone, glycerin, glycols, artificial fragrances or parabens, and is THC-free. The product contains 10 mg of CBD per bottle.
O-Shot Liquid Glide is just one of the products in the company's sexual wellness O-Shot line. Others include: O-Shot Women CBD Libido Supplement, O-Shot Women Arousal Oil and O-Shot Women Synbiotic Balance.
Featured: [podcast] Sexual Wellness and Tantalizing Connections to Beauty
Ingredients: Purified Water (Aqua), Aloe Barbadensis Leaf Juice, Hydroxypropyl Methylcellulose, HempClear Broad Spectrum CBD, Potassium Sorbate, Lactic Acid, Carrageenan, Nisin, Natural Tocopherol.