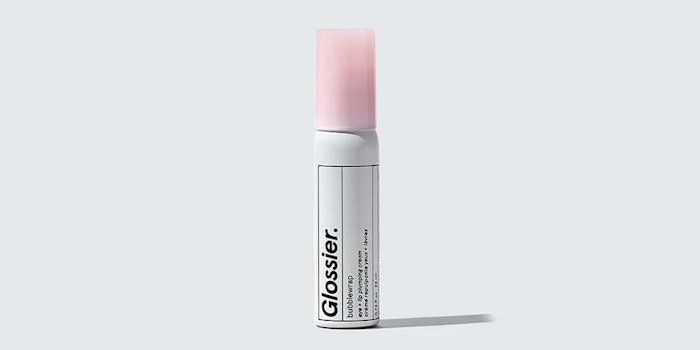 The focus of this "Read the Label" column is cruelty-free products. This means a product that has been manufactured or developed by methods that do not involve cruelty to animals. The product under review is Glossier's Bubblewrap eye and lip plumping cream.
Related: Certified 'True': Green Virtues in Beauty, Part II
Glossier started as a beauty blog known as "Into the Gloss," which had a large following of cult beauty fans discussing their favorite products. This inspired the formation of Glossier in 2014, a cosmetics range created to address the needs and concerns of the beauty readers by "creating products that you tell us you wish existed."
The brand is strongly committed to being cruelty-free as they only work with suppliers who also carry the same values. Glossier certify their products as cruelty-free through Leaping Bunny, which is a globally recognized organization that carry out independent audits to ensure compliance to the standard.
Glossier's products are usually packaged in its iconic pink bubblewrap, which gave inspiration to this product's name. Bubblewrap is a cruelty-free product, designed for use on the lips and eyes to hydrate and plump the skin. The brand claims that it makes eyes and lips look fresher, smoother and more hydrated, immediately and over time. It contains active ingredients such as hyaluronic acid, squalane and avocado oil to moisturize, as well as powerful blueberry extract for the antioxidant benefit. The product is a lightweight w/o emulsion, which the brand claims doesn't feel sticky or pill under makeup.
The product should be applied after cleansing, morning and night. Pump the product onto the ring finger and then dot around the eyes and deposit directly onto the lips, then delicately pat the product into the skin. The product can be reapplied during the day for maximum hydration.
The ingredients below in bold are ones that I believe are strongly contributing to the products performance and claims:
Ingredients: Water (Aqua), Glycerin, Hydrogenated Polyisobutene, Microcrystalline Wax/Cera Microcristallina/Cire Microcristalline, Dimethicone, Polymethylsilsesquioxane, Caprylic/Capric Triglyceride, Isopropyl Palmitate, Ethylhexyl Stearate, Propanediol, Undecane, Sodium Chloride, Lauryl PEG-9 Polydimethylsiloxyethyl Dimethicone, Squalane, Persea Gratissima (Avocado) Oil, Palmitoyl Tripeptide-38, Hydrolyzed Vegetable Protein, Vaccinium Angustifolium (Blueberry) Fruit Extract, Sodium Hyaluronate Crosspolymer, Portulaca Pilosa Extract, Hydrolyzed Hyaluronic Acid, Swertia Chirata Extract, Cetearyl Ethylhexanoate, Disteardimonium Hectorite, PEG/PPG-18/18 Dimethicone, 1,2-Hexanediol, Tridecane, Propylene Carbonate, Lecithin, Tocopheryl Acetate, Polyglyceryl-4 Diisostearate/Polyhydroxystearate/Sebacate, Sodium Citrate, Sodium Isostearate, Caprylhydroxamic Acid, Sorbitan Isostearate, Trisodium Ethylenediamine Disuccinate, Ethylhexylglycerin, Phenoxyethanol, Potassium Sorbate, Sodium Benzoate, Sucrose Cocoate, Helianthus Annuus (Sunflower) Seed Oil, Tocopherol.
Editor's note: While the "Read the Label" series provides an overview of the ingredients cosmetic manufacturers use and their related claims, without use levels or access to clinical studies, the author is drawing conclusions based on speculation—albeit from training, formulating experience and, in some instances, evidence in the literature. The following is offered for your consideration and further verification.
Hydrogenated Polyisobutene
A clear, colorless oil that is often used in the base of lip glosses. It's a cost-effective ingredient to increase shine and moisturization, whilst providing waterproofing effects. This material is from a synthetic origin and can be used in all sorts of applications from hair to skin and decorative cosmetics.  
Polymethylsilsesquioxane
Polymethylsilsesquioxane is a silicone sensorial enhancer. Although it's a powder, it flows like a liquid and spreads itself over the skin to leave a ball-bearing-like coating that's pleasant to touch. This is the main ingredient providing the soft skin feel in this formula. 
Squalane
Humans naturally produce squalene, which is an oil found within our lipid bilayer that contributes to the skin's natural moisturizing factor (NMF). The difficulty with squalene is that it is often unstable due to its alkene structure. This means it can turn rancid over time by discoloring or by an unpleasant odor forming.
Squalane is a hydrogenated version of squalene, meaning that it contains more hydrogen and is therefore more stable due to its alkane structure. Because squalane is so similar to squalene, it has a natural affinity for the skin and is fast absorbing to provide moisturization and suppleness. 
Persea Gratissima (Avocado) Oil
Avocado is highly popular in the cosmetic and food industry due to its high nutritious content. Avocado oil is usually made from the flesh of the avocado and can be pale green, or pale yellow if refined. It contains a high amount of essential fatty acids, including palmitic, oleic, and linoleic, which provides moisturization and prevent trans-epidermal water loss (TEWL). 
Palmitoyl Tripeptide-38
This peptide is known as a matrikine-mimetic, which means it mimics the behavior of the matrikine peptides that process extracellular matrix renewal. In this case, the palmitoyl tripeptide-38 has wound and skin repairing properties. 
Hydrolyzed Vegetable Protein
A vegetable alternative to animal-derived keratin. Mostly keratin is seen in hair products but it can also be used in skin care as can the hydrolyzed vegetable protein. It is mainly used for its skin moisturization properties. 
Vaccinium Angustifolium (Blueberry) Fruit Extract
Blueberries are well known for their high antioxidant capabilities and its bold purple/blue color. Blueberry extracts can protect the skin against external free radical damage caused by UV light. 
Hydrolyzed Hyaluronic Acid
This is a low molecular weight hyaluronic acid (HA). This means that it won't give that typical viscous, luxurious touch that high molecular weight HA's do typically in sheet masks, but it will provide a less superficial effect by being able to penetrate the deeper layers of the stratum corneum to provide long-lasting hydration. The smaller chain molecules have data to show that they increase collagen production which creates a longer-term solution for anti-aging. 
PEG/PPG-18/18 Dimethicone
This is an important silicone emulsifier to create w/o emulsions. It's not the only emulsifier present in this formula but it's important to use a silicone emulsifier when formulating with silicones for enhanced stability and product performance. This emulsifier is commonly used in facial products such as primers, foundations and eye-creams. 
In-use Testing
The product is packaged in a small metallic bottle, which gives the impression that it's an aerosol but once the lid is removed, it has a pump dispenser. The entire bottle fits in the hand and dispenses just the right amount of product per pump. It is fragrance-free but it doesn't smell of any unpleasant fatty notes which some emulsions can do.
The brand claims that this product is lightweight and absorbs easily—but I disagree. I felt that the product was heavy and took a long time to sink into my skin but regardless, I did enjoy using it. It left a second skin feeling of cushioned and plumpness. I wouldn't like the feeling of this all over my face unless I wanted to go for the dewy look but for eyes and lips, it works well.
I applied the product around my eyes in the morning after cleansing and then throughout the day. I was conscious that I had something on and couldn't stop myself from touching the area. It was soft and cushioned and ironically reminded me of bubble wrap. As a chemist, I know that what I was feeling was silicone. I would just say that it was a little tacky at first after application, but most likely due to the hyaluronic acid. Overall, I would recommend this product if you are looking for cushioned eyes and plumped lips. 
The brand claims that it makes eyes and lips look fresher, smoother and more hydrated immediately and over time, and I can say that it did fulfill those claims.
It retails at £23 for 22 ml ($26 for 0.74 fl. oz.) and you can buy this online through the Glossier website or in Glossier stores and pop-ups (mainly United States).
Source: Glossier

Disclaimer: This article was produced in the UK, therefore the INCI listing and INCI names comply with European labeling requirements.