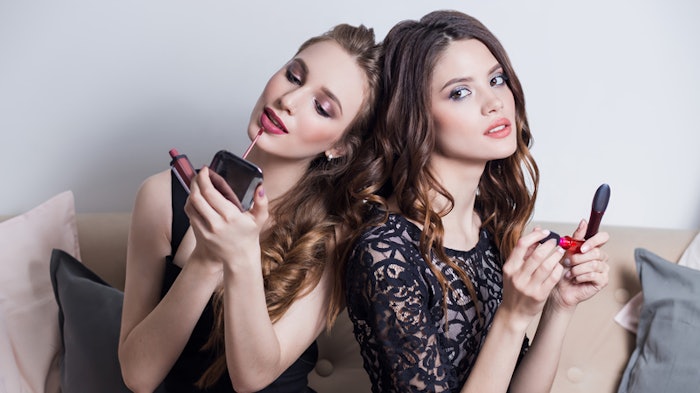 There has been a surge of consumers moving away from injectable lip fillers and toward a more natural way to plump lips. According to data from trend-aggregation platform Spate, searches for lip filler dissolver have boosted while those for injectable filler diminished, specifically the search for "lip plumping gloss" in the U.S. each month increased by nearly 200% in the past year.1 
Previously: Formulating on Trend: Hair Oil
This data can be backed by analyzing the boom of a few products, such as the NYX Shine Loud Lip Color, Dior's Lip Glow Oil and Fenty Gloss Bomb. With products like this going viral on platforms such as TikTok and Instagram, customers are looking for skin-loving benefits in their lip care products as they are viewing their lips as an extension of their skin like they have been viewing their scalp (the skinification of hair).
Consumers becoming widely aware and concerned on what is going in and on their bodies has resulted in them requiring anti-aging, lip pumping and antioxidants to be found in their lip products. They seek to look beyond the color enhancing nature that color cosmetics typically bring.
Lip gloss is generally defined as a thick, oily gel that gives the lips the appearance of a glossy luster. Where it can either impart no color or a specific color. Some major players in the lip gloss market include L'Oreal, LVMH Group, Laneige, Coty and Procter & Gamble.
The global lip gloss market size was valued at U.S. $364 million in 2021 and is expected to expand at a CAGR of 5.01% during the forecast period, reaching U.S. $488 million by 2027.2 
In a post-pandemic, post-mask world, lip glosses are back in full swing due to a need for simplicity and ease of use combined with Y2K trends being picked by Gen Zers, from velvet track pants and chunk heels to frosted eyeshadow and glossy lips. Today, lip care formulas and technologies have advanced since the early 2000s and are able to achieve high shine and luster without the feeling of a thick, sticky feel on the lips.
Many millennials are following suit and going back to gloss since the goopy, "my hair got stuck in my gloss" days are over. This article will go into what makes up a lip gloss and how the formulas can be enhanced to achieve skin care-like benefits.
Suspending Agents
For colorants to be imparted onto the lips, pigments must be suspended into the base of the formula to ensure formula stability and uniformity. A suspending agent is defined by an ingredient that assists in allowing non-soluble ingredients such as pigments to appear as if they are floating in a uniform manner in a mixture. In addition to allowing the pigments to float, it assists in enhancing the stability of the formula. A formulator may choose from a variety of options; some great ones include silica dimethyl silylate, silica silyate, ethylene/propylene/ptyrene bopolymer and butylene/ethylene/styrene copolymer.
Pigments
There are different types of pigments that can be selected to achieve different effects. Inorganic pigments, more commonly known as titanium dioxide, zinc oxide or iron oxides that comes in red, yellow, brown and black impart color, but more specifically these colorants assists in enhancing the coverage and payoff on the lips. As the concentration of inorganic pigments are increased the level of coverage increases.
A formulator may choose to work with organic pigments and lakes instead. This type of pigment is known more to adjust the tone of the color, and depending on the concentration, it can impart a stain or tint onto the lips. Lastly, the use of effects pigments can be used when trying to achieve a specific type of finish, such as satin or something sparkly. Some examples include mica, bismuth oxychloride, copper powder, bronze powder and tin oxide.
Formula Preservation Methods
Although many lip glosses are anhydrous and do not require a preservative, it may be wise to still include a preservative to assist with the prevention of contamination. Some good options may include caprylyl glycol, glyceryl laurate and glyceryl undecylenate. With any anhydrous product it is susceptible to oxidation so the addition of antioxidants is required. Some examples include tocopherol, tocopheryl acetate, BHT and BHA.
Flavors
In an effort to enhance the consumer experience, the addition of flavors would be wise. Ingredients in the base may not be pleasant in taste so the addition of a flavor can provide an aroma and taste to the base of the formula.
Emollients
Emollients are often the core of lip glosses as it provides a slippery, soft and glossy appearance and feel to the lips. Additionally, certain emollients double as a dispersing agent for pigments and pearls which allows for a more uniform base. Some great examples include hydrogenated polyisobutate, diisostearyl malate, Ricinus Communis (castor) seed oil, polyhydroxystearic acid and oleic/linoleic/linolenic polyglycerides.
Conclusion
Y2k trends have made a statement not only in fashion but in beauty as well. With that, the surge of lip gloss sales is on the rise. Customers have proven that they want the glossy, pouty looking lips without the need to inject their lips with fillers. There are a variety of ways to create a lip gloss, but as along as the formulator has optimized emollients and pigments they can create a unique, loveable texture and color that will be well received.
References:
1.  Sinay, D. (2022, March 18). Why you're suddenly seeing lip plumping gloss everywhere. Bustle. Available at
     https://www.bustle.com/style/lip-plumping-gloss
2. MarketWatch. (2022, December 13). Lip gloss market to witness a pronounce growth during 2023-2027: 123 pages report.
     MarketWatch. Available at https://www.marketwatch.com/press-release/lip-gloss-market-to-witness-a-pronounce-growth-
    during-2023-2027-123-pages-report-2022-12-13