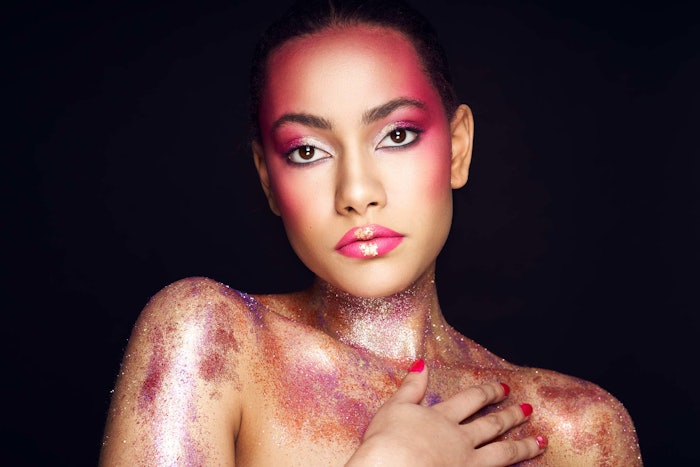 Image source: Geotech Beauty
At in-cosmetics Global, Geotech will launch Geopearl SFT coarse pearlescent pigments and Geonature biodegradable glitter.
Featured: Under Pressure: Color Release Microcapsules for Dynamic Product Dimensions
By using Geotech's technology SFT, the company is able to offer coarse synthetic pearlescent pigments with a narrow particle size distribution, approaching a traditional glitter effect. The process creates a glittering pigment with reportedly up to 98% of the particles < 150 micron.
This allows formulators to create safe eye products with environmentally friendly sparkling effects. The newly launched Geopearl SFT grade is also suitable for aerosol applications. Research has shown that the particles do not block the nozzle of spray cans. The SFT grade is available in five products showing silver, gold and multicolor sparkling effects.
The Geonature biodegradable glitter product line has been extended by a new 100 micron fine particle size. The range consists of eight colors based on a PET-free cellulose film. This glitter product line is reported to act very similarly to traditional glitter. The small particle size allows cosmetic producers to these pigments for eye products such as pressed and loose powders. The Geonature product line is also available in a 200 micron particle size.
The introduction of the products is guided by three color concepts:
Vibrant Iridescent: "Be adventurous and don't be afraid to make a difference;"
Colorful Pink to Gold: "Add an eccentric touch to your individuality;" and
Inspirative Metallics: "Be the one that stands out from the crowd."
The concepts contain formulation guidelines for color cosmetics and personal care products.