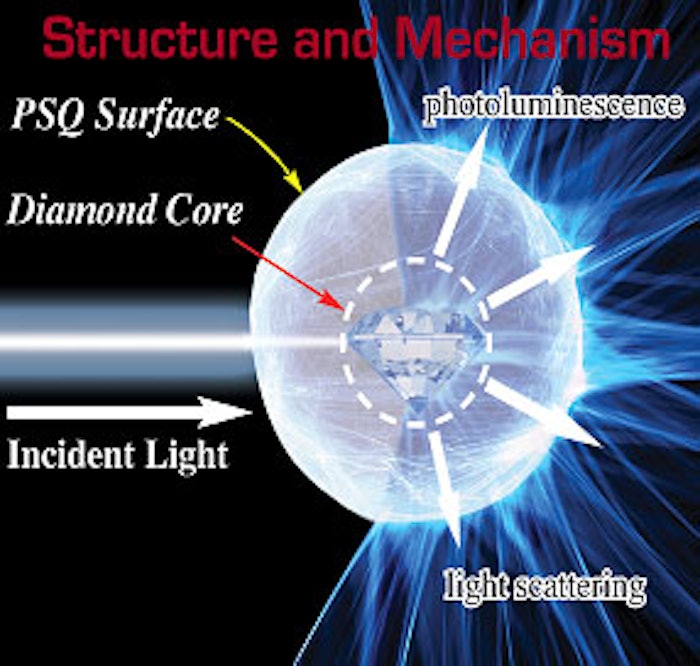 Grant Industries Inc., in collaboration with Nanometics LLC, has launched a new line of polymethylsilsesquioxane (PSQ) powders containing a core of an entrapped photoluminescent diamond complex. Granpowder Lumière (INCI: Polymethylsilsesquioxane/ Benzimidazole Diamond Copolymer) was designed to correct skin discolorations and provide depth of color.
According to the company, the diamonds are not a physical blend and they are not loose. Instead, photoluminescent diamonds have been encapsulated in a spherical polymer, rendering a soft-focus particle with both photoluminescent and color-correcting attributes. The powders, which all photoluminesce an intense blue color when illuminated by long wave UV, are available for personal care applications.
Currently, the powders are sold as a white powder or in five different colors and can be used to increase skin luminosity, decreasing the appearance of wrinkles and pores, evening out skin tone and correcting color. The powders can be combined to create unique colors and shades, specific to the intended application. They contain D&C dyes coordinated to the diamond complex.
The company reports that the particles are spherical and only seven microns in diameter, rendering them invisible to the naked eye. They are said to feel and formulate the same as unmodified PSQ of similar size and shape, which is advantageous to many personal care formulations since PSQ particles are widely used for their sensory attributes.
"By entrapping the photoluminescent diamond complex into the core of the micron sphere, we are able to take advantage of the favorable optical properties of the diamonds and preserve the highly desirable sensory attributes of the PSQ particle," said Steven Isaacman, PhD, director of research for Nanometics LLC. "For the first time, there is a particle available that combines photoluminescence and color correction. Furthermore, the synergism between the diamond core and entrapped D&C colors provides a unique depth of color to the colored powders, impossible to achieve with D&C dyes alone. When delivered to the skin, the multimodal particles dramatically reduce the appearance of skin imperfections and make the skin look younger and more vibrant," said Isaacman, who added "the optical and sensory properties of these particles are truly remarkable and we are excited about the panoply of applications."