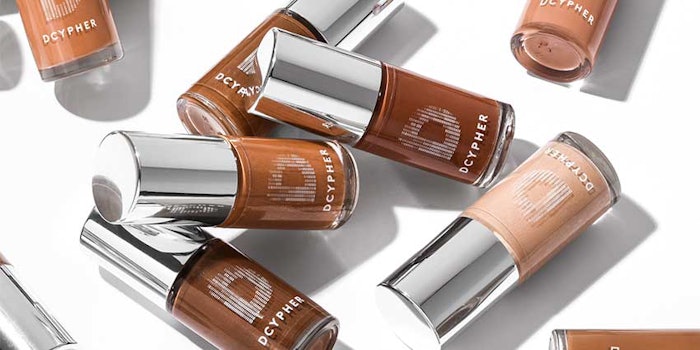 Trigenex, a UK-based technology business has created Dcypher—a personalized foundation that is made to match the users' skin tone and will be made available later in the year.
Related: Kanebo to Debut Color and Texture Adaptable Makeup
Dcypher's technology reportedly allows consumers to create their personalized formulation in minutes. Consumers are able to use AI diagnostics and a manufacturing process to produce a foundation formulation quickly.
Dcypher not only operates a business-to-consumer model but it also works with brands to offer a white label version of the company's technology. The Dcypher technology works with a retailer or beauty brands' formula, while also providing an added benefit of shade matching and altering the finish and coverage of the existing product.
Dcypher can offer a large variety of shades, coverage and finish combinations as the foundation can be made for the individual in that immediate moment.
Behind this technology are biochemists, Adam and Claire Triantis. Having seen consumers with different needs and skin tones that were categorized into the same shade or type of formulation, they realized a "one size fits all" was not the best option for consumers.
"Our research shows that only 45% of customers regularly use foundation, they have given up on the category as they failed to find a product that works for them," stated Adam Triantis. "Our mission is to disrupt the beauty industry by making personalization the norm and revolutionizing the retail supply chain. We aim to give the customer what they want with a variety of colors, finishes and formulations. Retailers will no longer need to have large footprints, can simplify their business model and reduce waste while improving the consumer experience."
Dcypher is not restricted to a foundation, the AI technology can create custom products for exact lip color, skin and hair care as well.