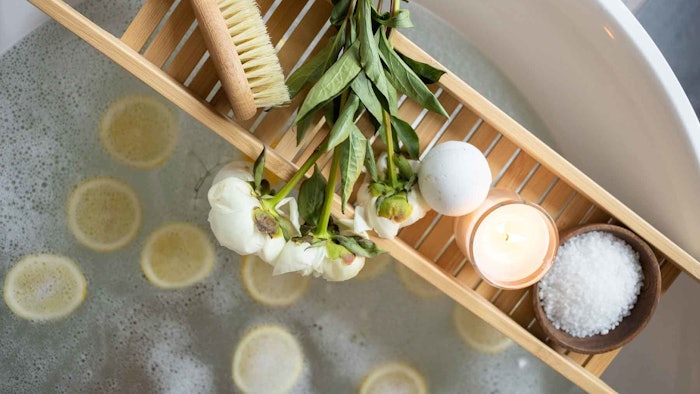 Research firm Markets and Markets projects the biosurfactants market will grow to US $1.9 billion by 2027, expanding at a CAGR of 11.2% from $1.2 billion in 2022. This trajectory should come as no surprise to the cosmetics and personal care industry, considering the current push toward sustainable ingredients from natural sources.
See related: Solvay Introduces 2 Bio-based and Biodegradable Surfactants
The firm defines biosurfactants as surface-active compounds produced by biologically available raw materials through microbial fermentation. They are 100% biodegradable and impart foaming, wetting, emulsifying and dispersing properties. Their safety and eco-friendly nature are driving demand.
Glycolipids On Top
Glycolipids such as rhamnolipids and sophorolipids are reportedly the largest segment within biosurfactants. According to Markets and Markets, they are the most well-known and most studied of the low molecular weight biosurfactants. Composed of carbohydrates (hydrophilic moiety), these materials are linked with either hydroxy aliphatic acids or long-chain fatty acids (hydrophobic moiety) via an ester or ether group.
See related: Evonik to Build Manufacturing Facility for Sustainable Rhamnolipid Biosurfactants
More specifically, the firm explains glycolipids comprise oligos or monosaccharides along with lipid moieties. The saccharide part can consist of mannose, glucose, galactose sulfate, glucuronic acid, rhamnose or galactose moieties, whereas the lipid moiety consists of either hydroxyl fatty acids or fatty alcohols and unsaturated or saturated fatty alcohols.
The firm notes that cost-competitiveness is holding back glycolipids from championing the biosurfactant field. Furthermore, research is needed to identify vigorous production strains, cheaper substrates and nominal bioreactor technologies.
See related: Cosmetic Victories Profile: Niki Baccile, Ph.D., on Biosurfactant-biopolymer Interactions
Applications and Market Leaders
Personal care leads the way as the projected fastest-growing application for biosurfactants during the forecast period. This emerges from consumer demand for body washes, lotions, hair products, acne treatments, anti-wrinkle products, skin smoothing and deodorants, Markets and Markets reports.
Rising consumer awareness for the use of renewable and natural ingredients in day-to-products is also cited as a major driver, along with the greener nature of these materials. This extends beyond personal care to additional applications including detergents (the current segment forerunner), food processing, agricultural chemicals and others. 
Prominent market players named (across industries) include: Evonik Industries AG (Germany), Deguan Biosurfactant Supplier (China), Biotensidon GmbH (Germany), Saraya Co., Ltd. (Japan), Allied Carbon Solutions Co., Ltd. (Japan), Daqing VICTEX Chemical Industries Co., Ltd. (China), Jeneil Biotech, Inc. (U.S.), BASF SE (Germany), Holiferm Limited (UK) and Solvay S.A. (Belgium).
Challenges Ahead
As Markets and Markets reported, the production of biosurfactants on a larger scale has been limited. Therefore the key to future growth will be to address this challenge.
As Nissar Zargar, Kumar and Srivastava explain in the book Biosurfactants: Challenges and Future Outlooks, the production of biosurfactants on a larger scale has been limited by lower yields, the production of a mixture of congener molecules that differ in their surface and interfacial properties, and safety. Also, rhamnolipids produced by certain bacterial strains have been reported to act as immunomodulators and virulence factors. "Addressing these issues will pave way toward large-scale manufacturing and commercialization of biosurfactants," they wrote.
The authors add that biosurfactant yields can be improved by optimizing the culture medium and bioprocessing conditions. "Significant efforts should be undertaken to improve downstream processing for biosurfactant recovery in order to improve the overall process economics and reduce environmental toxicity caused by the use of organic solvents. Further, designer biosurfactants having specific properties can be constructed for specific industrial applications."