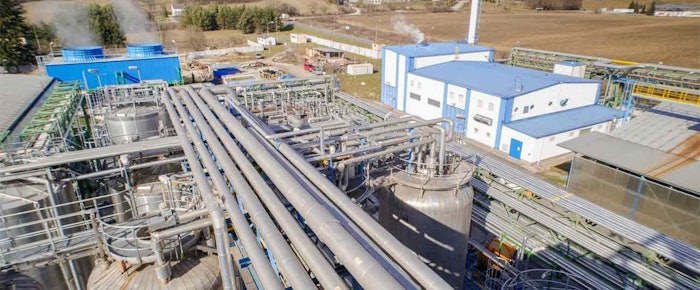 Evonik is investing in an industrial-scale facility for manufacturing sustainable rhamnolipid biosurfactants at its Slovakia site. The facility will be the world's first for sustainable rhamnolipid biosurfactants, according to the company. Construction is scheduled to be completed by the end of 2023.
Related: Researchers Develop Biodegradable Glitter from Cellulose Nanocrystals
Rhamnolipids are a class of biosurfactants that can be sustainably manufactured via a fermentation process using sugar as the main raw material. According to the company, this use of biogenic carbon requires no petrochemical raw materials or tropical oils.
Rhamnolipids are fully biodegradable and their low-impact life cycle means they are a sustainable alternative to conventional surfactants. These materials are commonly used in household cleaners and personal and oral care products. Evonik and Unilever have partnered since 2019 on hand dishwashing detergent and other home care applications for Evonik's rhamnolipids.
See archived: Sodium Methyl Cocoyl Taurate; Biosurfactant in Action
Evonik reports the new facility will assist its nutrition and care division in transitioning to a system solutions provider to meet the rapidly growing market demand for bio-based, biodegradable surfactants. The nutrition and care division aims to increase the share of system solutions it offers from 20% to more than 50% by 2030.
Johann-Caspar Gammelin, president of the nutrition and care division at Evonik, said, "This is a game-changer for cleaning and personal care products. With this investment, we are pioneering a new market and we believe that this will transform the way the world cleans. We are proud to collaborate with Unilever for a cleaner, more sustainable future."
Peter Dekkers, executive vice president of Middle Europe for Unilever, said, "Rhamnolipids are an important part of our Clean Future initiative which has set the goal to exclude fossil carbon in all cleaning products by 2030. We want to make sustainability easy for everyone that uses our products. The partnership with Evonik helps move our brands away from fossil fuels without compromising on performance or affordability."
See archived: Unilever Credits Evonik as a Factor in its 'Clean Future' Initiative