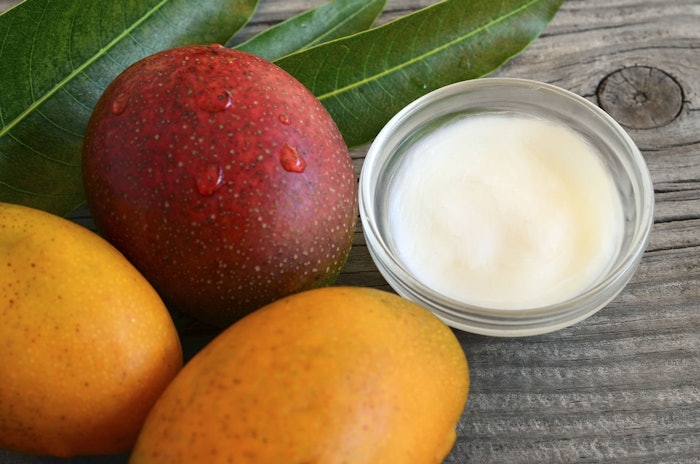 Integrity Ingredients Corp. (IIC) has added to its IntegriButter portfolio for personal care formulations with IntegriButter Mango Fruit Blend (INCI: Mangifera Indica (Mango) Seed Butter (and) Olea Europaea (Olive) Fruit Butter (and) Carica Papaya Seed Oil (and) Prunus Domestica Seed Oil).
Related: Integrity Ingredients Corp. Launches Chaga Mushroom Extract
The combination of oils contains a surplus of antioxidants, beta carotene, flavonoids, lutein, oleic acid, polyphenols, potassium and vitamins C and E that are designed to nourish, fortify and revitalize hair and skin.
Each ingredient component delivers properties to the complex, described as follows.
IntegriButter Mango (INCI: Mangifera Indica (Mango) Seed Butter) is created from the oil extracted from seed kernels of the mango fruit. It contains a high amount of stearic acid, which is similar in properties to cocoa butter. The ingredient reportedly demonstrates good lubricity and delivers excellent moisturization to dry skin and hair; helps to restore skin elasticity; protects against UV rays; reduces cellular degeneration; and inhibits the formation of fine lines and wrinkles.
IntegriLipid Papaya Seed Oil Refined (INCI: Carica Papaya (Papaya) Seed Oil) is extracted from the seed kernels of the papaya fruit and works as a natural exfoliator and anti-aging ingredient. Studies have shown that the papain enzyme promotes collagen production and protects skin elasticity, which helps to reduce the appearance of fine line and wrinkles. It is proposed for creams, lotions, hair and facial oils, body butters and lip balms.
IntegriLipid French Plum Oil (INCI: Prunus Domestica Seed Oil) is extracted from the seed kernels of non-genetically modified plums that are harvested in the southwest of France. It is an oleic oil with high linoleic acid content that is rich in antioxidant tocopherols. The oil has an emollient profile that leaves the skin with a light, non-greasy after-feel and offers antioxidant and hair and skin conditioning benefits, the company reports. It can also be used as a natural alternative to synthetic fragrances due to its light almond scent.
IntegriLipid Olive Oil Extra Virgin (INCI: Olea Europaea (Olive) Fruit Oil) is extracted from ripe, organic olives in Australia that are ground to a paste and mixed with water. The mixture is then centrifuged to separate the oil, which has a shelf life of approximately two years. The oil is reportedly abundant in antioxidants, nutrients, vitamins and anti-inflammatory triterpenes to promote skin health. It also is rich in vitamins A, E, D and K and counters oxidative stress caused by UV and free radical damage, according to the company. 
The oil contains a high fatty acid profile that includes squalene, oleic and palmitic acids that deliver moisture and are biomimetic to the fatty acid profile of human skin. The oil also can nourish and hydrate brittle and dry hair to tame frizz and prevent split ends while additionally acting as a lubricant to reduce friction between strands, strengthening, thickening and reviving hair's natural shine.
IntegriButter Mango Fruit Blend is suggested for skin, scalp and body care, eye and lip and various color cosmetic products.