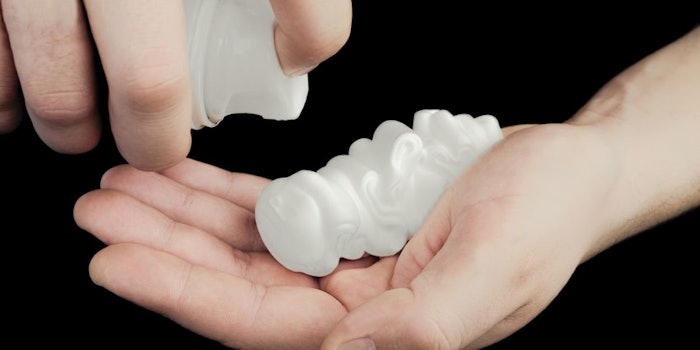 See the full article from the November 2006 issue.
The paramount objective of cosmeceutical development is to create effective products based on state-of-the-art, active ingredients that are conveniently delivered. The vehicle used to deliver topical ingredients can influence the performance of such ingredients since it can affect the delivery of the active agent to the target site of action. The convenience of use is of course most important in assuring continuous treatment.
See archived: Practical Foam Science
Properties such as these encourage or discourage the consistent use of a respective product. While semi-solid compositions such as creams, lotions, gels and ointments commonly are used by consumers, new forms are desired to achieve better control of the product's application, to improve skin absorption and to maintain or bestow beneficial properties of cosmeceutical products to the skin.
Foam has become a prominent delivery system for topical active agents in dermatology. Its platform provides an easy-to-apply alternative to creams and ointments. Foam delivery is advantageous in that it easily spreads over large areas and it does not leave a greasy, sticky or oily film on the skin after application.
The use of foam in dermatology was first reported in 1977 by Woodward and Berry, who studied the therapeutic benefit of betamethasone benzoate in a hydroalcoholic quick-break foam in comparison with a corresponding semi-solid dosage form. Their study revealed high clinical efficacy in the treatment of psoriasis and excellent acceptability by patients.
A comprehensive review on foam drug delivery in dermatology was reported in The American Journal of Drug Delivery in 2003. Recently, a number of dermatological foams have been launched in the United States and elsewhere with significant success, evident by high patient demand and remarkable sales records.
The successful acceptance of foam in dermatology is being followed by the emergence of cosmetic and cosmeceutical foams, which likely could constitute an important segment in the skin care market. In this article, the composition, properties and mechanisms of action of three types of cosmetic foam vehicles will be addressed. These include emollient foams based on o/w emulsions, w/o emulsion foams and oleaginous foams containing 70–90% oil.