Image source: Clariant
Clariant Natural Ingredients has launched Rootness Awake (INCI: Propanediol (and) Water (Aqua) (and) Ipomoea Batatas Root Extract (and) Sodium Sulfate), an extract of compounds that fight inflammation obtained from sustainably-grown Ipomoea batatas (sweet potato) roots.
Recent: Clariant's Beauty Wizard Rituals Casts Well-being Benefits
According to Clariant, Rootness Awake offers science-backed efficacy in reducing discoloration and ensuring firmness, promoting a revitalized more youthful eye contour. 
Rootness Awake counters the fragility of the eye contour by focusing on key aspects:
Decreasing the release of inflammatory mediators;
Helping reduce the microvascular network; and
Ensuring skin thickness, integrity and firmness are strengthened.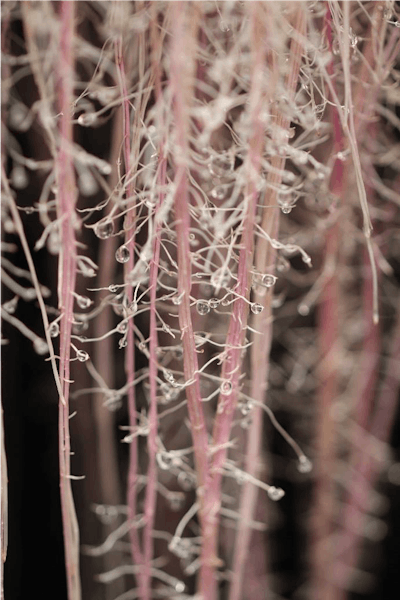 All of these are combined to reduce under-eye pigmentation and edema (fluid build-up). Rootness Awake achieves this as a result of the high concentration of active compounds dicaffeoylquinate esters (DCQE). 
The extract's activity is demonstrated in in vitro, ex vivo and also clinical evaluations. In tests over 28 days on women aged 18-35 years showing constant signs of fatigue, Rootness Awake was shown to improve and smooth out dark circles, reduce puffiness and strengthen eye contour stiffness.
The overall result is a lightened, more "awake" eye contour.
This active is based on plant compounds that could not be economically extracted from traditionally cultivated plants.
Plant milking technology respects biodiversity and the environment by focusing on soilless aeroponic cultivation, which is non-destructive to plants and has multiple benefits compared with conventional methods concerning land use, water use and maximizing harvests.
Plant cultivation and production of the active take place at the same location, enabling 100% traceability from seed to active ingredient.
"Dark circles and puffiness accentuate a tired appearance and are common beauty concerns regardless of gender and age," said Julie Droux, senior technical marketing specialist of Clariant Natural Ingredients. "Plant milking technology has enabled us to use an eco-friendly process to discover active molecules with potent properties in sweet potato roots, and to create an enriched extract with high efficacy in tackling many of the biological pathways responsible for the alteration of the eye contour. Rootness Awake gives formulators new, unique opportunities to develop effectively targeted care and eye contour products that contribute to progressing sustainability in skin care."
Update
In an interview with Clariant at NYSCC Suppliers' Day 2022, the company shared its clinical results with us at Cosmetics & Toiletries. Additional clinical study details demonstrated that even at 7 days, there was an improvement in eye contour stiffness and reduction in puffiness. As previously mentioned, these effects are heightened at 28 days. 
Additionally, the plant milking technology was shared to use 90% less water in comparison to other extraction methods, leading to a more sustainable manufacturing process. 
Applications include skin creams and lotions targeting the eye. It was also revealed the possible inclusion of color cosmetics such as concealer to accentuate and brighten the eye.