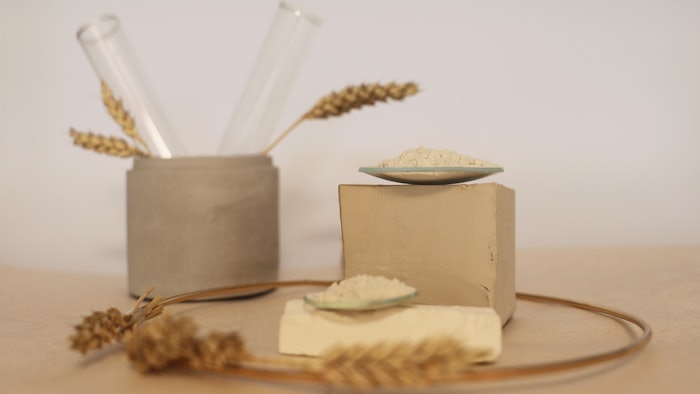 Image source: Givaudan Active Beauty
Givaudan Active Beauty has launched Cristalhyal e-Perfection (INCI: Bentonite (and) Sodium Hyaluronate), a sustainable and patented vectorized complex of bentonite clay and high molecular weight (HMW) hyaluronic acid (HA).
Recently: Givaudan Active Beauty's Upcycled Patchoul'Up Rebalances Hair and Scalp
Crafted by white biotechnology and powered by a modification of the electrostatic charges at the HA molecule's surface, the triple-action ingredient accesses the skin's deep layers to provide well-aging benefits, long-lasting hydration and mattifying effects. According to Givaudan, Cristalhyal e-Perfection complex has changed the paradigm for HMW HA, now enabling the ingredient to reach deep epidermal layers.
Cristalhyal e-Perfection completes the range of hyaluronic acid solutions for beauty brands thanks to its skin properties, which are supported by clinical tests. These properties include:
Long-lasting hydration, reportedly more than 24 hr in just one application—a benefit that smooths the skin;
Well-aging, decreasing fine lines in the crow's feet area by 27.3% after one month; and
Mattifying effect, reducing skin's shininess by 27.4%.
Cristalhyal e-Perfection demonstrated long-term benefits after prolonged use for 28 days. In addition, with its constituents recognized for their textural properties, the active boosts the sensoriality of formulas, bringing softness and a satin touch.
The company has specially formulated its S3D STEP UP concept to highlight the benefits of Cristalhyal e-Perfection as well as Givaudan's Neoporyl ingredient (INCI: Water (Aqua) (and) Propanediol (and) Sodium Mannose Phosphate (and) Mannose (and) Lysine (and) Lactic Acid (and) Proline (and) Copper Sulfate). With repeated use, this non-tinted formulation can improve skin quality, texture and complexion while minimizing pores.
Amandine Scandolera, head of biological evaluation for Active Beauty, said: "Cristalhyal e-Perfection is an exclusive combination of HA and bentonite clay, inspired from ionophoresis. Thanks to a patented and proprietary process, bentonite clay can be activated to efficiently entrap molecules of HMW HA in the interstitial space of specific lamellar structures. Hyaluronic acid molecules will thus benefit from an electrical attraction from the skin's deep layers to a depth of 75 microns."