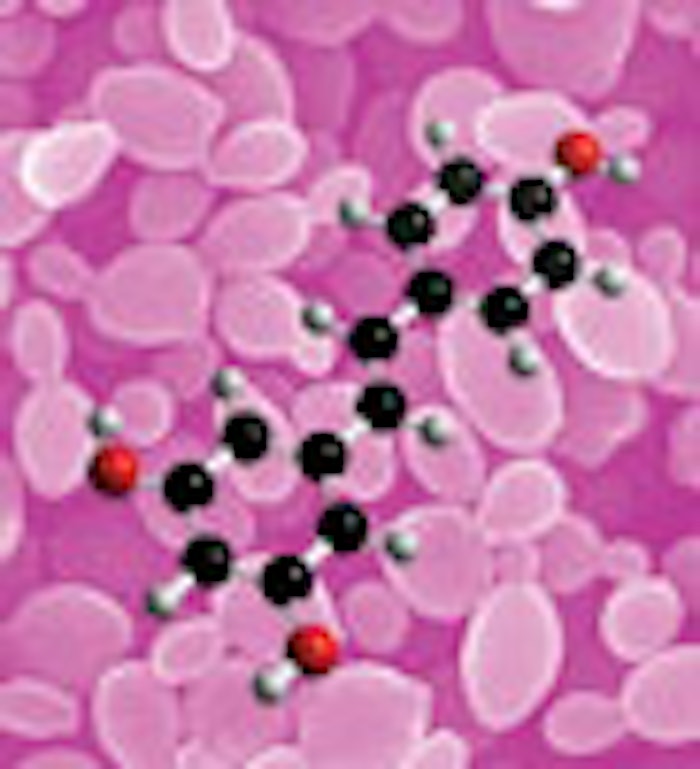 Arch Personal Care Products has developed a biotechnological ingredient for use in antiaging skin creams. Metabiotics Resveratrol (INCI: Pichia/Resveratrol Ferment Extract) is produced through the fermentation of the small molecule resveratrol with the microorganism Pichia pastoris.
The resulting biofermentation extract completely metabolizes the resveratrol, affording anti-inflammatory and Collagen IV synthesis activity to target micro-inflammation and maintain the structural integrity of skin cells through the dermal epidermal junction (DEJ).
In vitro studies were performed to determine the inhibitory benefits of the resveratrol on a full thickness tissue model to reduce expression of the anti-inflammatory enzyme cyclooxygenase 1 [COX1] along with its ability to promote the synthesis of Collagen IVA on the same tissue model. The results, in both cases, confirm with statistical significance that either a 1% or 2% treatment of the active reduces the levels of the COX1 enzyme and increases the amount of COLL IVA synthesis.
In vivo, an antiaging study has confirmed a reduction in fine lines and wrinkles following a 28-day application, as well as firming and lifting of the skin to reduce notable sagging that was present prior to treatment.
The company recommends active for cosmetic formulations designed to ameliorate the visible signs of aging. Its benefits include reduction in inflammation, promoting firming and rebuilding DEJ structural integrity. Applications include antiaging products, body lotion, treatment (body), toner, facial moisturizer, treatment (face) and makeup foundation.