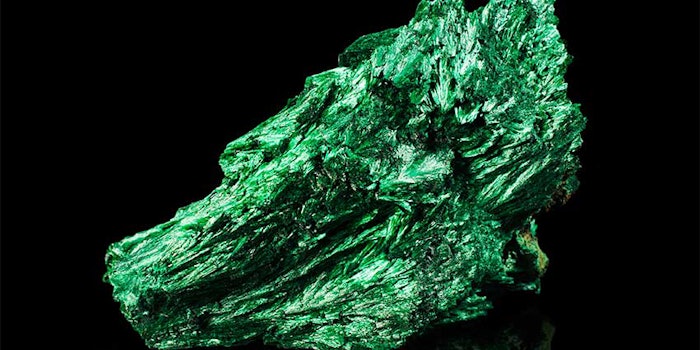 ID 35690248 © Viktoriya89 | Dreamstime.com
Positive Products Group has created PPG Natural Malachite Extract (INCI: Malachite Extract), a liquid extract from malachite stone to promote healthy skin.
Related: WGSN Color and Effects Forecast 2020-2025: Copper, Eco Black and More
As the company explains, it uses the malachite stone, which contains natural copper and other trace minerals, in a multi-step process designed to extract all of the stone's benefits into a purified liquid mineral extract. 
PPG Natural Malachite Extract reportedly contains bioavailable copper and offers antioxidant protection to guard skin against environmental oxidative stress and fight damage to cells caused by free radicals. Additional properties include:
Promotes cellular detoxification through the stimulation of glutathione reductase;
Helps in the synthesis and stabilization of skin proteins;
Stimulates collagen and elastin production to make skin stronger and more youthful;
Stabilizes the pH of skin to ensure optimal compatibility; and
Provides a beautiful natural blue color in formulations.
The ingredient is also preservative-free and pending COSMOS certification.
Previously: Elina Organics' Crushed Copper Mask Purifies, Prevents Acne