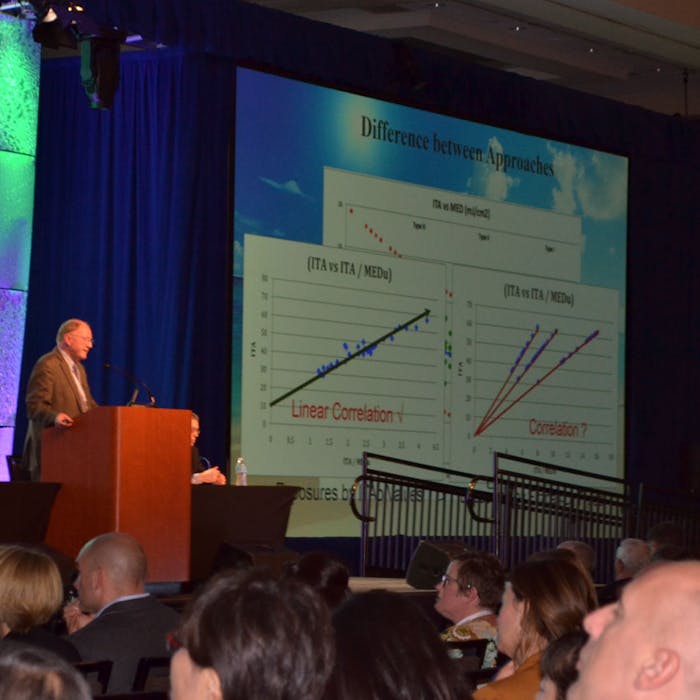 "Sunscreens fail in less than two hours of sunlight," stated Bob Sayre, Ph.D., of Rapid Precision Testing Laboratories, citing a previous Cosmetics & Toiletries article and other research. Why? He said it begins with some assumptions.
"We've made two assumptions based on the endpoints of erythema and PPD, and their relation to optical attenuation."
John Staton, of Dermatest Pty Ltd, continued the controversy, deconstructing the way the industry simulates sunlight during tests.
"I think we can make a UV simulators much more like real sunlight," he said. Staton also went into detail about Fitzpatrick vs. ISO means of interpreting the exposure results. "There's a bias when you use skin types as opposed to ISO."
The importance of not just sunscreen, but also vitamin D was the focus of work by Bianca McCarthy, of the University of Australia. Her team found that curcuminoids, in place of vitamin D, act on vitamin D receptors and can protect against the incidence of cancer.
And what happens to a sunscreen when you immerse your arm in water? Germain Puccetti, of Ashland Specialty Ingredients, and colleagues were determined to find out. They observed that when spray is applied to dried skin and that skin is then submerged, the skin becomes more hydrated and its properties change. This influences the behavior of the sunscreen film applied to skin.
The team capture video of particles being released from the skin at the air/water interface. In conclusion, Puccetti observed, "As the aspect ratio increases, performance increases."