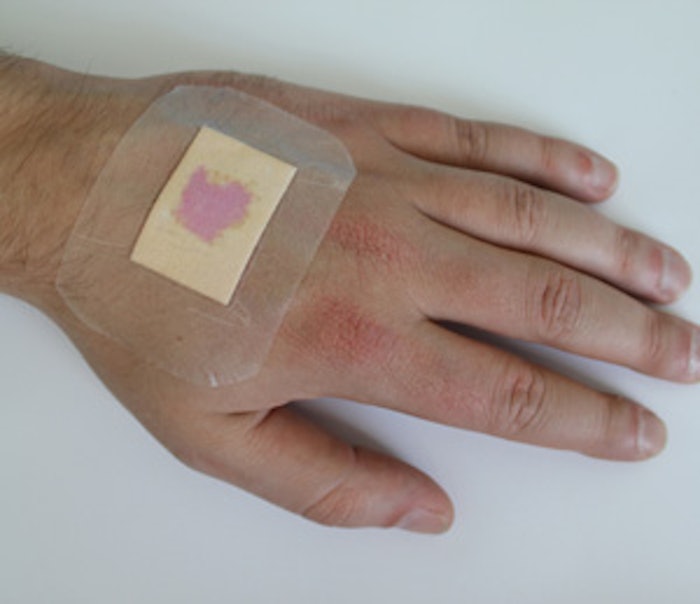 Scientists at the Fraunhofer-Einrichtung für Modulare Festkörper (EMFT), known in English as the Research Institution for Modular State Technologies, in Munich have developed an indicator dye for bandages and dressings that changes color if an infection develops underneath.
According to the scientists, bandages and dressings can be difficult and painful to remove, and removing the dressing is often necessary to check for infection. The scientists, therefore, created an indicator dye that reacts to the skin's pH when formuated into dressing materials and plasters.
Healthy skin and healed wounds typically show a pH below 5, according to the scientists, whereas infected skin has a pH value between 6.5 and 8.5. "If this value increases, it is shifting from the acid to the alkaline range, which indicates complications in the healing of the wound," noted Sabine Trupp, PhD, scientist at the Fraunhofer-EMFT, in a press release.
When the pH of the skin under the dressing rises, the color strip containing the indicator dye in the bandage turns from yellow to purple. This allows the dressing wearer to check the bandage without disrupting the healing process.
The scientists reportedly a number of challenges when creating the color strip. "The dye has to remain chemically stable when bonded to the fibers of the dressing material or the plaster to ensure that it does not get into the wound. At the same time, the indicator must show a clear change in color and also react sensitively in the right pH range," said Trupp.
A prototype of the dressing has already been produced and initial tests have proved successful. The researchers are now thinking about how to develop their innovation further. There are plans to integrate optical sensor modules into the dressing to measure the pH value and indicate the results on a reader unit. This method would allow the value to be read off precisely, providing information about how the wound is healing. At present Trupp and her team are looking for an industrial partner to produce the dressing commercially.
Although the indicator dye currently is being developed for bandage application, perhaps it has other applications in personal care where infections are present or where indication of a skin pH change is useful.