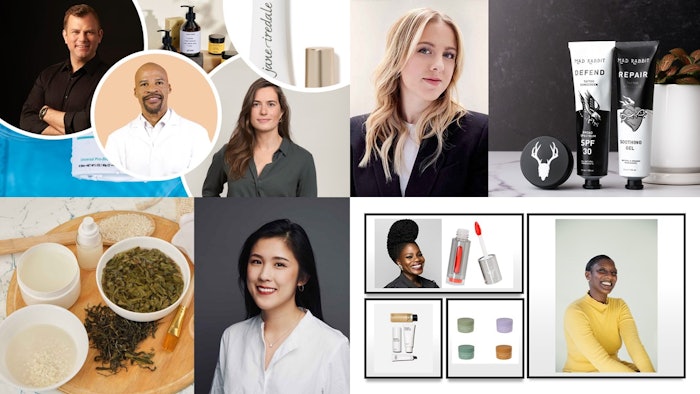 From transparency to exposomal care to investor and retail strategies, beauty brands and their innovation partners can learn much from companies such as The Estée Lauder Companies, DECIEM, Amorepacific, BeautyStat, Mad Rabbit and jane iredale. Leading experts from these brands and more will be sharing lessons from their own success and taking your questions during Beauty Accelerate Virtual, taking place June 6-9.
These lessons will support brand and marketing innovation and business planning for the coming years. 
Here are 7 highlights from next week's conference.
1. DECIEM: transparency + science as a brand growth strategy
"Today's consumers want the beauty brands they use to source ingredients ethically, are transparent and authentic, appealing to the senses, and offer products with high efficacy," notes a recent Mintel report. In this environment, "consumers will choose what works for them more than what is popular on social media platforms."
Next month, the 4-day Beauty Accelerate Virtual will host "The Beauty of Transparency," a case study from DECIEM, a leading science- and education-first brand marketer.
In this session, Rita Silva, Scientific Communications Manager of DECIEM, and Sydney Petrovic, Global Head of Brand, The Ordinary (a DECIEM brand), will discuss how transparency resonates with the brand's community.
These experts will describe the company's strategy and positioning, followed by a discussion of how these approaches connect the dots between marketing and R&D to communicate science clearly to consumers. 
Beauty Accelerate Virtual will connect the dots among emerging R&D advances, market and consumer trends, and supply chain innovations with focused discussions featuring newsmaker brands and retailers, up-to-the-minute data/analytics presentations, and breakthrough solutions from supply chain partners. Attendees will come away with the insights and connections they need to take their brands to the next level.
2. Amorepacific: the power & potential of fermented beauty
Fermented beauty has emerged as one of today's most-sought product categories. With consumer media such as Self, Vogue and Allure touting its benefits — and explaining to consumers how fermentation improves bioavailability (in simple terms) — the market is hungry for it.
According to Future Market Insights, across industries, the global fermented ingredients market is expected to reach US $93.9 billion by 2033, increasing at a CAGR of 6.7% over the next ten years. The firm cites fermented ingredients for both gut health and good skin as market drivers.
While deeply rooted in history, fermentation processes have technologically advanced to enable precise, bio-driven outcomes. For example, a recent article in Cosmetics & Toiletries explores precision fermentation to derive bio-identical palm oil alternatives.
Next month, during the 4-day Beauty Accelerate Virtual, Michelle Shieh, scientific communications manager at Amorepacific, will explore different types of ingredients sourced from fermentation and applications of them in formulations ranging from skin care to supplements. 
3. Mad Rabbit x OurX: how to make your brand investment-worthy
Beauty funding and M&A have declined year-over-year amid economic concerns, slowing the funding of emerging beauty endeavors. Take the founding of Beach House Ventures for example. The company was recently launched with the sole purpose to "address the general decline in beauty fundraising in recent quarters, related to everything from interest rate hikes to recessionary fears."
Still, amid the slump, a number of high-performance brands are attracting investor buy-in. How?
Next month, during the 4-day Beauty Accelerate Virtual, OurX CEO Meg Maupin and Oliver Zak, cofounder, Mad Rabbit, will share intel in the session, "Investment-worthy Beauty," describing what's making investors optimistic and keys to brand success; from distribution to product innovation to marketing and consumer engagement and beyond.
Oliver Zak cofounded Mad Rabbit in 2019 to reinvent the tattoo aftercare and tattoo skin care space. Per the brand: "Mad Rabbit's 'no nonsense' approach values clean ingredients so consumers don't have to worry about unnecessary toxins and ingredients found in traditional tattoo skin care products, which often fail to deliver. Our focus encompasses a full cycle tattoo skin care routine from preventative and post aftercare to daily tattoo skin care solutions."
Meghan Maupin is an accomplished executive and innovator in the beauty industry, with an expertise in designing custom products and experiences that leverage advanced machine learning and consumer-driven feedback loops. She has dedicated her career to making inclusive, sustainable and better-for-you products.In 2019, she co-founded Atolla, a revolutionary custom skin health brand that combines patented technology, effective ingredient combinations and virtual expert consults to make a skin care system that takes the guesswork out of your daily routine. In 2021, Function of Beauty, the world leader in customizable hair, skin and body care products, acquired Atolla.Meg joined the Function of Beauty leadership team to head Global Marketing, overseeing product innovation, brand marketing and digital strategy across DTC and Retail channels. Passionate about evolving the beauty industry toward a more inclusive and data-driven future, Meg has recently joined consumer technology brand OurX as Chief Executive Officer.
4. Peak and Valley, Neon Hippie & Tatcha on the wellness-beauty axis
Beauty is increasingly about more than how you look. Today's shoppers are taking a more holistic approach to wellness, encompassing both mental well-being and aesthetics. 
Next month, the 4-day Beauty Accelerate Virtual will host "The Mind-beauty Connection," a panel featuring brands that take unique approaches toward addressing everything from general well-being and beauty to stress to mental focus and beyond.
Attendees will come away with new insights into innovation pathways to merge wellness and beauty concepts, from marketing to product development and beyond.
>>>REGISTRATION IS NOW OPEN FOR LIVE/ON-DEMAND ACCESS.<<<
This session will feature:
Nadine Joseph, Founder & CEO, Peak and Valley
Nicole Ostoya, Founder, Neon Hippie
Kylene Campos, Chief Marketing Officer, Tatcha
Nadine Joseph is the founder and CEO of Peak and Valley, a mindful company that creates mushroom and herbal supplements for holistic wellness. Previously a neuroscience researcher, she now travels worldwide to mindfully source each ingredient from family owned organic and regenerative farms in India, Peru, South Africa, and more. Nadine is a wellness entrepreneur reinventing the way we think about stress. With Peak and Valley, she's bringing adaptogenic herbs and mushrooms that have been used in Traditional Chinese Medicine and Ayurvedic healing traditions (for centuries!) to the modern consumer. Her experience with a chronically elevated stress response led her to discover adaptogens, herbal allies that help balance the body's reaction to stress. Because she has a neuroscience research background, it was very important that the adaptogens used had very high standards for quality and efficacy. When she couldn't find products up to par, she founded Peak and Valley in 2019. Now, she travels worldwide to source the highest quality herbs from small-scale organic and regenerative farmers in India, Peru, South Africa, and more!
Kylene Campos is a seasoned business leader and purpose-driven brand builder with a passion for diversity and inclusion. She joined Tatcha as Chief Marketing Officer in December 2021, inspired by the brand's promise to bring radiance from skin to soul. Prior to Tatcha, Kylene served as Chief Marketing Officer for SK-II from 2016 to 2019 and led P&G's Japan and Korea Hair Care business from 2019 to 2021. Kylene spent over 20 years with Procter & Gamble, across a range of beauty brands from SK-II, Pantene, H&S, Herbal Essences, Hair Recipe and Olay. During her time in P&G, she not only accelerated growth and profitability across these brands, but also transformed brand building, and re-focused on purpose by using the brand's voice as a force for growth. Her passion for diversity and inclusion, also led Kylene to be one of the driving forces for P&G's #WeSeeEqual initiative in Asia, the Middle East, and Africa, with a vision to create a more gender-equal word inside of P&G and out. Kylene believes in the power of business building through brand building, marrying creativity, innovation, and rigorous operational discipline to bring about business transformation and organizational growth.
An unusual blend of left and right brained creativity, Nicole Ostoya, Founder of Neon Hippie, has built brands from the ground up, drawing from her experience sitting on both sides of the retail table. After nearly two decades holding corporate leadership positions at Nordstrom including West Coast Merchandise Manager, Nicole was tapped by LVMH to help expand distribution channels for Benefit Cosmetics, where she facilitated a lucrative partnership with QVC. Over the next decade, Nicole parlayed her entrepreneurial vision and business acumen into creating several beauty and lifestyle companies including Gold Grenade, The Cocktail Lab, and her current development firm Artcrime agency. With over 35 years in the beauty business Nicole has harnessed storytelling through creative content and has the 360° expertise to take concepts from idea to launch. Since then, Nicole has created and developed products for brands and celebrities including Toni Braxton, Jane Fonda, August Alsina, a Demi Lovato collaboration, Barry's, Invicta and The New Black to name a few. She has cultivated relationships with leading national retailers including Sephora, Ulta, HSN, QVC, Nordstrom, Zulily, CVS and more.
5. Cleanical beauty leaders: BeautyStat, jane iredale and Prose
Fifty-three percent of U.S. beauty and personal care users research ingredients to better understand the effectiveness of products, according to Mintel, highlighting a growing focus on efficacy. Meanwhile, a Euromonitor report found that 25% of respondents want brands to be transparent regarding ingredients, a 5% jump between 2021 and 2022.
In addition, "38% of consumers said they prefer natural or botanical ingredients to a lower price," signaling the primacy of "clean" over "cheap."
Finally, in Q1 2023, clinical brands grew faster than natural brands in the prestige sector, driven by an array of new launches.
Collectively, this data points to the need for clean, clinically proven beauty without tradeoffs. And, notably, the trend is expanding beyond the bounds of skin care, impacting the hair and makeup sectors.
Next month, the 4-day Beauty Accelerate Virtual will host "Cleanical Beauty," conversation with Marie Mignon, Chief Scientific Officer, Prose, Ron Robinson, CEO and Founder, BeautyStat and Chris Payne, CEO of jane iredale.
These experts will discuss the impact of educated, sophisticated consumers, demands for provable claims, and much more.
Attendees will come away with new insights to fuel business planning, marketing and product development.
6. What makes a breakout beauty brand? Danessa Myricks Beauty, Hanahana Beauty & Necessaire chime in.
In an increasingly crowded beauty market, standout brands are few and far between. But there are a rare few who make a mark. Three of those brands—Hanahana Beauty, Nécessaire and Danessa Myricks Beauty—will share their secrets for rising above the competition while embracing ethical practices during a forthcoming Beauty Accelerate Virtual talk, "Decoding Breakout Beauty Brands." Our experts will include: 
Randi Christiansen, CEO and Co-Founder, Nécessaire, Inc.

Abena Boamah-Acheampong, Founder/CEO, Hanahana Beauty

Danessa Myricks, Founder, Danessa Myricks Beauty
Nécessaire, according to Circana data, was one of the fastest growing brands in the U.S. prestige market in 2022. Aside from being a consumer favorite, the brand has become a sustainability leader.
In 2022, Nécessaire obtained a B Corp certification with a 98.4 overall score. And, since 2019, the brand has been a 1% For The Planet Member, allocating 1% of all sales to environmental non-profits fighting to defend the air, water, land and wildlife worldwide.
Nécessaire has also been Certified Climate Neutral as of 2019, offsetting its carbon footprint in full. Furthermore, the brand has added a Plastic Neutral certification via rePurpose Global.
Hanahana Beauty, which launched in 2017 and later entered Ulta Beauty's Sparked platform, recently expanded into 400 of the retailer's stores.
The brand, a signatory to the 2021 #CodeRed4Climate social media blackout, is focused on bringing ethical sustainability to beauty and has made a name for itself via its partnership with the producers of Ghanaian-harvested shea butter.
Founder Abena Boamah-Acheampong was reportedly inspired by "her mother's method of heating up shea butter and cloves and adding them to her very own body butter concoctions for their family's use." Hanahana Beauty was born in 2017 in Boamah-Acheampong's kitchen during grad school; it remains hand-crafted in Chicago.
Danessa Myricks has been called "your makeup artist's favorite makeup artist" by Allure. Her expertise in color cosmetics is unquestionable.
So it's no surprise that her brand, Danessa Myricks Beauty, has been praised by Allure, Pop Sugar, Ebony and more. Beyond great products, Myricks has a mission for meaningful inclusion in beauty.
As she told The Zoe Report: "I want my brand to feel like a place where everyone feels at home and can say, 'I belong there, I can find myself in there,' and discover what their possibility can look like."
Attendees of this discussion will come away with insights to apply in their own differentiating innovation and strategic planning. To attend the talk live or on-demand, register below.
7. The Estee Lauder Companies: the future of holistic skin care
Consumers continuously face the twin pressures of time and environmental aggressors when it comes to their skin care concerns. And their go-to solution is anti-aging skin care.
A recent survey found that 98% of women agree that taking care of your skin at an early age is the best anti-aging approach, while 94% believe a regular skin care routine will help prevent visible signs of aging.
It's not just older consumers who focus on the prevention and treatment of aging. In fact, 37% of Gen Z respondents ages 18-26 already use anti-aging skin care.
Furthermore, 58% of Gen Z respondents who now buy anti-aging products say they first started to have anti-aging concerns at about age 23, compared to older shoppers who first experienced these concerns at age 35.
Next month, the 4-day Beauty Accelerate Virtual will host "Cutting-Edge Science in the Service of Skin: performance ingredients to fight aging and counter direct environmental exposure," an exclusive briefing from Nadine Pernodet, Ph.D., Senior Vice President at The Estée Lauder Companies (ELC), who will discuss holistic views of aging and the beauty technologies that can address them.
Aging and skin health are impacted by the entirety of our exposome, Pernodet notes, including internal and external factors constantly in flux. This talk will consider mechanisms of aging and skin health from a holistic perspective.
It will also consider facets of our being such as circadian rhythm, emotional states, stress and more, and explore ways to maintain balance for beauty.
Attendees will come away with new insights to fuel business planning, marketing and product development.
>>>REGISTRATION IS NOW OPEN FOR LIVE/ON-DEMAND ACCESS.<<<