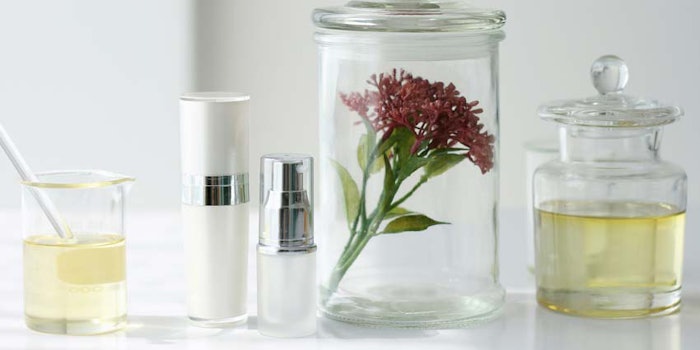 Editor's note: In this commentary, industry expert Akshay Talai shares personal insights on the evolution and re-invention of cosmetic ingredients. He has 20+ years in the industry, overseeing all aspects of R&D, including for some of the largest multinationals.
Twenty five years ago, after experiencing the clinically driven and regulated pharmaceutical industry, I joined the innovative world of beauty. Intuitively, my passion was to bring highly efficacious and dermatology-inspired products into cosmetics. New to the cosmetic industry as a bench chemist, I envisioned my lab as an "apothecary" to compound creative and breakthrough formulations using alpha hydroxy acids, retinoids, niacinamide, vitamin C, salicylic acid, caffeine, hyaluronic acid and amino peptides.
In fact, my first patent granted in the industry in 1998 was for the stabilization of retinol in a commercial cosmetic serum. I remember those days when I used to suit up, head to toe, in personal protective equipment (PPE), handling concentrated retinol in yellow lighted chambers and gassing nitrogen in aluminum foiled packaging.
See archived: Protection of Retinol in Organosilica Microparticles 
Fast forward to today and ... guess what? Products are still being launched claiming stabilized retinol. Key trending molecules across the world in most leading brands are also the same as I had in my tool chest decades ago. What is different is we are now using higher percentages and playing the numbers game boldly on front of the package. We are creating "fancy" product textures such as jellies, oil-serums, fat-waters; and we are presenting newer marketing messages of conscious beauty. Over the years, I have seen many of these cyclical trends phasing in and out and resurfacing with redesigned and different flavors.
Antioxidants to adaptogens: Historically, natural ingredients were always the backbone of the cosmetics industry, and I personally have used almost everything commonly known to target wrinkles, pigmentation, skin dryness, barrier function, excess skin oil, sensitive skin, etc. What started as high-performing antioxidants, such as ginseng, cordyceps, goji berry, schisandra, turmeric, licorice and holy basil, have recently resurfaced as adaptogens.
Cultural to ayurvedic and TCM: Cultural and indigenous ingredients, e.g., coleus, clary sage, boswellia, Indian gooseberry, Centella asiatica and bitter melon, have reemerged as ayurvedic herbs. Gingko, chaga mushroom, green tea catechins, lotus root and mung bean have all had their days of glory and are now rebranded as Traditional Chinese Medicine, inspired thanks to the exponential growth of the beauty industry in China.
Amazonian to ethnic-centered, and superfoods: Resources from the Amazon rainforest also have been tapped into to uncover exotic ingredients such as acai, babassu oil, murumuru butter, cupuacu butter and buriti fruit oil, and have made their way back into ethnically centered beauty brands. Leaves, roots, flowers, berries or fruit extracts rich in natural vitamins, polyphenols, minerals, fiber and phytochemicals such as spinach, kale, pineapple, broccoli, lycopene-rich tomatoes and watermelon have all made a comeback as superfoods. 
Products sell as a complete package of six key criteria: product branding and communication, consumer experience plus perceived performance, consumer perception, quality, value and convenience.
Historically, all these natural ingredients made their way through the food or nutritional industry (hint: resveratrol and cannabinoids) to an equally lesser-regulated cosmetic industry, where the emotional attachment to these materials truly impacts the buying habits of the consumer. The current challenge is for chemists and marketers to reintroduce these ingredients as new again (remember plant stem cells?).
Cross-pollination from foods, nutritionals: Chemists and marketers are also on the lookout for inspirational ingredients at nutraceutical and food trade shows to find plants and folklore-based naturals that have not yet entered cosmetics. This has led to the introduction of hemp seed oil, coriander extract, moringa extract and plum oil in recent years.
Bio-fermentation to antimicrobials, prebiotics, sustainable solutions: There was a time when bio-fermentation, enzymes and biotechnology were the biggest trend; and yeast, bacteria and mushroom ferments were found in everything from acne and skin brightening, to anti-aging products. Now, we see a resurgence of these technologies to introduce antimicrobial ferments in self-preserving products. Also, the gut-inspired skin microbiome trend has brought ferments to the forefront surprisingly repositioned as prebiotic materials, along with traditionally used sugars, polysaccharides, lipids and natural plant materials.
These technologies have also been exploited to efficiently recreate petrochemical-based materials and biodegradable materials in bioreactors while sustainably growing existing plant-based molecules in bio-cultures. The consumer demand for naturalness has driven the use of biotech to re-create historical synthetic molecules through natural means—there is already a quest to find a "natural" niacinamide, retinol and salicylic acid—and lab-grown animal-sourced bioactives have been a delight for the cruelty-free society. Does cholesterol, collagen and elastin ring a bell?
Extremophiles and Earth sourced: Over the years, we have even tapped into exotic materials sourced from meteorites that rocked Mother Earth; precious gems; stones such as hematite, malachite and tourmaline; and even searched every continent to grab extremophiles and thermophiles, from the Sahara Desert to Antarctica. Ores of mountains have been dug to provide mineral sunscreens, clays such as calamine, volcanic ash, montmorillonite and fuller's earth. Oceans and riverbeds have vastly been explored to bring us diverse algae, sea salt and coral extracts.
See related: Inside Ingredients; Diatomaceous Earth
J- and K-Beauty: Japanese Beauty, or J-Beauty, has been an epicenter of cosmetic dominance and a benchmark for premium essences, waters and serums. Korean or K-Beauty trends brought a spark into the industry with much-needed freshness. Economically, it was a boon to cosmetic companies, as women were suddenly using a regimen of 10 products instead of their usual two; and they even started double cleansing.
It all started with trendsetting BB creams but in truth, to the eyes of the discerning chemist, the future was a year-on year explosion of numerous cleverly branded products with the same molecules or natural ingredients. Examples include cica creams; elegant new product textures like bubbling oxygenating masks; creative product names in modern packaging, e.g., TonyMoly's Magic Food Banana Sleeping Pack (a banana-scented night cream in a banana-shaped tube); or novel delivery systems such as sheet masks, freeze-dried tablets and micro-needle hyaluronic acid patches. 
Clean and conscious beauty: More recent trends are clean and conscious beauty, following philosophies that encompass the following:
1. Simplicity and minimalism, using fewer ingredients; however, brands like Cetaphil, Eucerin, Nivea and Vaseline were pioneers of their time;
2. Vegan beauty, naturalness, eco-conscious and sustainability, but brands like Origins and Aveda were already playing in this space 20 years ago;
3. Free-from and fear-mongering claims that exclude and proclaim ingredients that are considered taboo by self-regulated retailers or indie brand founders. They forget that scientifically speaking, every ingredient used to build a formula is a chemical;
4. Naturally preserved or preservative-free claims, which expert chemists achieve by using non-traditional chemical ingredients that are not classified as a preservative. These ingredients are still performing a preservation function, they are just not listed as a preservative. Only aseptically manufactured and sealed products are truly preservative-free, which exists primarily in the pharma industry; and
5. Water-free beauty for a better planet, including balms, sticks, bars, oils and pressed powders, all have been water-free and existed for ages.
Most high-performing, standardized ingredients will succeed in the long run through a synthetic route; i.e., where biology, chemistry and targeted action can be cleverly manipulated for optimized functionality.
The clean and conscious beauty trend has brought forth many green-washing claims, and approximately 50% of all products launched today have some type of natural claim. On a positive note, however, it brought transparency to consumers and cosmetic houses are sincerely sharing more authentic information and being more ethically, ecologically and socially conscious about the products they create.
Relatively soon, if not by the time this article meets your eyes, most products will be in some shape or form that is self-compliant with the clean beauty category—and there will be minimal differentiation between them. So, this just a small detour on another cyclical wave until we jump on to the next trend.
Old Favorites and Key Messages/Product Criteria
Most current skin care formulations are still based on the same historic, tried-and-tested, ages-old winners such as humectants (e.g., glycerin, glycols, polyols and sugars); emollients (including plant oils, fatty acids, esters and butters); and structuring agents (ranging from emulsifiers, waxes and polymers to thickening agents). The remainder of the formula is filled with emotive ingredients and/or performance-based hero ingredients.
As I have navigated these cyclical trends throughout my career, two key messages emerge: 1) what is old is always new again and 2) no idea is a bad idea. Also, eventually the product sells as a complete package of six key criteria: product branding and communication, consumer experience plus perceived performance, consumer perception, quality, value and convenience.
Hero Molecule? Synthetic is the Way Forward
Circling back to the core question: Are we desperately in need of a new hero molecule that is tried and tested and clinically proven as the way forward?
While the industry would love to use active pharmaceutical ingredients (APIs), the laws clearly prevent us from doing so; although we are awfully close to blurring those lines. The recent use of tranexamic acid and azelaic acid in higher percentages are examples. Long before mRNA made the headlines as a COVID-19 vaccine, this advanced technology was being embedded in the genes of the cosmetics industry by both raw material manufacturers and finished goods houses.
The possibility of a new molecule coming from botanicals is surely promising, too. And naturals always have a leg up with consumers based on familiarity and marketability. Take bakuchiol, for example. However, most high-performing, standardized ingredients will succeed in the long run through a synthetic route; i.e., where the biology, chemistry and targeted action can be cleverly manipulated for optimized functionality.
Until then, to meet the demand for products launches based on real-world trends, we will see more of the same concoctions of teas, ceramides and vitamins. These will be presented in elegant soufflés of aerogels catering both to the mindful hedonists and Gen Z's—who are practical, Google informed, influenced by social media, innovation hungry, eco-conscious and seeking a multifunctional approach to balance their need of science and spirituality.