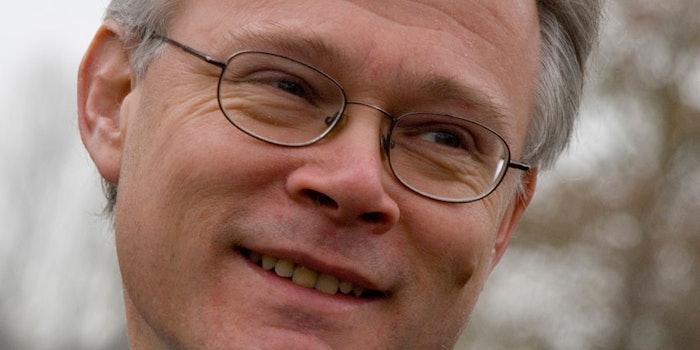 Editor's note: The "Words from Wiechers" series considers the lessons our industry can learn from the late Johann Wiechers, Ph.D. He was an adviser, colleague and leader in the industry until his passing in 2011. Presenting Wiechers's insights is Tony O'Lenick.
In Chapter 10 of his book, Memories of a Cosmetically Disturbed Mind, Wiechers diverted his attention from cosmetic science to world events. In this case, the world-changing event was 9/11, not the COVID-19 that plagues us now.
The cause of the event was different but in both cases, our lives changed in fundamental ways. Our assumptions about our world also changed, and our keen interest in cosmetic science and how we discuss it has changed—hopefully for only a time but maybe for longer than we would like.
See related: Words from Wiechers; Is Cosmetic Science Really 'Bad'?
As I pen this column, the 2020 SCC December Meeting is being conducted in a virtual setting. Despite requiring exceptional planning and a special effort from SCC officials and staff, I would much prefer meeting in person in NYC.
In his piece from 19 years ago, "Speaking is Silver, Silence is Golden," Wiechers asks:
"Where were you on 9/11? The horrible events that took place in New York and Washington changed our world forever. In my last column, I wrote about achieving personal happiness and satisfaction via the use of cosmetics, but these recent attacks have made it painfully clear that personal happiness is not enough. We will actually need happiness for societies to overcome our current problems.
"Let's look at the impact of 9/11 on cosmetic science beyond the adaptations of already-slimming profit projections that many cosmetic companies have made. At the time of the disaster, there were various cosmetic conferences about to start in the world. The 15th COLAMIQC Latin American Cosmetic Congress in Buenos Aires, Argentina, had started the very same day. In Basel, Switzerland, Stratum Corneum III would start the next day but probably all delegates had already arrived there.
'Meetings still took place, although the attendants probably did not focus on the science to the same extent as they would otherwise have done.'
"These meetings still took place, although the attendants probably did not focus on the science to the same extent as they would otherwise have done. The Sunscreen symposium organized by the Florida Chapter of the SCC that would start on September 13 was cancelled. Even if people wanted to go, they could not, due to all air traffic being halted. Events that were planned in the week after 9/11, such as the IFSCC 2001 Conference in Taipei, were held in a somewhat reduced format. Even we as cosmetic scientists were divided into two camps: those who could travel and those who could not.
"There will be less talking for a while, less convincing. People will be uncomfortable travelling for quite a while. This also happened after the Gulf War and then it took 18 months for air traffic to pick up again. But now there is not an underlying booming economy. We will go only where we strictly have to be. If the time to talk will become more precious, maybe the world will be learning again how to communicate. Communication is a two-way process and not the same as talking convincingly about yourself.
"To maintain this beautiful world of ours, we must indeed communicate more, but also listen even more than that. That's quite a New Year resolution for a talkative guy like myself. But let's not wait until 2002. The Christmas season is a time for reflection. Why don't we invite our neighbors with whom we never talk to join us and ask them to share their thinking? Maybe that would help to convey the message of peace in this world. Maybe our personal happiness can only really start after we've given some happiness to someone else in this world.
"Dear Readers, I realize that there was not a lot of cosmetic science in this column. There is too much on all our minds right now that prevent our beloved science area from having top priority. It was something that I had to get off my chest before I could even think about the usual cosmetic subjects. I hope to regain my usual satirical style again very soon.
We should pause and consider communicating; not only the cost of communication, but also the much higher cost of failing to communicate.
"I thank all of you that have sent me some mail agreeing or disagreeing to my writings over the last year. It has been a pleasure communicating convincingly with you. If you write more, even I one day might also learn the listening skill. I wish you all the best greetings of the festive season and a most peaceful 2002. May not only your wishes materialize, but also those of your neighbors you do not even know. Only then we can transform from personal happiness to happiness for a whole society."
While there are differences between 9/11 and COVID-19, the underlying similarities and what we do about them have very important similarities. Both are catastrophic events that were thrust upon us. Both changed our lives. Both occurred in a world where communication and listening to differing points of view seem impossible.
We must begin to communicate and beat the COVID threat but just as importantly, we need to heal as a people. Wiechers was correct. Speaking is silver but silence (or listening) is gold. He is also right in that we should pause and consider communicating; not only the cost of communication, but also the much higher cost of failing to communicate.
See related: Words from Wiechers; What You Say is What You Get