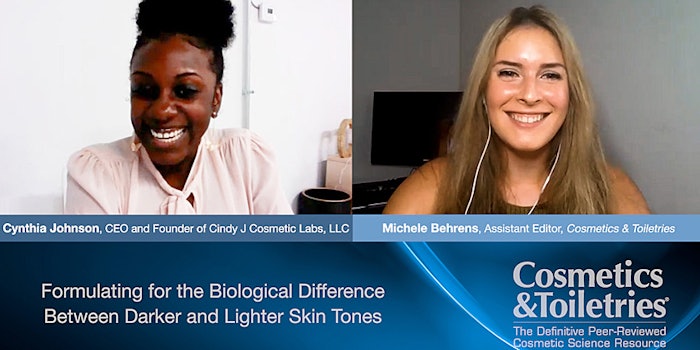 The beauty industry is becoming more aware of the need for inclusivity in product formulating regarding consumers with darker skin tones, but there is still much to learn.
Related: Urban Skin Rx Introduces the Melanin Experts
In the following interview, Cynthia Johnson, CEO and Founder of Cindy J Cosmetic Labs, LLC, offers insights into formulating for darker skin tones, particularly for mature skin, including biological differences with darker skin tones; key ingredients to include in products; and how the industry can be more inclusive to create products for people of color, all with Michele Behrens, Assistant Editor of Cosmetics & Toiletries.
"Everyone, people of color, your whiter skin tones need to understand: You have to get out of the lab," Johnson explains. "You have to get out of the lab to understand other skin tones. You have to network with other people. If you are a brand owner, let's talk about hiring diverse groups. You have to have some sort of diversity and inclusion in your brand. . ."
Watch now to learn more: